Emergency workers on Sunday started to rescue a group of at least 30 miners trapped in an abandoned gold shaft near Johannesburg, South Africa — but stopped after unearthing 12 people, local officials said.
The miners, who were at the site illegally, have been in the mine near Benoni Central Business District, about 30 miles outside of Johannesburg, since Saturday, South African emergency services officials said.
"An eight hour joint affront between numerous services made it possible to rescue these miners," a statement from ER24, the country's emergency services, said.
Eleven workers have been brought to the surface, and emergency workers said they believe at least 20 remain below ground. Rescuers said they don't fear for the remaining miner's safety.
It was unclear how many more men there may be farther down the shaft.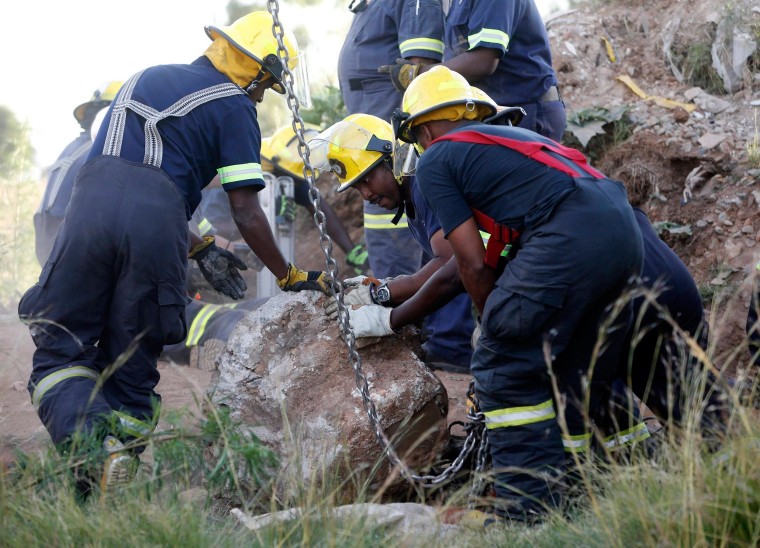 "They told us there are about 200 others trapped further below," ER24 spokesman Werner Vermaak told Reuters. "It's an abandoned mine shaft in the middle of the public veld (open fields) ... it was not a blocked-off area," he said, adding that no injuries or casualties had been reported so far.
But emergency services officials said they couldn't confirm whether others are trapped in a deeper level of the mine.
Earlier Sunday, "numerous" rescue vehicles and lifting equipment was deployed, and workers lifted a large rock from the opening of the mine, South African emergency services reported.
Vermaak said rescuers were able to communicate with a group of about 30 miners trapped below the surface by fallen boulders at the old mine site in Benoni.
"Once the first group has been brought to the surface, rescue workers will make their way down to inspect and search for other miners," the statement said.
Medics will inspect the miners for injuries and then they will be turned over to police for questioning, according to emergency service officials.
Vermaak said that some of the miners still underground are resisting rescue because they don't want to be arrested.
The mine shaft belongs to a Chinese owned company called Gold One, although they are not currently working in it. Gold One spokesman Grant Stuart said the miners dug a tunnel to access the firm's section, and the ground collapsed behind them, possibly because of heavy rain.
Illegal mining is common in South Africa, and miners often live underground in dangerous conditions in order unearth precious ore.
NBC News' Rohit Kachroo and Elisha Fieldstadt contributed to this report. Reuters also contributed.