Japan will have no children under the age of 15 in 999 years if current trends continue, according to researchers at Tohoku University Graduate School of Economics in Sendai.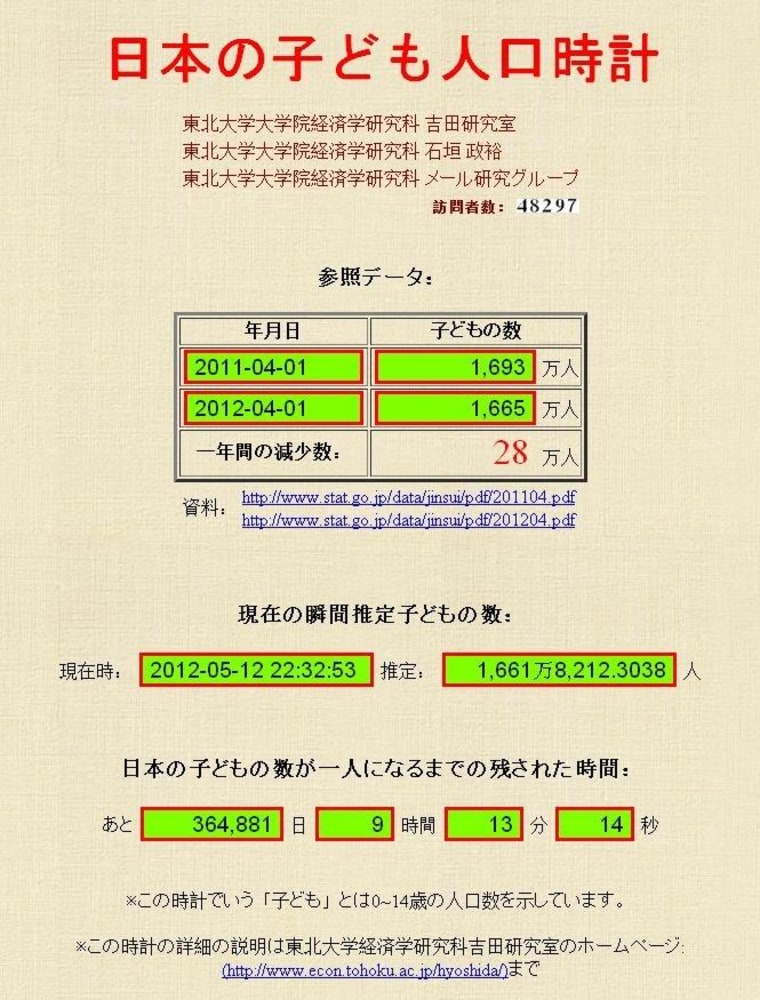 A population clock developed by the researchers shows the child population count at any given moment based on declining percentages released recently by Japan's Ministry of Internal Affairs and Communications, according to a news release by Professor Hiroshi Yoshida, the research leader who is an expert on the economics of aging.
Japan's under-15 population fell to 16.6 million in 2012 from 16.9 million in 2011, Yoshida said.
Assuming the number of children will continue to drop, researchers set Japan's child population clock to drop one every 100 seconds, he said.
"If the rate of decline continues, we will be able to celebrate the Children's Day public holiday on May 5, 3011, as there will be one child," Yoshida said. "But Children's Day 3012 will never come."
"By indicating it in figures, I want people to think about the problem of the falling birthrate with a sense of urgency," Yoshida said.
The clock setting will be reviewed every year by adding the latest population data, he said.
"The overall trend is toward extinction, which started in 1975 when Japan's fertility rate fell below two" per woman, Yoshida told the Japan Times.
Msnbc.com's Jim Gold contributed to this article. Follow him on Facbeook here.
More world news from msnbc.com and NBC News:
Follow us on Twitter: @msnbc_world