REZEKNE, Latvia — Elina Zujane's hometown is no stranger to war. Now she fears President Donald Trump may spark another.
"Of course we worry about it. Come on, it's our country," says the 21-year-old marketing student while having lunch in her college's gray-walled cafeteria. "If something does go wrong, we are really near to Russia so we will be the first ones to find out."
"The idea of something happening with Russia does worry me because it could happen at any time … Three seconds and they would be here."
Zujane lives in Rezekne, a Latvian town of around 30,000 people that is located just 23 miles from the Russian border.
On the shifting frontier between East and West, Rezekne has served as history's battleground for at least 1,000 years. It has been destroyed and rebuilt by everyone from German knights in the 13th century to the warring Nazis and Russians who flattened it during World War II.
Once part of the Soviet Union, Latvia gained membership of both NATO and the European Union since the turn of the century.
These alliances convinced many Latvians that their old masters in Moscow would never dare cross the border again.
That was until Trump started to give mixed signals on his commitment to NATO, calling it "obsolete" and suggesting he would not protect smaller allies such as Latvia unless they upped their military spending.
Some people in Rezekne worry that Trump's rhetoric, as well as his warming relationship with Russian President Vladimir Putin, could embolden the Kremlin to try to interfere or even invade.
This could have grave consequences, not just for the local population but for the future of NATO and perhaps even the concept of West itself.
"I think Trump doesn't care about us," says 20-year-old law student Dagnija Volodjko, who, like her friend Zujane, also studies at the Rezekne Higher Education Institution. "The idea of something happening with Russia does worry me because it could happen at any time … It would be so easy. Three seconds and they would be here."
Volodjko and Zujane are among dozens of local residents interviewed by NBC News during a recent visit to the town.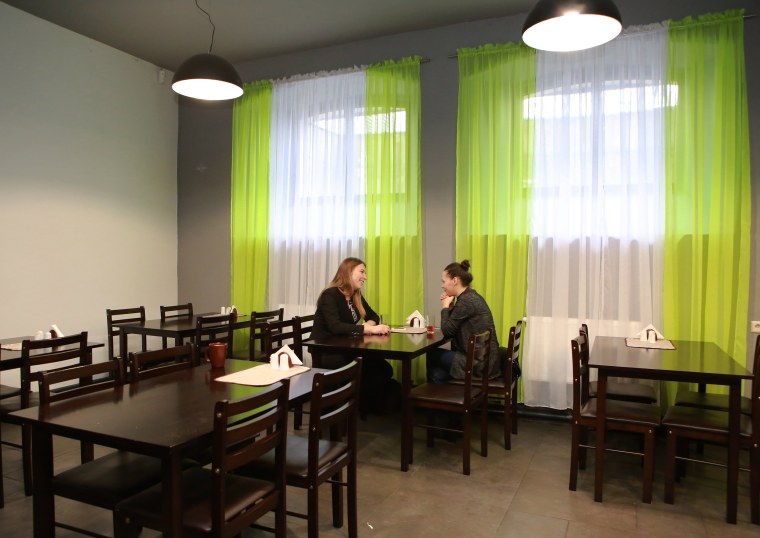 Many Western analysts say these two students are not wrong in their assessment of the Russian threat to the Baltic states, which also include neighboring Estonia and Lithuania.
They worry that after its intervention in Ukraine, Russia could next turn its attention to the Baltics.
This international focus often means the region is often talked about like a chess piece, something to be used as geopolitical bargaining chip between the White House and the Kremlin. In fact, the Baltics have a combined population of more than 6 million — men, women and children directly affected by Trump's next move toward his NATO allies.
This is the standoff from Rezekne's perspective.
'We Are Like a Coin, We Have Two Sides'
Taking the train from the Latvian capital of Riga, visitors pass through three hours of snow-encrusted forests before reaching this remote outpost.
Woodland and lakes surround this patchwork of mostly Cold War-era buildings, which appear to have sprung up at different stages from the rubble of the 1940s.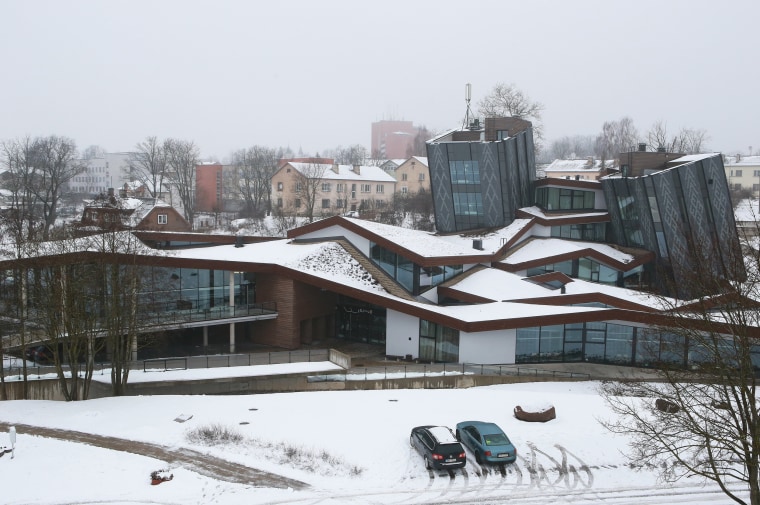 Dirty snow-slush cakes the roads, yet to be salted after the day's flurry. And like the rest of the country, whose highest mountain wouldn't eclipse the spire of New York's Chrysler Building, Rezekne's white-blanketed terrain is relatively flat and unremarkable.
It's a town of complex histories, demographics and perhaps even allegiances. The population is divided evenly between Latvians and Russians — people who define their ethnicity as Russian and speak the Russian language.
This Russian community is far from rare in the Baltics, with many people sent here during Soviet times to work in the region's factories.
But it's not just the residents; the town itself appears to have one foot in the Western-facing present and another in its Soviet past.
A drive down its main street showcases an impressive college, a modernist concert hall, a youth center, and a recently landscaped park along the Rezekne River — all paid for with EU money. But a detour reveals crater-sized potholes and rusting factories, empty since local manufacturing collapsed with the communist era.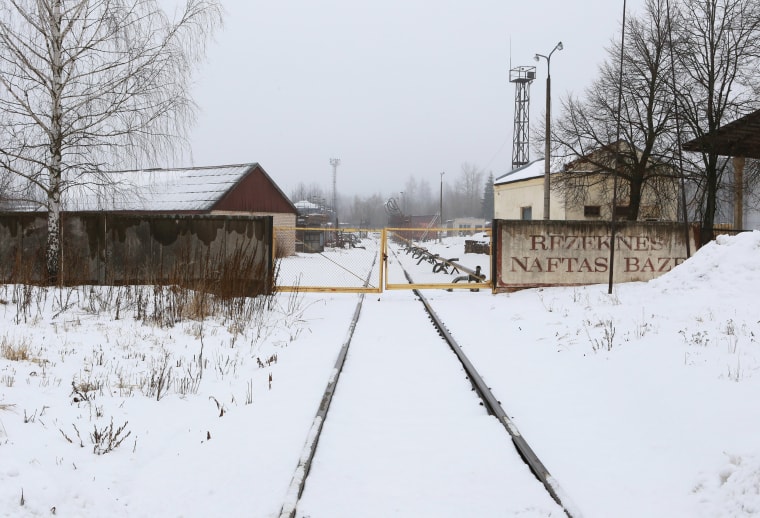 It's still inextricably linked to its old overseer. Latvia is a major trading partner with Russia, and Rezekne's economy has been hurt by U.S. sanctions slapped on Moscow over its involvement in Ukraine.
The town has an unemployment rate of more than 16 percent and the average wage is just 460 euros a month (around $495).
"We are like a coin, we have two sides," explains Vjaceslavs Dubovskis, a 33-year-old businessman who co-owns a local telecoms company. "Our relationship with Russia has potential. But there is also an element of threat."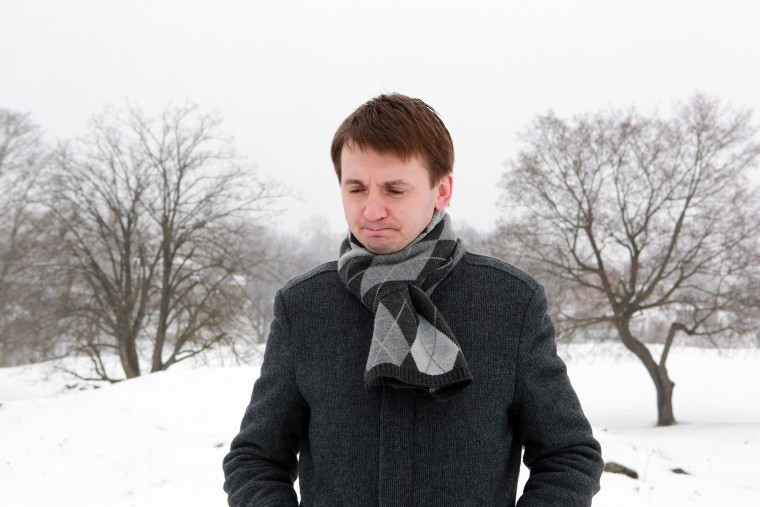 While many people here claim that Latvians and Russians get along, other residents disagree. They say there is an unmistakable tension, usually manifesting itself in drunken fights at parties or eye-rolling at hearing the Russian language in shops.
Most locals seem to agree that the Latvian government isn't helping the situation.
After the fall of the Soviet Union, the newly independent nation said people had to pass a Latvian language and history test to gain citizenship. This means that even today some 250,000 people, mostly Russian-speakers, are still classed as "non-citizens," unable to vote or get certain public-sector jobs.
In Rezekne's Dzetta market, a dense, indoor labyrinth of cheap, imported clothes, this policy is a sore point.
"All of us working here are Russians and it's a problem," says Svetlana Filsa, a 61-year-old woman who runs a handbag stall. "Because of these rules, it's getting harder. Not all of us speak Latvian so we are worried about work."
And it's not just the Russians who feel alienated. Many people in this part of Latvia identify themselves first and foremost as "Latgalians," originating from Latvia's historical region of Latgale (pronounced "Lat-guh-luh").
"We are ready for war. We know that some day it will come to Latvia"
Around 100,000 people speak Latgalian, but the Latvian government only classes it as a regional dialect. This infuriates some Latgalian-speakers, who say it's a language in its own right. They complain it has been marginalized by politicians in the more affluent capital.
"I feel angry about the treatment of Latgalian, of course," says Arnis Slobozanins, a 32-year-old local musician. "We've been betrayed and I think this betrayal is dangerous."
Slobozanins believes the government's treatment of Russians and Latgalians provides the perfect excuse for Moscow to meddle. Like in Ukraine, Putin could intervene on the grounds that he is protecting a threatened Russian diaspora.
"Some pro-Russian people might use the mistreatment of Latgale as a hook, you know? As an excuse," he says, adding that "if Russia came and tried to invade Latgale I think there would be people who would welcome them."
He adds: "We can't really rely on NATO, we can't really rely on anybody else, just ourselves."
Although he is Latgalian, 19-year-old student Aris Sperga is one of those who would welcome more influence from Russia.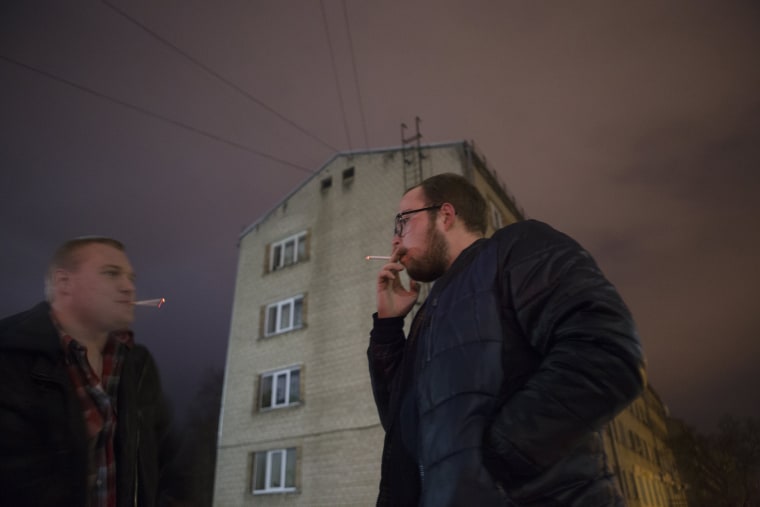 "We are ready for war. We know that some day it will come to Latvia and it will mean a battleground for us," Sperga says. He claims that the Latvian government "really doesn't care about us" and for that reason he would rather "support Russia than NATO."
In any case, he says, "Trump will never protect us."
'Russia Is Not an Aggressor'
Not everyone in Rezekne thinks conflict will return to their community.
All of the local Russians who spoke with NBC News say that while they look back fondly at their Soviet childhood, they think an intervention by Moscow is unlikely. Though many support Putin, they deny the allegation that they would act as a fifth column and welcome an invasion.
Viktor Solovjov is a 39-year-old auto-parts salesman who speaks with NBC News in his old-fashioned office block. After a terrifyingly bumpy elevator ride up to the fourth floor, he cheerfully insists everyone drink a large shot of vodka followed by a chunk of rye bread. It's just past noon.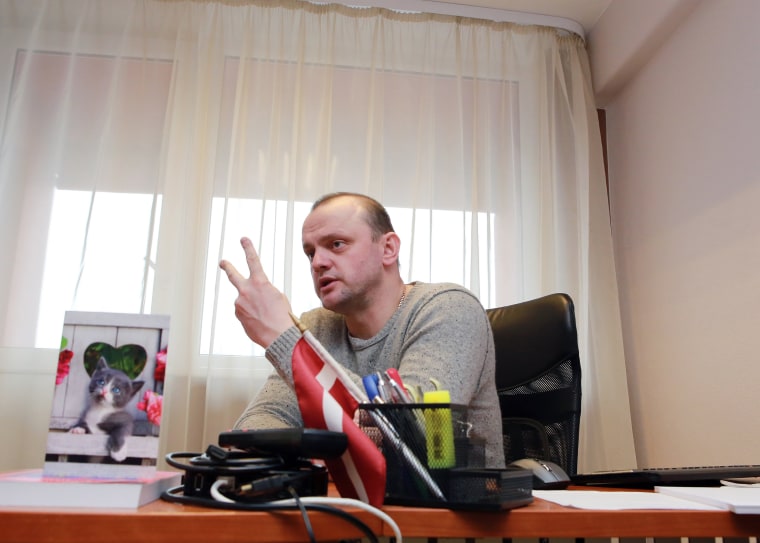 "Russia is a very friendly and peaceful nation but it has an unfair reputation. Russia is not an aggressor," he says. "Russia is not interested in making aggression for the Baltic states."
He also describes Trump as "a great president" — far from the only Russian in Rezekne to speak positively about America's new leader.
Ludmila, a 50-year-old Russian who runs a market stall, agrees Russia wouldn't be interested in invading.
"Russia doesn't need us because we are a small country," she says, declining to give her last name. "Russia has it all and they don't need Estonia, Latvia and Lithuania so I'm not afraid at all."
Her stall is one of several dozen that form a daily market in Rezekne's old town. It's all corrugated metal sheds and cardboard boxes laid out in the dirty snow, their proprietors selling everything from balls of cotton wool and fake leather boots to illegal Russian cigarettes and Soviet memorabilia.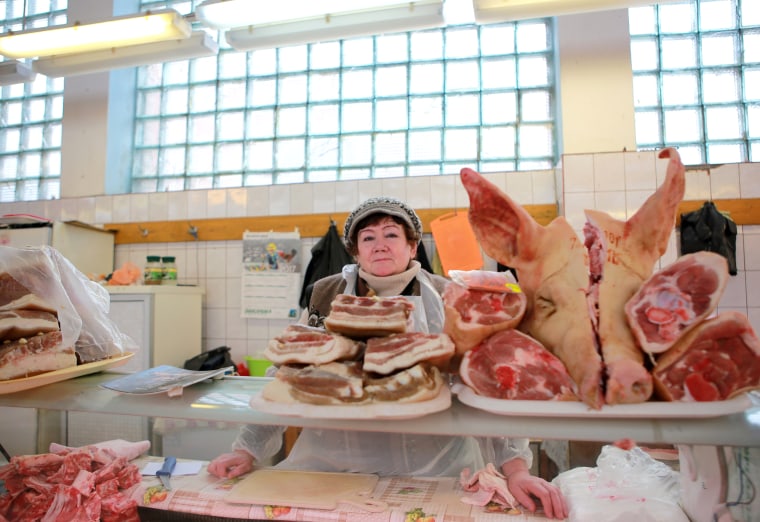 "If there is a conflict, it won't be because of Trump or Putin, it will be because of the relationships in the country," says 36-year-old butcher Vladimir, who's half Russian and half Latvian but doesn't want to give his last name.
"Someone could ignite these ethnic groups, the Latvians and Russians," he adds, before swinging a large ax above his head and bringing it down on a pig's foot resting on a giant wooden block. But he doesn't think this "someone" will be the Russian government.
Unsurprisingly, perhaps, Rezekne Mayor Aleksandrs Bartasevics agrees.
"We feel that we are very safe here and we are not threatened," says Bartasevics, who is Russian. He chooses to focus on Trump's comments that have been more reassuring to NATO. "There were some rhetorical things that he was speaking about but actually he hasn't changed at all," the mayor says.
It's not just Russians who are calm about their close proximity to the border.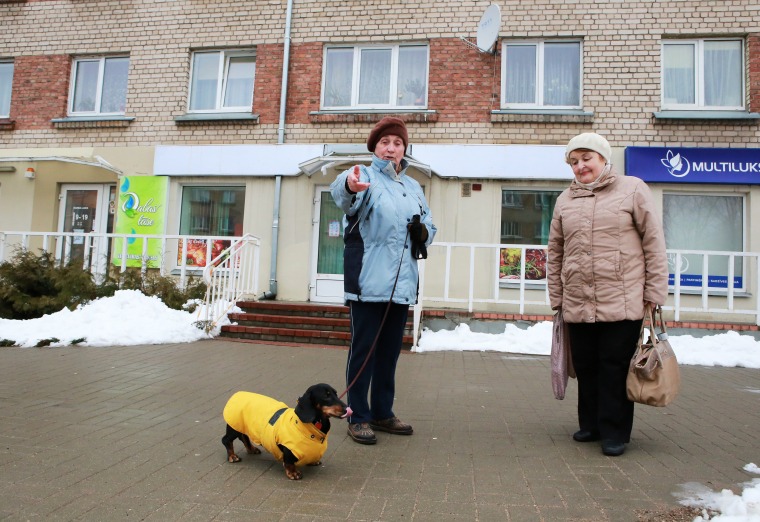 "I like Trump and I hope he will be peaceful with Russia," says Tatiana Makarova, a 73-year-old retired engineer and ethnic Latvian. "I don't think Putin is interested in the Baltics. He doesn't need it. We are just neighbors."
Dubovskis, the local businessman, says that "of course, it's a possible scenario" that Russia might interfere — but he only puts the likelihood at around 1 percent.
These people aren't persuaded by the counter-argument that Putin might have all sorts of reasons for wanting to expand his sphere of influence.
The Russian president's popularity spiked following his annexation of Crimea and has stayed above 80 percent ever since. (By comparison, Trump's approval rating was 44 percent after about one month in office — a record low for a new president.) Many Russians seem to like their leader's self-styled image as a man who can restore their diminished country to its former glory.
"We've lived next to Russia for 800 years and know what they're like only too well"
Even if Putin did invade, others in Rezekne still have faith in NATO's protection of their country.
"Who knows if war could happen again, but I hope not," says Gunars Strods, 51, an associate professor at Rezekne Higher Education Institution. "We still trust in NATO's common security system. We still trust it."
Back at the market, one Latvian is unconvinced.
"Putin is not good. He's a killer, and he's our neighbor 20 miles away," says 47-year-old Andris Sondors, who sells memorabilia including badges of Soviet leader Vladimir Lenin. "Of course we're nervous but we've lived next to Russia for 800 years and know what they're like only too well. If they invade I will go and live in the forest."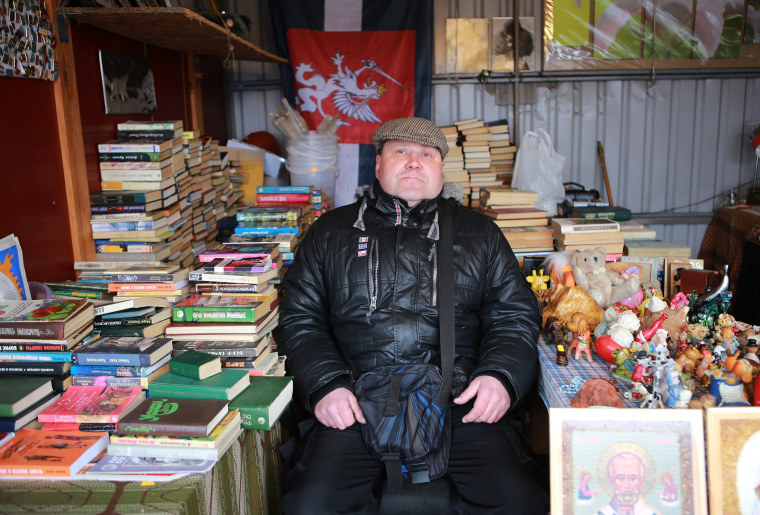 'This Storyline Is Disturbingly Familiar'
What worries people like Sondors is Russia's past.
In 2014, Moscow annexed Crimea and allegedly started to support separatists fighting a civil war in eastern Ukraine. Putin's stated reason for intervening in Crimea was that he wanted to protect the region's ethnic Russians from mistreatment by Ukraine's West-leaning government.
Many worry that Putin could make the same argument for the Baltics, where ethnic-Russians make up around a quarter of the population in Latvia and Estonia and around 6 percent in Lithuania.
Personnel involved in Russia's covert presence in Crimea became known as "little green men" — a phrase everyone in Rezekne seems familiar with.
"Like Ukraine, Estonia and Latvia are home to sizable ethnic Russian populations that have been, at best, unevenly integrated," according to a report last year by the RAND Corporation, a think tank based in Santa Monica, California. "This storyline is disturbingly familiar."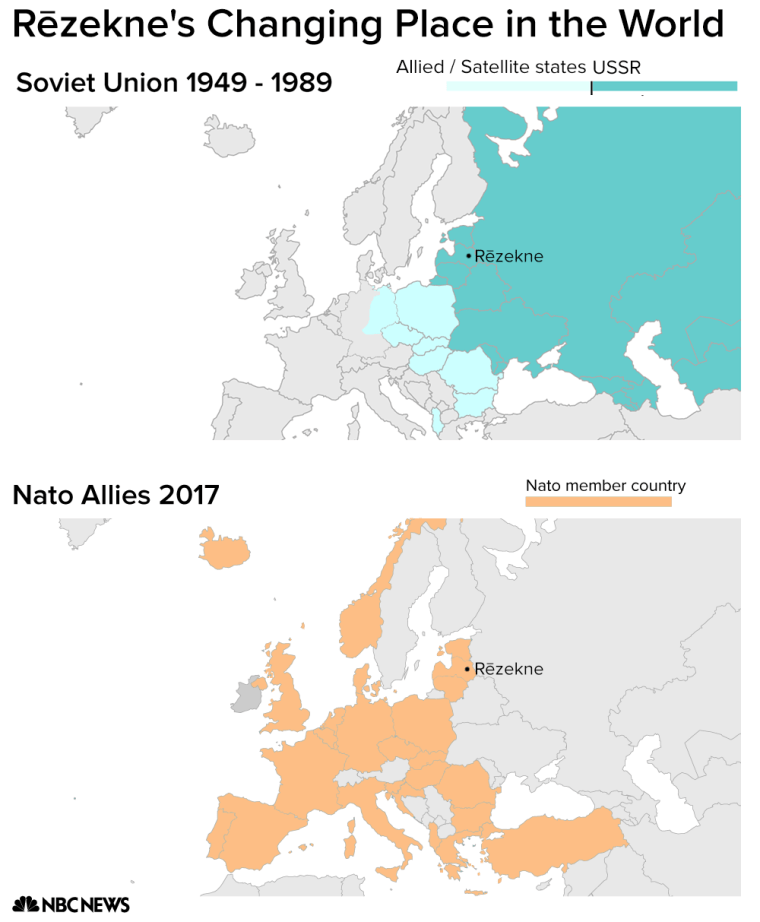 This fear has seen NATO send more troops to the Baltic-Russian front line than at any point since the Cold War. U.S. officials say their number is dwarfed by a similar build up on the Russian side — and unsurprisingly both sides blame each other for the escalation.
But Russia would not necessarily have to launch a full-scale war.
Other NATO-watchers predict that Putin could launch a "hybrid war" — implanting pro-Moscow activists to foment local ethnic tensions, and deploying personnel in unmarked military fatigues, whose connection to Russia could be denied by the Kremlin.
This would be a stern test for NATO: retaliate against Putin's aggression and risk a nuclear conflict over a country many Americans have never heard of, or do nothing and undermine the founding principles of the alliance, leaving other nations at risk.
Arguably, Rezekne is already a victim of Moscow's subtle tactics.
Many Russians here exclusively watch channels beamed in from Moscow, ignoring the lower-quality Latvian stations.
"A lot of people who live here watch TV that comes from Russia," says Strods, the associate professor. "It's propaganda and all part of the hybrid war."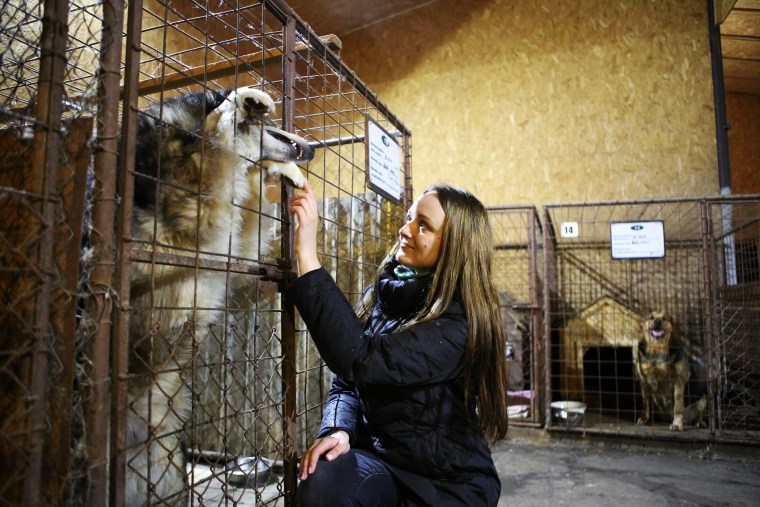 "There's this huge propaganda from Russia that says, 'Everything is great our country,' but anyone who watches other types of TV knows it's only OK in the big cities like Moscow," adds Rasma Zaharenko, a 24-year-old project manager for a local IT company who also volunteers at a local animal rescue center.
She's right in that Latvia has a higher GDP per-capita than its larger neighbor. But the information war may have had more profound consequences.
"Some people in the really remote countryside think the president of Russia is also the president of Latvia — really," says Guntis Rasims, a 32-year-old local politician and a project manager with several local non-governmental organizations. "They live in this media so much that they don't even know who is the president of Latvia."
The Scars of History
If Rezekne were sold out as part of some geopolitical deal, it wouldn't be the first time.
In the days before World War II, the Nazis and Soviets signed a pact of non-aggression in which they agreed to carve up Europe into two spheres of influence. They decided Latvia would be under Soviet control.
But the Nazis quickly went back on this, invading the Soviet Union and seizing control of Rezekne. This eastern offensive famously failed, and when the Red Army pushed back they bombed Rezekne into the dust, destroying some 70 percent of its buildings.
Like much of the region, the period also saw the annihilation of Rezekne's Jewish population.
That legacy of destruction lives on today.
The town has rebuilt, but much of its residential architecture is a mishmash of crumbling Cold War-era housing blocks, dilapidated cabins, and scruffy brick homes. The main street is modernizing, but the mayor says that this face-lift has only come in the past decade.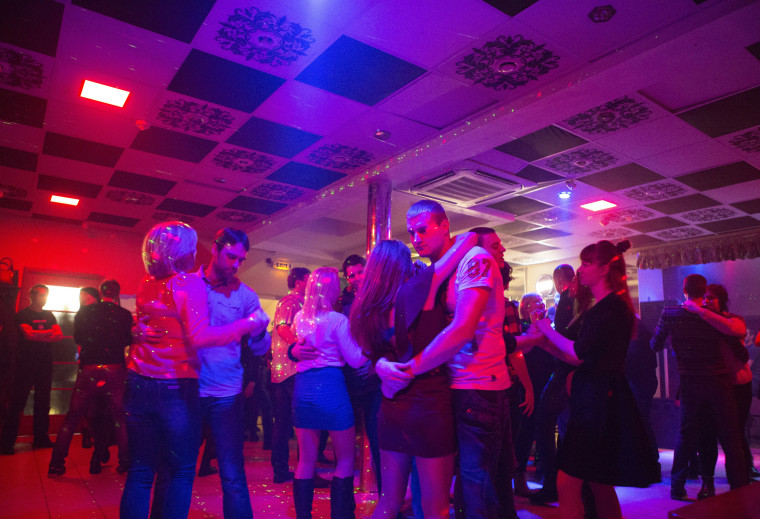 Their history still raw, many Latvians are looking to the White House for some reassurance.
"I think Trump wants everything to be great in America but he doesn't care about Europe and he doesn't care about us," says Justine Kitija Smeltere, a 20-year-old bartender at a local nightclub called "Zanzibar" — perhaps an ironic nod to Latvia's often freezing weather.
"I'm really afraid of Russian interference," she adds. "It's very close to the border and I don't want to be the first participant of World War III."