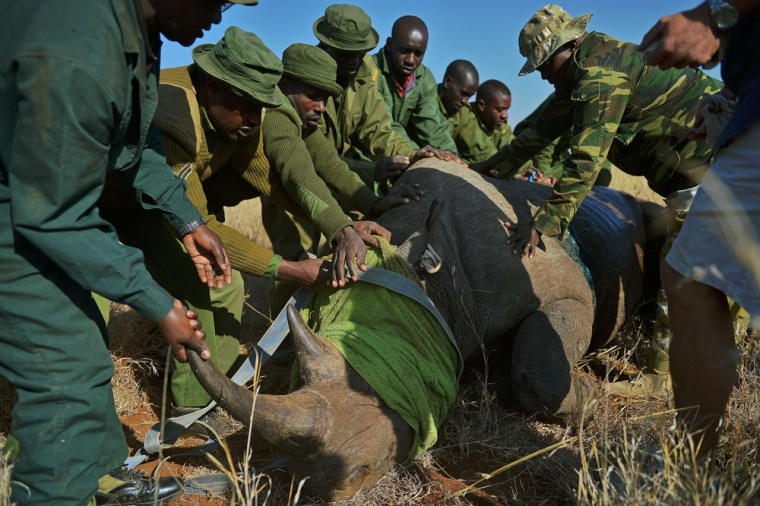 Conservationists in Kenya are to implant microchips in the horns of the country's rhinos in its fight against increasingly sophisticated poachers.
The Kenya Wildlife Service (KWS) said it will use the chips along with DNA records to track the country's dwindling rhino population, which is thought to be around 1,000.
It hopes the technology will protect living rhinos - and also provide evidence when it comes to bringing poachers to justice in court.
"This is the first time have used technology or done anything like this to try to preserve the rhino population," said Robert Magori, Kenya's spokesman for the World Wildlife Fund (WWF) which donated the microchips to the KWS. "It is a unique way of tackling our increasing problem with poachers."
The WWF on Wednesday handed over more than 1,000 microchips and five scanners, allowing the KWS to deploy tracking systems to monitor every rhino in Kenya. The equipment cost around $15,000 but tranquilizing the rhinos and fitting the technology will cost considerably more.
"This will serve to strengthen rhino monitoring, protect the animals on site and also support anti-trafficking mechanisms, nationally and regionally," a statement from the KWS said.
The system will work by putting one microchip in the rhino's horn and one in its body. If a horn is removed, investigators will be able to track it around the world and match it to the body.
Magori said the KWS and WWF had to take decisive action because the number of rhinos being poached in Kenya, like in other African countries, has been rising dramatically in recent years.
Conservationists estimate that their horns can sell for $65,000 per kilogram -- more expensive than gold. Each rhino's horn weighs between 1 - 3 kilograms.
Rhino horns were once widely sought after to make dagger handles and Chinese fever medicine, but these were regulated and poaching figures were down worldwide by the late 1990s.
However, a rumor that a Vietnamese politician cured his cancer by eating rhino horn has caused the demand in South East Asia to surge once more.
In South Africa, where there are some 22,000 rhinos, poaching has skyrocketed. If the current trend continues, more than 1,000 rhinos could be poached there in 2014.
Although Kenya's rhino population is smaller, Magori said wildlife officials decided something needed to be done to stop the animals being slaughtered.
"In the past few years it has become really bad," he said. "Last year 23 of our rhino were killed and we could see more this year if the current pace continues.
"We are facing an even greater challenge because the poachers are becoming increasingly sophisticated. They have night-vision goggles and long-range rifles."
He said that not only had poaching become more common, but cases are being seen in areas previously considered to be safe.
In August, poachers shot dead a white rhino in the national park in Nairobi - once thought to be one of Kenya's best-guarded areas.
Related: