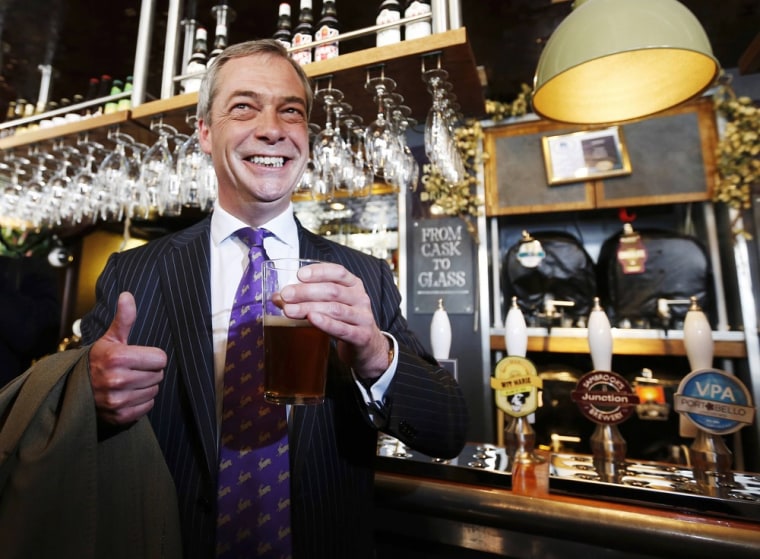 LONDON — With a pint of beer in one hand and a cigarette in the other, he is not a politician in the sleek, marketed mold.
But Nigel Farage and his UK Independence Party — once dismissed as "fruitcakes, loonies and closet racists" — have seen their popularity soar, putting Britain's possible exit from the European Union at the top of the political agenda.
The former commodities trader left a well-rewarded career in London's financial district to lead a party that had been widely seen a single-issue fringe movement since it was founded in 1993.
Yet, just last month the UKIP enjoyed a series of spectacular victories in England's mid-term local elections, having grown into a powerful protest vehicle for British voters fed up with the established parties and their leaders.
The result was described as a "game-changer" by Farage, who is now one of 12 UKIP lawmakers elected to the European Parliament, a Brussels institution that his party wants Britain to quit.
Suddenly the "fruitcakes" jibe — made by Prime Minister David Cameron — looks out of step with the prevailing political mood.
Polls suggest 1 in 5 voters might support UKIP in Britain's 2015 parliamentary election. That is unlikely to translate into seats under Westminster's first-past-the-post system, but by splitting the vote in individual constituencies it could tip the balance against Cameron's Conservative Party, which is seeking an outright majority over the Liberal Democrats and Labour.
Under Farage, UKIP has broadened out from its primary objective of an "amicable divorce" from Europe, adopting a series of populist causes including a freeze on immigration, opposition to gay marriage and an end to wind turbines, high-speed rail projects and "political correctness."
Its success comes chiefly, but not exclusively, at the expense of the Conservative Party, whose progressive social policies and 2010 coalition with the Liberal Democrats have left many traditional conservatives feeling disenfranchised.
As an outlet for anger not just at policies but at politics itself, UKIP's rise faintly echoes the Tea Party movement in the United States.
"Voters are dissatisfied with the three main parties, so with nowhere to turn they see UKIP as a way of getting their message across," said Colin Rallings, polling expert and professor of politics at the University of Plymouth. "Farage is the only leader left who can portray himself as untainted. He can say 'I'm not to blame for the way things are.'"
Britain might be close to continental Europe — the English Channel separating France from Dover's chalk-white cliffs is 26 miles across at its narrowest point — but politically it remains far adrift from its neighbors on the issue of deepening ties with the European Union.
A ComRes poll for the Open Europe think tank, published last Tuesday, found a 41 percent of British voters favor withdrawal from the European Union, compared to 37 percent who want to remain inside and 22 percent who don't know or wouldn't vote [PDF link here].
But it is not just concern about Europe that has forced UKIP onto the main stage, but also Farage himself.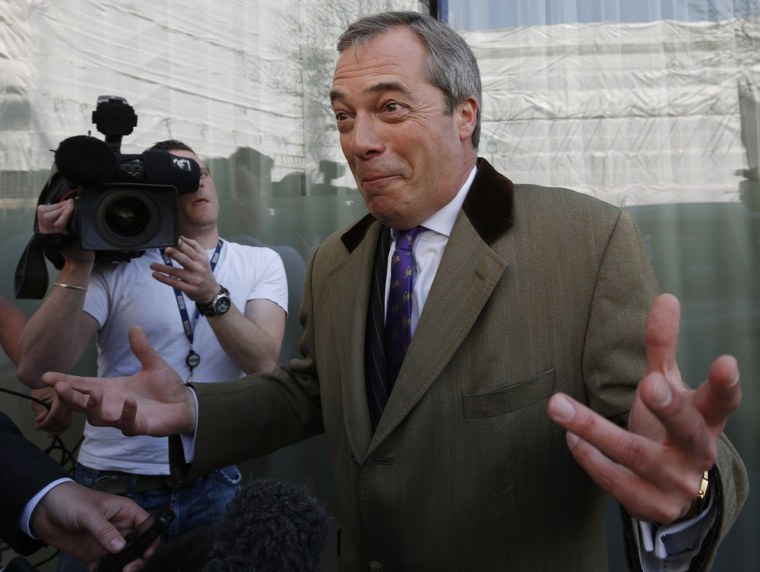 Educated, but not patrician — he likes to host impromptu news conferences in pubs — he shuns the manufactured style of the career politician and is fond of cricket, pinstripe suits and purple socks featuring the symbol for the British pound.
He is the embodiment of UKIP's predominantly middle-class, white, professional support base: Standing at the bar holding an after-work beer, putting the world to rights as the exasperated voice of those who feel over-taxed, over-governed and that Britain has lost its collective common sense.
"If you asked people which party leader they would rather have a drink with, most would say Nigel," said Roger Helmer, a British lawmaker in the European Parliament who defected from the Conservatives to UKIP last year. "He is charismatic, and says the sort of things that people on the street are thinking."
UKIP has "exploited the anger of a great many people," according to author and historian Tim Stanley, who wrote in a blog for the Daily Telegraph:
"They're angry at the slow pace of reform coming from the Coalition, its prioritizing of social liberalism over social justice, its failure to cut taxes for the middle class, its ring-fenced foreign aid budget and its poor economic record. The perpetually furious could have turned to Labour, but memories are long of how they spent all the money in the Noughties, and contempt is deep for [Labour Party leader Ed] Miliband's student union style of politics. Many voters have reached the conclusion that the philosophical division between the parties is so narrow, that incompetence is so ubiquitous, that the personalities are so uniformly unreal that there really is no difference between the three main parties. Under those circumstances, why not vote for the anarchist fringe? 
Above all, Farage exhibits a very British trait of refusing take himself, or anything, particularly seriously — putting himself even further at odds with the gray, managerial world of European politics.
In 2012, he was rebuked by the speaker of the European Parliament after addressing EU President Herman Van Rompuy in a speech with the words: "I don't want to be rude, but, you know, really, you have the charisma of a damp rag and the appearance of a low-grade bank clerk."
On the defensive, Britain's Conservatives have been forced into promising to hold an outright referendum in 2017 on whether Britain should remain in Europe, and Cameron has pledged to negotiate better terms for Britain's membership of the EU.
Perhaps the biggest effect of UKIP's surge in popularity has been the divisions that have been exposed within the Conservative party.
Farage believes many more Conservatives privately sympathize with UKIP, deriding them as "three-pint Euroskeptics" — lawmakers who give the official party line in public but, after three drinks, admit UKIP is right about the EU.
Indeed, Thatcher-era finance minister and Conservative party grandee Nigel Lawson has publicly called on the U.K. to quit the EU, saying Britain was being "marginalized" by members of the Euro currency zone and held back by over-regulation.
Then two serving British cabinet ministers — Education Secretary Michael Gove and Defense Secretary Philip Hammond — said publicly that they would vote to leave the EU unless Britain's current relationship with the bloc changed.
Farage's talent as a saloon-bar crowd-pleaser has its drawbacks, however. Despite insisting it is not a party for racists and xenophobes — Farage's second wife is German — UKIP's tough message on immigration has attracted unwelcome support.
A UKIP councilor recently quit after admitting sharing offensive jokes about Muslims on his Facebook page, while another organizer resigned after allegedly linking homosexuality to pedophilia and calling the gay rights movement a "lunatic's charter."
UKIP's original founder Alan Sked, a London School of Economics professor, has lamented that his party has been "captured by the radical right" and become "anti-intellectual."
And despite surging electoral support in the heartlands of England, UKIP seems unlikely to enjoy success everywhere in the U.K.
On a recent visit to Scotland — where next year's referendum on independence from the U.K. is a hotter topic than EU bureaucracy — Farage was ridiculed by political opponents and heckled so badly at a public event that he was escorted away by police for his own safety.
"There is no doubt that UKIP is riding high on the back of the economic problems Europe is experiencing, but UKIP is more of a pressure group than a party," said Charles Moore, former Sunday Telegraph editor and official biographer of Margaret Thatcher.
"The next election will be interesting, but I don't see UKIP permanently reshaping British party politics."
There is also still substantial support for Cameron's policy of staying in the EU but on better terms and a transfer of some powers back to London from Brussels.
The Open Europe/ComRes poll found that, if there was a significant return of powers to Westminster followed by a referendum, 47 per cent of all voters would want to stay in the EU, against one-third of all voters (32 percent) who would still want to leave.
"If you give people a binary choice of 'in or out' they will choose 'out,'" said Stephen Booth, research director of Open Europe. "But if you ask them what they would do if Britain negotiated a better deal, they would support EU membership. It is a very complex issue."
Related: