Rob Ford, the boisterous, hard-partying and scandal-plagued former Toronto mayor whose battle with a rare abdominal cancer forced him out of the 2014 election race, died Tuesday, according to a family statement released by his office.
His death comes just days after doctors said he was planning to resume treatment for a recurrence.
"With heavy hearts and profound sadness, the Ford family announces the passing of their beloved son, brother, husband and father, Councillor Rob Ford," his office said in a statement. "A dedicated man of the people, Councillor Ford spent his life serving the people of Toronto."
Ford, 46, was a conservative who brought bombast to the buttoned-up world of Toronto politics, winning office in 2010 on a populist line of cutting government waste and improving public safety. His term was upended three years later, when a video circulated online that purported to show him smoking crack.
Ford said it was untrue. But accounts of his drinking, drug use and wild partying — including sexist and homophobic remarks — continued. He eventually admitted using crack during a "drunken stupor."
In an appearance on Today, Ford said: "I've embarrassed not just myself, my family, my friends, my supporters ... the whole city. I take full responsibility for that."
Around the same time, Ford was embroiled in a different sort of scandal: accusations he broke a law against conflicts of interest in a case involving a loan from his eponymous football charity. A judge tried to force Ford from office, but the Ford successfully appealed.
In late 2013, as Ford was preparing to run for re-election, the Toronto City Council voted to weaken his control over municipal government, cutting funding for his office and creating a legal avenue for the council to remove him in case of an emergency.
Ford pressed on with his campaign, even as he sought treatment for substance abuse. After he returned to work, he blamed his loutish behavior on drink and drugs.
"I think that goes along with having this disease," Ford told The Canadian Broadcasting Corporation. "You do things, you say things, that aren't you. I take full responsibility. All I can do is apologize and deal with this disease. This is an everyday battle. This is the beginning of a long journey."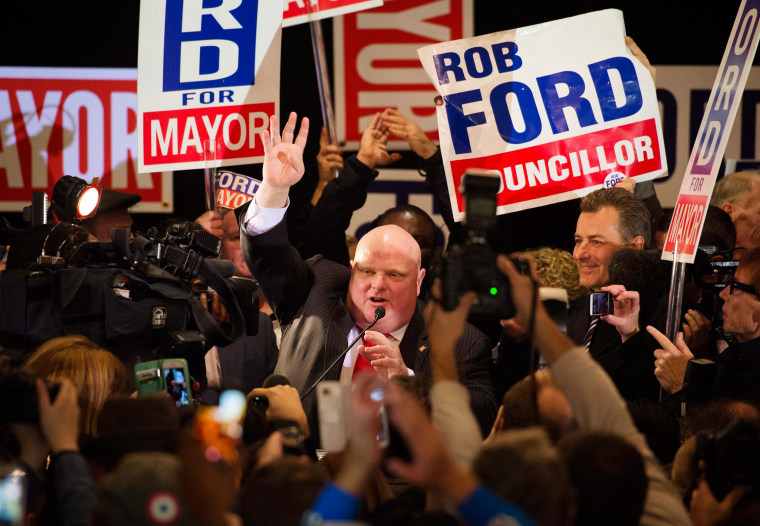 Born in Etobicoke, Ontario, Ford was one of four children of Douglas Ford, a former member of the provincial parliament. He first went into the family business, working at the Deco Label & Tags printing firm. In 2000, he won a seat on the Toronto city council, and was re-elected in 2003 and 2006 as an opponent of taxes and government spending. While in office he supported increased funding on public transit and opposed the creation of bicycle lanes on highways.
Ford was also a passionate football fan and a proponent of team sports in general. Through much of his career he coached a local team and created the Rob Ford Football Foundation to raise money for programs around the city.
He stuck to those signature issues in his 2010 mayoral campaign, which he won by a wide margin in a record voter turnout.
Three years into his term, the drug scandal struck. After his initial denials, Ford acknowledged drinking heavily and doing drugs for years. When he emerged from rehab in the summer of 2014, he vowed to stay in office, saying he loved his job and that it wouldn't interfere with his recovery.
"I was born with this disease, I'm going to die with this disease," he said.
But it was cancer that stopped him.
Related: Rob Ford, Hospitalized With Tumor, Drops Out of Toronto's Mayor's Race
The September 2014 diagnosis was pleomorphic liposarcoma, a rare form of abdominal cancer. Ford dropped out of the race, endorsing his brother, Doug, who lost. Ford ran for city council — his old job — instead, and won election by a landslide.
Doctors removed a malignant tumor, but in October they discovered two cancerous growths on his bladder. He was hospitalized in February, and was planning a new round of treatment when his condition became grave.
Ford is survived by his wife, Renata, and two children.