The world's oldest ruler, Robert Mugabe, made his first public appearance on Friday since this week's coup, but there was no indication when he would quit — nor any sign of the first lady, Grace, seen as a key figure in Zimbabwe's military power grab.
With his four-decade rule in the balance, the 93-year-old despot briefly attended a graduation ceremony at the Zimbabwe Open University and sang the national anthem dressed in a blue and yellow academic gown and hat.
He was escorted by a security detail but it was not immediately clear if he was able to move freely. He has been under house arrest since Wednesday when generals moved to target "criminals" around him.
The military said Friday that it was making "significant progress" in talks with Mugabe about his exit, referring to him as their "commander in chief."
But some in the ruling ZANU-PF party signaled they were getting impatient with Mugabe, with party members passing notes amid the prospect of a parliamentary impeachment vote scheduled for Tuesday.
Pictures of the leader in custody at his presidential compound were released late Thursday, but again there was no sign of Grace Mugabe, who is 41 years younger than her husband and had enjoyed something of a rags-to-riches rise to become his possible successor.
"I think she is key to this whole thing, there's no doubt about that," said Stephanie Wolters, head of the peace and security research program at the Institute for Security Studies, a research organization based in South Africa.
Rumors suggested she had fled Zimbabwe after Wednesday's coup, to Namibia or Dubai. However, Reuters reported Friday that both Mugabes remained under house arrest.
The couple's relationship began when she was a government typist in the 1990s. They had an affair while the president's first wife was dying from kidney failure, and married after her death in 1996.
Around 40,000 people attended the wedding, including Nelson Mandela, then the president of South Africa.
With Zimbabwe's economy in meltdown, her spending sprees soon made her a deeply unpopular figure and earned her nicknames such as "Gucci Grace" and "the First Shopper."
She is also reported to have a fierce temper. In 2009, she reportedly punched a photographer in the face in Hong Kong, causing cuts and bruises to his face from her diamond rings, and in September she was accused of whipping a South African model with an extension cord, leaving a gash on the 20-year-old's forehead.
There have been other scrapes in Singapore, Malaysia and Dubai.
Related: Did China have a role in downfall of despot Mugabe?
But it is her political ambitions that some analysts say are the main cause of this week's military move against her husband.
She rose through the ranks of the ruling party, Zanu PF, and many members feared she was positioning herself to take over after her husband's death. Earlier this year she suggested that he should run as "a corpse" if he died before presidential elections scheduled for next year.
Matters came to a head in a feud with the vice president, Emmerson Mnangagwa — a henchman nicknamed "The Crocodile" who was seen has her main rival for power.
In a direct challenge to Mnangagwa's authority, she suggested this month that she could become her husband's deputy.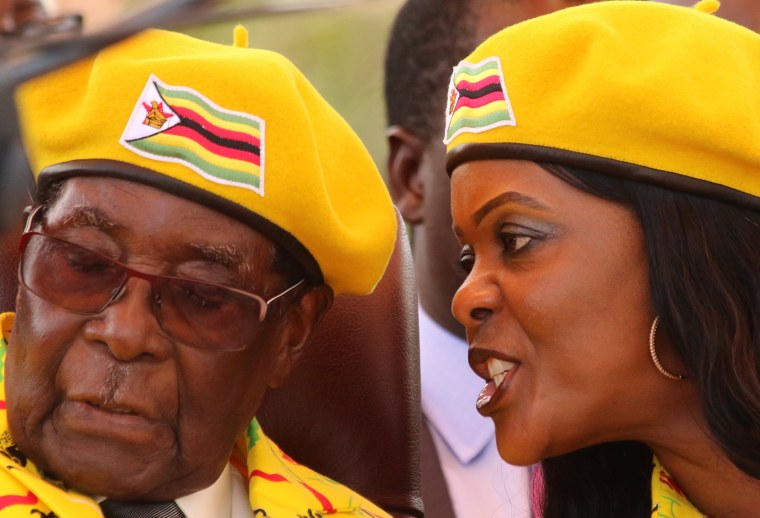 "What's wrong with that?" she said in a speech broadcast on state TV. "Am I not in the party? If people know that I work hard and they want to work with me, what is wrong with that?"
Days later, Mnangagwa was fired on charges that he "consistently and persistently exhibited traits of disloyalty, disrespect, deceitfulness and unreliability."
For the older generation within the party, who feared Grace Mugabe could cut off their own access to power, "this was a bridge too far," according to Wolters at the Institute for Security Studies.
"There was so much dissatisfaction with how Robert Mugabe was allowing her to gain some political legitimacy," she added. "It all led up to what happened with the vice president. She humiliated him publicly."
But others question the narrative that Grace Mugabe's bid for power sparked the coup.
"If you place so much significance around her, it seems that she was the power, but the power was Robert Mugabe," said Miles Tendi, a lecturer in African politics at Oxford University. "I have found some of the coverage quite negligent — 'blame the woman!' It's always the crazy wife's fault, but Robert has always been this way before he met Grace."
Tendi believes that, while Robert Mugabe found his wife to be a handy ally, he never saw her as his heir.
"He was sexist and misogynist, so I do not think it was his wife whom he had in mind for a successor," he said. "She was useful to him but that does not mean he wanted to give her power."
One thing most analysts do agree on, however, is that this appears to be the end of the road for Gucci Grace's political ambitions.
The army's pledge to "weed out criminals around President Mugabe" has been widely interpreted as being aimed at members of the G40, Grace Mugabe's faction within Zanu PF that gained its name because most members were in their 40s and 50s.
A senior party source told Reuters Friday that it was making plans to force Robert Mugabe from office if he refuses to budge. Mnangagwa — the fired vice president — is expected to lead any new government.
"I think it's run its course for Grace," Wolters said. " Her political supporters, many of whom have been rounded up, do not have the support of the police. They do not have any strength."