For the past 10,000 years or so, farmers have been waking at the crack of dawn to tend their fields. Such a bleary-eyed chore could become a thing of the past thanks to robots geared up for the farm. 
Among the tools getting a robotic makeover is the tractor. In recent days, a pair of research projects aimed at automating the mechanical workhorses have worked their way into the news.
The Wall Street Journal reported on a partnership between Kinze Manufacturing and Jaybridge Robotics that has produced an autonomous planter that allows a driverless tractor to sow seeds without hitting any unexpected obstacles. At harvest time, a flesh-and-bone farmer would drive the combine, but a robotic cart next to it receives the grain and, when full, heads off to a waiting truck to drop its load.
These robots would cut down on labor costs and allow farmers to get their plants sowed and harvested in a timely fashion, but some farmers are likely to keep an eye on the machines.
For example, instead of catching a few extra Z's, a farmer could program multiple machines to work at once and then keep an eye on the mechanical workforce, hands firmly grasping a cup of coffee.
"It's expensive equipment, it's big equipment and I would expect farmers would want to be nearby," Jeremy Brown, president of Jaybridge Robotics, told the Wall Street Journal.
Meanwhile, Flemish engineers announced a fully automated, self-steering robotic tractor that adapts itself to terrain conditions and adjusts its speed and turning radius automatically.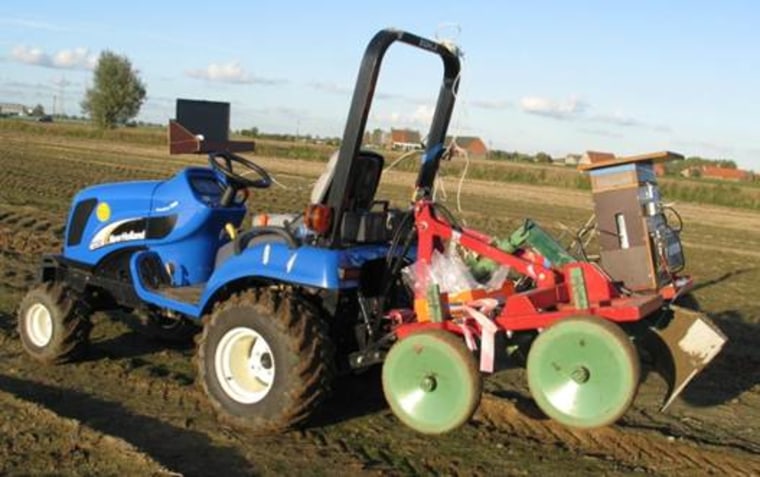 The ability to adjust to differing terrain conditions such as a wet or dry field is a particular breakthrough, according to Gregory Pinte of Flanders' Mechatronics Technology Center, who developed the tractor with researchers at Catholic University Leuven. 
In previous systems, a different setting had to be calibrated for each terrain type. "We developed a steering system that intuits terrain conditions and estimates the expected wheel slippage," he said in a statement.
"Based on a model of the tractor, the optimal speed and turning radius is calculated, in real time, for the current terrain type. This 'smart steering' allows for precision down to the centimeter."
While such systems could be a boon to farmers facing labor shortages when they need help the most, road trippers will have to get used to the eerie sight of driverless tractors working the land as they whiz by at 70 miles per hour.
[Via Popular Science]
More on farming technology:
John Roach is a contributing writer for msnbc.com.