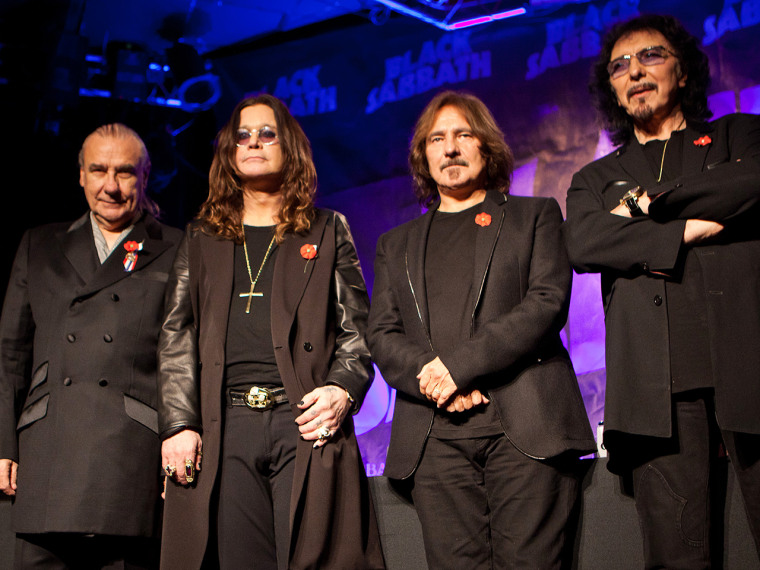 It took 45 years, but they did it: Black Sabbath's new album, "13," topped the Billboard 200 album chart, selling 155,000 copies in its first week. It also topped the UK albums chart.
"Thanks for allowing Sabbath into your homes for the past 43 years," the band tweeted.
The group's Twitter account also sent out a photo of a page in Billboard showing Sabbath topping the list, beating out albums by Daft Punk and Justin Timberlake.

Fans responded quickly to Sabbath's thank you.
"no Thank YOU for the best Music made!!!!!" wrote Dan McFeely.
"THANK YOU BLACK SABBATH FOR YOU!! EVEN WHEN WE HAD TO ARGUE WITH OUR CATHOLIC MOTHERS THAT U WERE NOT DEVIL MUSIC!" wrote another fan.
"13" features the return of lead singer Ozzy Osbourne, who joins original Sabbath members Geezer Butler and Tony Iommi and Rage Against the Machine drummer Brad Wilk. Original Sabbath drummer Bill Ward does not play on the album due to a contract dispute. But Osbourne says the band is working on another new album and wants Ward back for it.
"We would have loved to have Bill on this album," Osbourne reportedly told The Pulse of Radio.com. "Maybe we can work things out by the next one."
Osbourne did suggest that Ward may need some help on the drums. "Bill Ward has got the most physically demanding job of the lot of us, 'cause he's the timekeeper," he said. "I don't think personally he had the chops to pull it off, you know. The saddest thing is that he needed to own up to that, and we could have worked around it, whether we had a drummer on the side with him or something."
But Ward had better work things out with Sabbath quickly. Osbourne said a new album will be quick. "It won't take another 35 years. I'm 65 now. There's no (expletive) recording studios in the afterlife."
Reviews of "13" have generally been positive. Rolling Stone compared the album to early Sabbath, writing that "13" "revisits, and to an extent recaptures, the crushing, awesomely doomy spectacle of their first few records." And AllMusic.com says, "the results are unexpectedly brilliant, apocalyptic, and essential for any die-hard metal fan."
Black Sabbath plans a 20-city North American tour, beginning July 25 in Houston.