A presidential candidate who quips about wishing he'd been first to rape a murder victim can't usually expect to have a good shot at winning the election.
This is no usual year in politics.
Rodrigo Duterte, who has been likened to Donald Trump for his brash manner, is running ahead of his four opponents in the Philippines in spite of a slew of outrageous comments. Voters in America's important ally in the Pacific will go to the ballot box on May 9.
The 71-year-old longtime mayor of Davao City in the south of the Philippines has declared that if he were elected president he would pardon himself for mass murder and kill any of his children if they were involved with drugs.
This trademark tough-guy statements — he revels in the nicknames "The Punisher" and "Dirty Harry" — followed a remark that he would have liked to be the first to rape a 36-year-old Australian missionary who was later killed in a 1989 prison riot.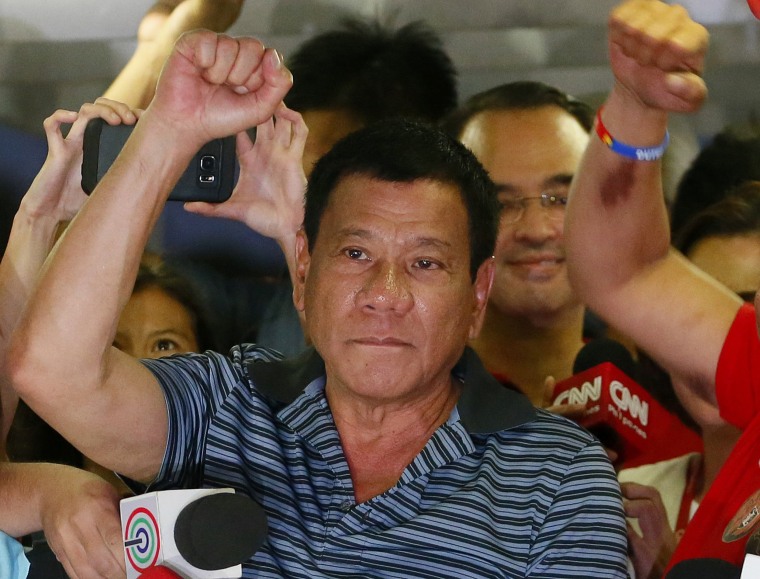 "What a pity they raped her — she looked like a beautiful American actress," the self-confessed womanizer said in local dialect at a rally in Manila. "I thought the mayor should have been first."
A video of his April 12 comments posted on YouTube sparked an uproar.
Instead of letting the issue drop, the trained lawyer then told reporters his daughter was a "drama queen" for raising her own alleged rape — even as she defended her father's remarks.
And when his comments prompted protests from the Australian and American ambassadors to the Philippines, Duterte responded by telling them to "shut your mouth" and threatened to sever ties with their countries if elected.
Duterte later apologized "to the Filipino people" for the initial rape comment, explaining "it's my style, it's my mouth — I said it in the heat of anger."
The candidate's "unconventional" approach to issues, governance and politics, as well as his folksy manner, rightly prompt comparisons with Trump, according to Ramon Casiple, the director of the Philippine Institute for Political and Electoral Reform think tank.
"He may be crass and foulmouthed, but the man has a heart of gold"
Like Trump, Duterte is promising to "shake up the political establishment ... and bring an end to the elite democracy" built by the previous administration of President Benigno Aquino, who is the son of a former president. One of Duterte's rivals is Interior Secretary Mar Roxas, grandson of a former president and the ruling party's candidate.
On top of making what some consider to be offensive comments about rape and promising a hard-line approach to crime, Duterte also is threatening to upset the geopolitical apple cart.
He has, for example, suggested negotiating directly with China to resolve territorial disputes in the South China Seas, or set aside these disputes if Beijing agrees to help the country build railways. This position runs counter to that of the current administration — supported by the U.S. — not to engage in direct negotiations with China and instead take the case to international arbitration.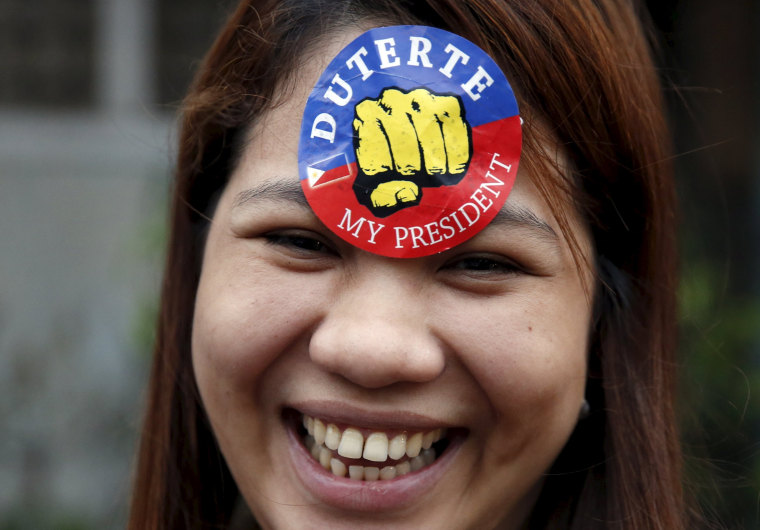 But mainly, Duterte runs on a tough-on-crime platform, and holds up the fact that as mayor he transformed Davao from the country's murder capital to one of its safest cities.
And he burnishes his reputation by taking credit for the deaths of 16 inmates during the 1989 prison riot that led to the rape and murder of the Australian missionary, Jacqueline Hamill. He was mayor at the time.
So while his comments shock some, Duterte's message appeals to many. According to a recent poll, 35 percent of respondents said they would vote for him. The same poll put him 12 points ahead of his nearest rival, Sen. Grace Poe.
Pamela Reyes, who sells crafts and jewelry in the city of Iloilo in the central Philippines, feels that as president, Duterte would look out for the weakest in society.
"He may be crass and foulmouthed, but the man has a heart of gold," the 50-year-old said. "His advocacy of women and kids are a testament of what he truly is."
Related: U.S. Sending Commandos, Combat Aircraft to Philippines
Supporters say he would root out official corruption as well as violence.
"I like him for his iron hand against corruption, drugs and crime," said Reynaldo Sanchez, a 58-year-old ice cream vendor in a suburban area of the capital.
Many Filipinos are simply fed up of the status quo, according to Nelson Navarro, a prominent political biographer.
They are "tired of the elite and its political minions using the same honeyed words and dirty tricks to stay in power but sink the nation deeper into poverty and humiliation," he said.
Duterte is "tough, irreverent and dismissive of official and bureaucratic lies. People love him for that," Navarro added. "He could become president because our system has failed and there are enough who see nothing to lose in trying his methods for a change."

Government corruption is indeed endemic — the Philippines ranked 95 out of 168 on Transparency International's Corruption Perceptions Index 2015.
Not everybody supports Duterte and his approach, however.
Cel Franco, a classical pianist in Manila, said Duterte's "vulgarity" is derogatory to women and "infuriating as it is disturbing."
"He would put strain to our country's international relations. He has proudly stated that he has killed a handful of criminals," the 29-year-old said. "He may be the kind of president that will operate on fear to control the nation."