MANILA, Philippines — Rodrigo Duterte, the bombastic mayor of a major southern city, was heralded Tuesday as president-elect of the Philippines after an incendiary and populist campaign.
"Our people have spoken and their verdict is accepted and respected," outgoing President Benigno Aquino III's spokesman Sonny Coloma said in a statement.
By midmorning on Tuesday, Reuters reported the rolling ballot count showed Duterte had almost 39 percent of votes cast. He was more than 6 million votes ahead of the second-placed candidate with 90 percent of votes counted from an electorate of 54 million.
Related: 'Trump' of the Philippines Runs on Rape Jokes, Violent Vows
Former Interior Secretary Mar Roxas, who was running second behind Duterte in the unofficial vote count following Monday's election, conceded defeat.
"Digong, I wish you success," Roxas said at a news conference, using his rival's nickname. "Your victory is the victory of our people and our country."
Known for his off-color sexual remarks and pledges to kill criminal suspects, the results thrust Duterte into national politics after 22 years as mayor of Davao and a government prosecutor before that. In those two jobs, Duterte gained notoriety by going after criminals, although he was accused of carrying out hundreds of extra-judicial killings.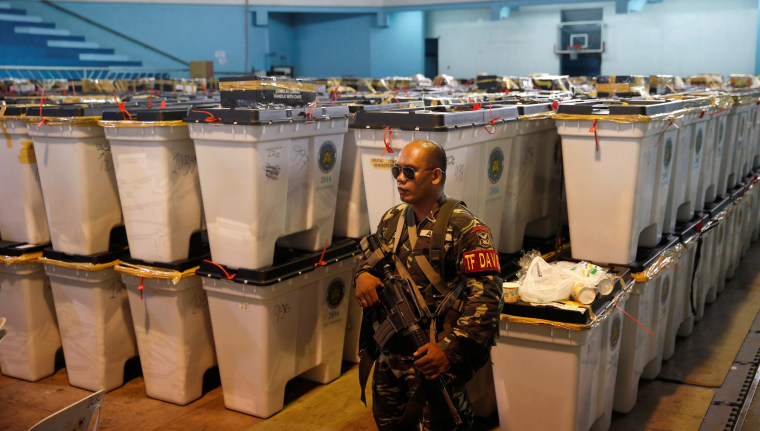 This earned him the nickname "Duterte Harry," a reference to the Clint Eastwood movie character with little regard for rules. He has also been compared to Donald Trump, the Republican presumptive presidential nominee, due to his propensity for inflammatory statements.
Duterte made a succession of winding, bellicose and at times comical remarks on television late on Monday as the votes were being counted.
He said corrupt officials should "retire or die" and reiterated his support for police to use deadly force against criminals.
"If they put up a good fight and refuse to surrender and if you feel your life is in jeopardy, shoot. You have my authority," he told reporters, wearing a checked shirt and slouched in a chair.
Duterte also said that he wouldn't go on any overseas state visits to places where the weather was cold.
In the election for vice president, who is separately elected in the Philippines, the son of late dictator Ferdinand Marcos was trailing by a hair to a political neophyte, Rep. Leni Robredo, who is backed by Aquino.
During the three-month campaign, Duterte made audacious promises to eradicate crime and corruption within six months.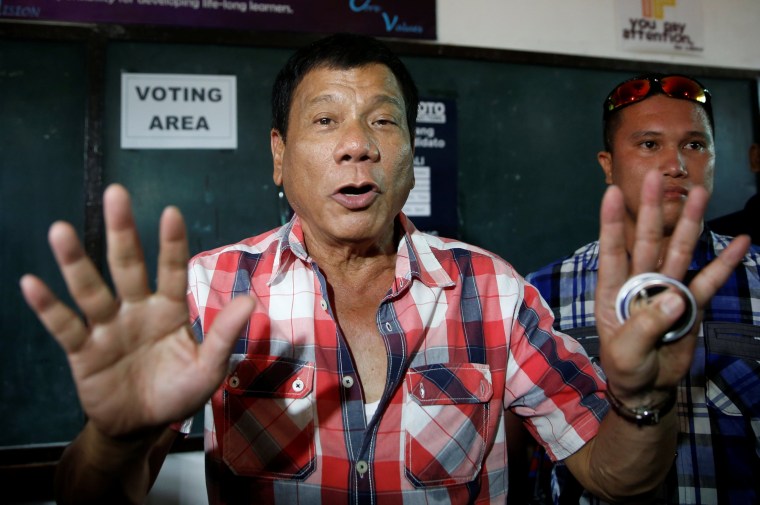 His explosive outbursts and curses against the inequality and social ills that bedevil the Filipino everyman resonated among different class levels of the people that his big political rivals clearly underestimated until he began to take a strong lead in opinion polls in the final weeks of the campaign.
The 71-year-old captured domestic and international attention with speeches peppered with obscene jokes about sex and rape and anecdotes about his Viagra-fueled sexual escapades, and for undiplomatic remarks about Australia, the United States and China, all key players in the country's politics.
Duterte's entertaining speeches, often loaded with profanities, have shed little light on his policies beyond going after gangsters and drug pushers.
He has been vague on what he would do to spur an economy that has averaged growth at around 6 percent under the outgoing Aquino.
He has described himself as a socialist wary of the U.S.-Philippine security alliance. He has worried members of the armed forces by saying that communist rebels could play a role in his government.
When the Australian and American ambassadors criticized a joke he made about wanting to be the first to have raped an Australian missionary who was gang-raped and killed by inmates in a 1989 jail riot, he told them to shut up.
He said he would talk with China about territorial disputes in the South China Sea but if nothing happened, he would sail to an artificial island newly created by China and plant the Philippine flag there. China, he said, could shoot him and turn him into a national hero.
He has also threatened to form a one-man rule if legislators in the Congress oppose him.