Philippine President Rodrigo Duterte has said former President Barack Obama can "go to hell," called President Donald Trump a "bigot" and talked about personally executing people — yet he boasts a nearly 80 percent approval rating in his country, according to a recent poll.
And now he's been invited to Trump's White House.
Trump drew criticism on Saturday when he invited the controversial Asian leader to Washington, during what a White House statement referred to as a "very friendly conversation" with Duterte.
The pair discussed that Philippine government "is fighting very hard to rid its country of drugs," the statement said.
Duterte — whose nicknames include "Duterte Harry" and "The Punisher," both references to ultra-violent fictional vigilantes — has been condemned by human rights organizations for his contentious war on drugs and crime, which has claimed the lives of thousands of people.
Yet the Asian leader remains incredibly popular among his supporters and is a key player in U.S. relations in the region.
Here's what you need to know about Duterte and his rise to power.
Who is Duterte and where does he come from?
Duterte is the son of a former governor of Davao Province in the southern Philippines and staked his own claim to the nation's political scene first as the strongman mayor of the city of Davao, beginning in 1988.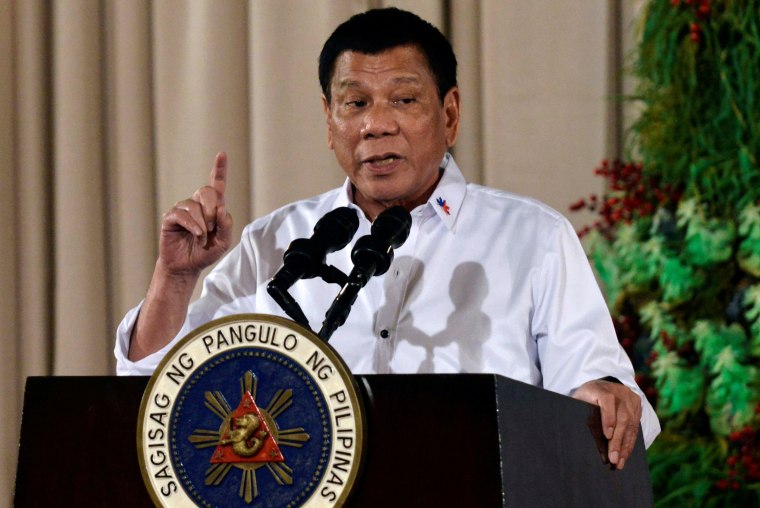 "He's a provincial politician, not part of the sort of traditional Manila elite and he was mayor for longtime and basically ran his city like a personal sort of fiefdom," Marvin Ott, a senior scholar at the Wilson Center and visiting professor at Johns Hopkins University, told NBC News.
During his 20 years as mayor, Duterte earned the nickname "the death squad mayor" because of the teams of hit men he allegedly sent to target suspected drug dealers — and addicts. Duterte has denied a role in the vigilante killings, but has also praised them.
He has also touted the fact that as mayor, he transformed Davao from the country's murder capital to one of its safest cities.
"Duterte, who was somewhat like a dictator in Davao, was very successful in the eyes of many people — not only in Davao but around the country," Richard Javad Heydarian, a Philippine author and political scientist, told NBC News.
Why are some angry about Trump's invite?
Duterte's reputation for promoting violence in the name of public safety — even boasting about having "personally" killed suspected criminals — has earned him intense condemnation from human rights groups across the globe.
As recently as December, Duterte said he would go around "looking for a confrontation so I could kill" while he was mayor.
Phelim Kine, deputy director of the Asia division of Human Rights Watch, told NBC News that HRW documented the "vicious death squad" during Duterte's tenure as mayor.
"It killed hundreds of people," Kine said. He added that although the group never found "any conclusive link" between Duterte and the death squad, they did find that members of his police force and city government "were very much involved" and "paying these killers."
As president, HRW and other groups say Duterte's "war on drugs" and crime has led to the deaths of an estimated 7,000 people.
"It's absolutely appalling that President Trump's first meaningful engagement with President Duterte did not include any meaningful reference or condemnation for the fact that Duterte has inflicted nothing less than an absolute human rights calamity on his country," Kine said.
The New York Times recently won a Pulitzer prize for a photo-essay documenting the horrific aftermath of the Philippines' brutal policing.
So how did Duterte become president?
Duterte rode an anti-establishment wave to the presidency in May 2016, despite his history of outlandish comments and his predecessor, former President Benigno Aquino, endorsing the Liberal Party's Manuel Roxas for his preferred successor.
"He was not somebody you would have expected to end up as president of the Philippines," Ott said.
Duterte made his signature issue what he described a rampant drug problem in the Philippines, Ott said, and was able to galvanize a strong base around that issue and eradicating crime in the Philippines.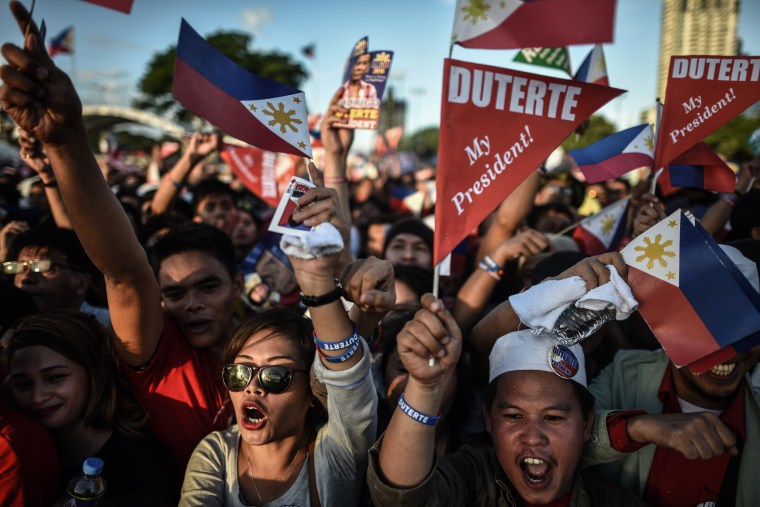 "He's a very distinctive personality — very flamboyant, very much like Donald Trump — lots of bravado, lots of bombast," he said "He cut quite a swaggering path through the presidential camp."
Heydarian noted that Duterte was able to successfully portray his more mainstream opponents as corrupt and ineffective.
"By some chance all of his opponents had skeletons in their closets, so when Duterte played this anti-establishment card, it really struck a chord," he said.
"He was the right guy at the right time," he added.
Duterte received more than 16.6 million votes in the election, 6.6 million more than his closest opponent, Roxas, according to the AP.
"He has not lost a single election in his life — how many people have done that?" Heydarian said.
Should he be taken seriously, literally, or both?
Duterte has built a reputation for his brash, and sometimes offensive, rhetoric.
In December, he threatened government officials with the prospect of being thrown out of a helicopter in mid-air if they were found to be corrupt — claiming he had done it before to a man suspected of rape and murder.
He caused an uproar during his campaign for joking that he would have liked to be the first to rape a woman who was gang-raped and killed while he was mayor during in a 1989 prison riot in Davao.
"I was angry because she was raped, that's one thing. But she was so beautiful, the mayor should have been first. What a waste," Duterte said.
He has also compared himself to Hitler and said he would "be happy to slaughter" three million drug dealers and users — one of the few comments he later apologized for.
But Heydarian said that, at least in the Philippines, many people take Duterte "seriously," but not literally, and that his brash comments do not largely sway his approval rating.
"The majority of people believe that Duterte is just using tough language to scare the people and to mobilize law enforcement," he said.
"Outside in the West, the fact of the matter is he's seen as an unhinged populist and a dictator in the making," he said, adding, or at the very least "a problematic ally."
But back at home, Heydarian said, many "see Duterte as a caring and sincere leader, who actually wants to make the Philippines a better place by adopting an outside-of-the-box approach."
What was his relationship with President Obama?
Duterte, known for not shying away from anti-American rhetoric, lashed out at former President Barack Obama several times over criticism of his controversial drug campaign.
Duterte once said Obama "can go to hell" and has referred to him using the Tagalog phrase for "son of a b----" or "son of a wh---." He later expressed "regret" for the remark.
For his part, Obama initially dismissed the comment as "colorful," but also cancelled a scheduled formal meeting with Duterte back in September. The two did end up meeting informally.
Still, Ott and Heydarian said that despite his talk, Duterte needs the U.S. as an ally, whether the president is Obama, Trump or anyone else.
What does Duterte think of Trump?
Duterte's brash rhetoric and embrace of populism had earned him some comparisons to Trump.
But the Philippine leader rejected the comparison during an interview with the Associated Press in March 2016, saying, "Donald Trump is a bigot, I am not."
After the November election, however, Duterte spoke relatively positively about Trump, apparently in the name of pragmatism.
"I would like to congratulate Mr. Donald Trump. Long live," Duterte said in November, according to Reuters. "I don't want to quarrel anymore, because Trump has won."
So is Duterte coming to the U.S.?
While Trump did not indicate a time-frame for Duterte's invitation, the Philippine president told reporters on Monday that he could not commit yet because he might be "tied up."
"I cannot make any definite promise. I am supposed to go to Russia and go to Israel," he said.