An average of 35,000 Rohingya Muslim refugees per day have fled violence in majority Buddhist Myanmar for neighboring Bangladesh over the last week, according to figures released by the U.N. refugee agency on Tuesday.
With no end to the exodus in sight, the head of the U.N. Human Rights Commission also criticized Myanmar's treatment of the Rohingya, saying that the "situation seems a textbook example of ethnic cleansing."
More than 370,000 of them have left the country since Aug. 25, the U.N. said.
"We have received multiple reports and satellite imagery of security forces and local militia burning Rohingya villages, and consistent accounts of extrajudicial killings, including shooting fleeing civilians," U.N. human rights chief Zeid Ra'ad al-Hussein said in Geneva on Monday.
He described the military's reaction to attacks by Rohinyga militants who targeted police posts late last month as "clearly disproportionate and without regard for basic principles of international law."
The U.S.,which has supported the former military dictatorship's efforts at political reform, called for the protection of civilians and an end to hostilities.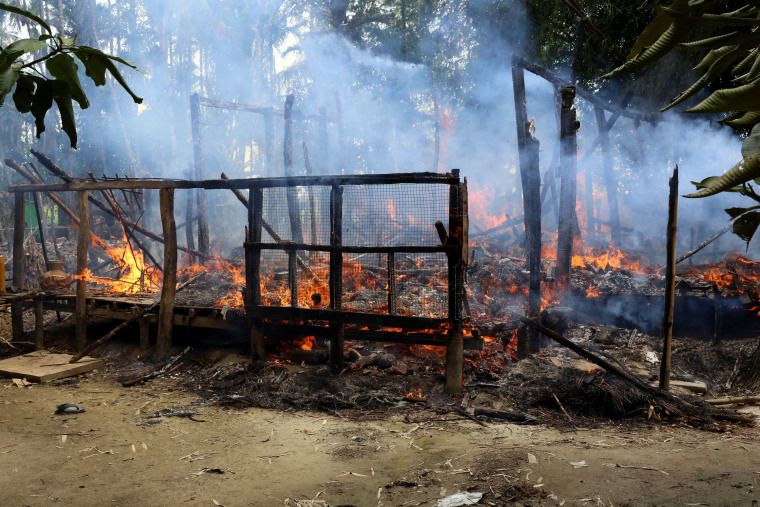 Myanmar's government regards most Rohingya as illegal immigrants from Bangladesh and denies them citizenship even though many have lived in the country for generations. Until the current crisis, there were around 1 million Rohingya in Myanmar.
While Nobel Peace Prize winner Aung San Suu Kyi is Myanmar's de facto leader, observers point out that that she ultimately has no control over the powerful military's activities on the ground. The armed forces are run by Commander-in-Chief Min Aung Hlaing.
A statement issued by the Information Committee, Suu Kyi's office, said on Monday that it shared "the concern of the international community regarding the displacement and suffering of all communities affected by the latest escalation of violence ignited by the acts of terrorism."
Some refugees have given chilling accounts of what prompted them to flee.
"The military and the vigilantes came and started shooting in our village," a woman named Diljar told Britain's Channel 4 News, as she held her 8-week old baby. "I decided it was better to run than die. They burned down all our houses. We've been in the jungle for the last 12 days."
Bangladeshi Prime Minister Sheikh Hasina accused Myanmar of "atrocities," adding: "Women are being raped and tortured, children are being killed, and houses are being set on fire."
Meanwhile, the Dalai Lama said the suffering of the Rohingya fleeing Myanmar would have inspired Buddha to offer aid.
The Tibetan Buddhist spiritual leader said those who are harassing Muslims "should remember Buddha. I think such circumstances Buddha would definitely help to those poor Muslims."