Refugees driven out of Myanmar by what the U.S. has called "ethnic cleansing" now face a new threat: the looming monsoon and cyclone season.
Authorities have warned that more than 100,000 Rohingya Muslims who fled into neighboring Bangladesh are at risk of losing their makeshift homes to the deadly floods and landslides that accompany seasonal rains.
Workers are scrambling to reinforce shelters and dig drainage systems before the bad weather is expected next month.
"We're doing what we can but we're not sure it's going to be enough."
"On the hill where my house is built there are 960 houses and this hill will possibly collapse in the coming monsoon season," said refugee and community leader Sabbir Ahmed, responding to questions asked by NBC News with the help of a translator supplied by the International Organization for Migration, the U.N.'s migration agency.
Ahmed is one of the nearly 700,000 refugees — roughly the same number of people who live in Denver or Seattle — who have streamed out of Myanmar since violence erupted in August.
On Wednesday, U.N. human rights chief Zeid Ra'ad al-Hussein said that he strongly suspected "acts of genocide" may have taken place against the ethnic minority in Myanmar's northern Rakhine State since then. He also suggested that reports of the bulldozing of mass graves in Myanmar showed a "deliberate attempt by the authorities to destroy evidence of potential international crimes, including possible crimes against humanity."
Ahmed left Myanmar in August with his wife, seven children, parents and three siblings and walked for two days through the rain to reach the border with Bangladesh. Along the way, Ahmed's wife gave birth to a girl. He now lives in Unchiprang, which is home to more than 20,000 refugees.
The situation described by Ahmed is largely the same in other makeshift camps housing the refugees near Cox's Bazar, Bangladesh.
"It's a race against time," said Caroline Gluck, a spokeswoman for the United Nations refugee agency (UNHCR) in the country. "We're very alarmed, we're very concerned, we're doing what we can but we're not sure it's going to be enough."
Steep hills that were once covered in trees and foliage have now been cleared to make way for the tarpaulin shelters. Now bare and sandy, the banks have become more vulnerable to landslides in rainy conditions, Gluck explained.
"Families have also been digging up the roots to use as firewood for cooking so there is nothing holding the soil together," she added. "The soil is eroding. It's like gravel."
Conditions are so cramped in the settlements that some of the shelters have been built on 45-degree slopes. The close quarters fall short of accepted international standards for refugees, Gluck added.
"For the people who've built at the top of these slopes, then their shelters are at risk of being carried away in mudslides," a spokeswoman for the U.N.'s migration agency (IOM), Fiona MacGregor, said. "For the people at the bottom, they face the threat not only of mud and other debris landing on them from above, but also of flash floods."
The rains are likely to start falling in April and could last until September, while May and June tend to be the wettest months, she added.
The floods could also leave hundreds of thousands vulnerable to disease and unable to get aid if flooding cuts off parts of the settlements, the IOM warned.
In preparation, the IOM is distributing 120,000 shelter upgrade kits containing sandbags, tarpaulins, bamboo, ropes and pegs to anchor down the ramshackle homes. However, tarpaulin shelters will still be vulnerable during cyclone season.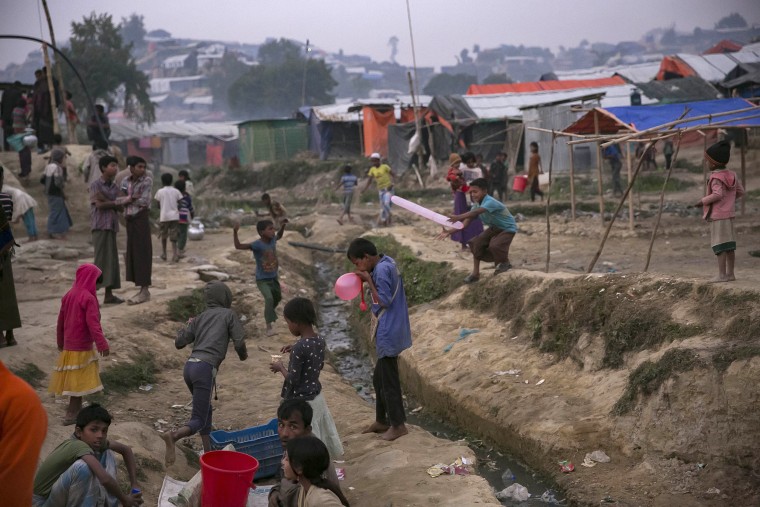 MacGregor said refugees and local Bangladeshis are also being trained in first aid and search-and-rescue skills.
Bridges are being heightened and engineering platforms established across the settlement to help clear roads for aid convoys in the event of flooding, Gluck said.
"We just don't know what will happen and the worst that the monsoon rains will bring," she added. "We're just hoping for the best"
Cox's Bazar is where the exodus had ended for many Rohingya in the wake of what Myanmar's military has called "clearance operations."
Soldiers and Buddhist mobs have killed Muslim men, raped women and burned down houses, according to witnesses. Humanitarian groups have accused the military of systematic rape to help drive away the Rohingya.