The largest anti-government crowds since the violent 1989 revolution that toppled dictator Nicolae Ceausescu succeeded Sunday in pressuring Romania's new government to repeal a decree that would have eased penalties for official corruption.
The law, opposed by the influential Romanian Orthodox Church, would have weakened the country's emerging anti-graft effort.
Nightly protests in Bucharest and other major cities have putted angry citizens against a moneyed elite that stands to benefit if the law eventually passes.
PHOTOS: In Romania, Protests Prompt Governtment to Rescind Corruption Bill
Tens of thousands of demonstrators packed a square outside government offices in the capital, waving Romanian flags and using their smartphone torches to illuminate the night sky. They yelled, "You thieves!" and "Resign!"
Gymnasium owner Cornel Sain, 53, carried an American flag because he wanted to thank U.S. officials for calling for a repeal of the law.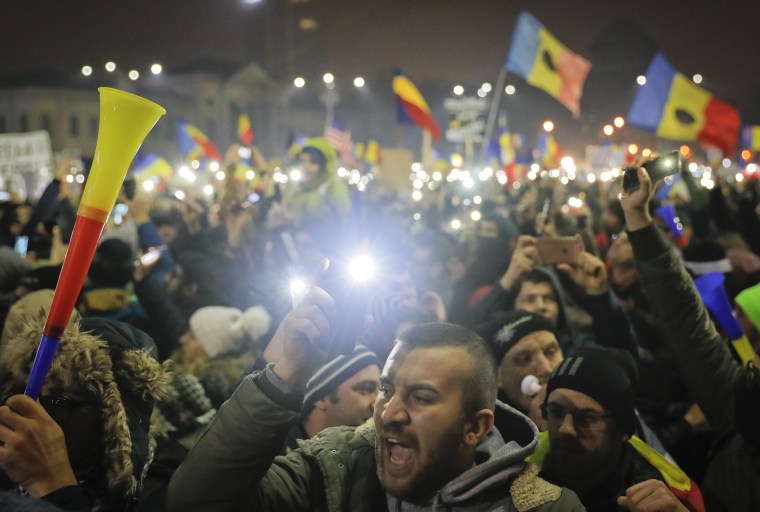 He said the crowds reminded him of the 1989 revolt that ushered in the post-communist era as Soviet rule collapsed in Romania and much of Eastern Europe.
"This fight is different than 1989 — no bullets, no casualties. It's a moral fight. But it's almost as important," Sain said. "That fight was... with death and suffering. This is a fight for hope."
Romania's Constitutional Court is still scheduled to rule on the legality of the just-repealed proposal. Among those it might have benefited is Social Democratic Party leader Liviu Dragnea, whose path to becoming prime minister is effectively blocked by corruption charges.