Rome elected the first female mayor in the city's long history Sunday in municipal runoffs that could see Italian Prime Minister Matteo Renzi's ruling coalition on the losing side in many of the country's major hubs.
Rome city council member Virginia Raggi, a 37-year-old lawyer from the opposition Movimento 5 Stelle, or Five Star Movement, had 67 percent of the vote with more than 99 percent of the votes counted, the Interior Ministry said Monday morning.
She beat Renzi-backed Roberto Giachetti and ousted Renzi's Democratic Party, or PD, from power in the Italian capital. Giachetti conceded defeat a couple of hours after the polls closed, the Italian news agency ANSA reported.
Raggi, who led Giachetti by almost 11 percentage points in the June 5 primary, won almost every part of the city in Sunday's runoff, the national newspaper Corriere della Sera reported.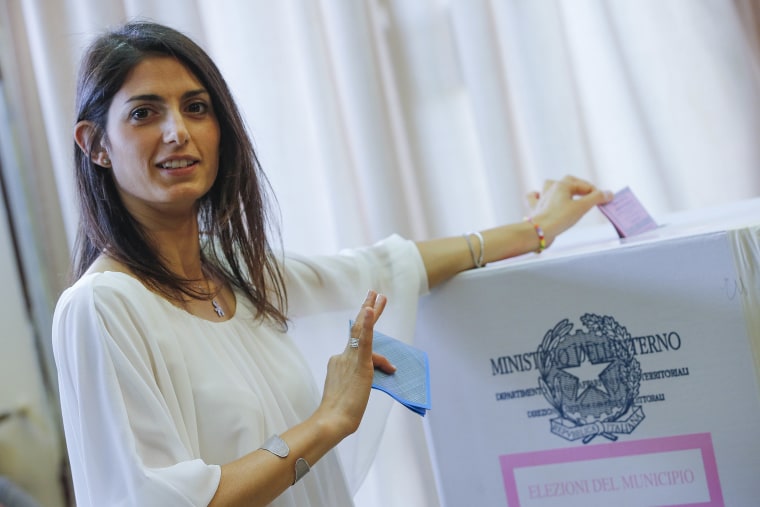 Renzi-backed candidates also faced runoffs in Milan, Turin and Bologna, and the party has already lost in Naples, where the PD candidate finished third in the primary. The PD candidate was leading only in Milan, where Giuseppe Sala was ahead within the margin of sampling error.
Renzi's ruling coalition — like many previous Italian governments — has been accused of widespread corruption, especially in Rome, where prosecutors have been pursuing many establishment politicians for alleged links to organized crime for more than a year.
Raggi's party, known as M5S, is about as antiestablishment as it can be. Founded on the Internet only about 6½ years ago as a "clean" alternative to business as usual by TV comic Giuseppe "Beppe" Grillo, M5S is already the largest single party in Italy's lower Chamber of Deputies.
Grillo traveled to Rome to join Raggi in victory, which makes her the first woman ever to win the mayor's office.
She has played down that fact, however, in favor of focusing her campaign on the yearlong corruption investigation and on municipal issues like the poor condition of city streets and parking, Corriere della Sera reported.