BOSTON -- Mitt Romney stepped Friday into the political controversy surrounding the question of precisely when he ceded control of the private equity firm he founded, saying in an interview that despite reports that his name continued to appear on government documents on behalf of Bain Capital until 2002, he had absolutely no working relationship with the company after leaving in February 1999 to take over the Salt Lake City Olympic Games.
"In February of 1999 I left Bain Capital and left all management authority and responsibility for the firm. I had no ongoing activity or involvement in the affairs of Bain Capital because I went out to run the Olympics," Romney told NBC's Peter Alexander in an interview in New Hampshire. "And so in February of 1999 I became the full-time chief executive officer of the Salt Lake Olympic Organizing Committee and I had after that time no work whatsoever with Bain Capital people. No responsibility or activity with the management of Bain Capital."
After a Boston Globe story published Thursday called into question the timeline of Romney's departure from Bain Capital the Romney campaign has been under siege from negative headlines and attacks from Democrats. The issue is important to the electoral narrative because Romney's campaign has claimed that several controversial investment decisions made after 1999 were done without Romney's input.
Romney on Friday insisted he did not attend a single meeting or or participate in any major decisions at Bain after February 1999.
"I don't recall a single meeting or a single participation in an investment decision by Bain or personnel decision," Romney said. "I left the firm. I was full time running the Olympics in 2002, and the years leading up to it."
On Thursday, Obama deputy campaign manager Stephanie Cutter said on a conference call with reporters reporters that the SEC filings revealed either 1) that Romney's involvement with Bain extended beyond 1999 and he wasn't being truthful to the voters, or 2) that he and Bain made a mistatement on goverment documents, which could be a felony.
In response, Romney might have called upon President Obama to "rein in" his campaign.
"The president's campaign has been I think outrageous I think in making the charges they have," Romney said. "I think the kinds of attacks are beneath the dignity of the presidency. I think the president needs to rein in his campaign and start talking about the real issues people care about which relate to our economy."
In an interview with Virginia television station WJLA earlier Friday afternoon, President Obama weighed in on the controversy, saying that he thought the debate over when Romney left Bain was relevant to the national conversation because it strikes at the issue of responsibility, and that he thought Romney would have to answer questions about his Bain tenure sooner, rather than later.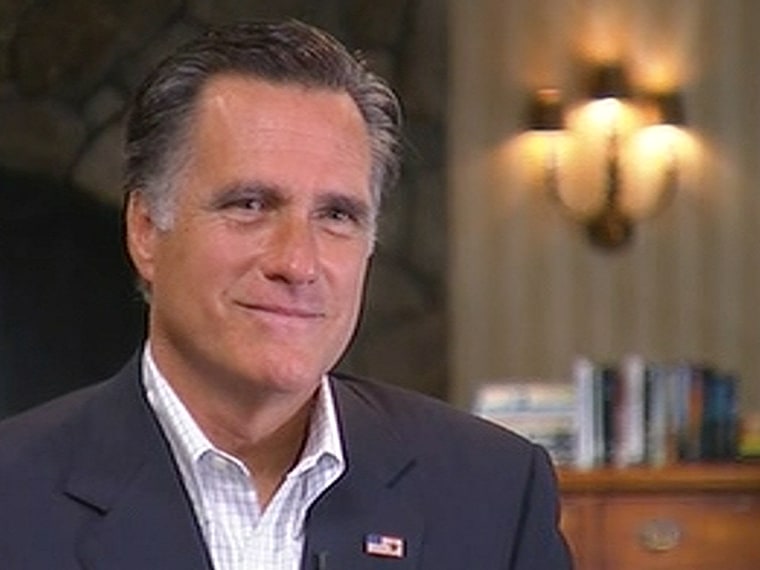 "Ultimately Mr. Romney, I think, is going to have to answer those questions, uh, because if he aspires to being president one of the things you learn is, you are ultimately responsible for the conduct of your operations, but again that's probably a question that he's going to have to answer and I think that's a legitimate part of the campaign," the president said in the interview.
Romney further defended his campaign's decision not to release more than two years of his personal tax returns, saying that he had met all federal requirements for transparency into his financial background, and that he would not provide release more information simply to provide fodder for Democratic opposition researchers.
"You know actually Congress has decided what information is necessary and appropriate to come from a presidential candidate. And they've laid out what that is through a financial disclosure process and I've complied with all of that," Romney said. "And then in addition to that, I've provided tax returns, and will provide another tax return this year.  But you know, I understand that the opposition research people at the Obama campaign want more information that they can dig through. You know what? I've put out as much as we're gonna put out, once I've added this year, and that's the information that gives people more information than what is required by law."
In a final note about his personal finances, Romney said the Swiss bank account opened on his behalf by his blind trustee Bradford Malt, revealed in his financial disclosure forms, was not indicative of how his investments were structured, and that "ninety nine point five percent," of his investments were in American enterprises.