Mitt Romney still has a chance to define himself for voters at several key junctures left in this campaign, in spite of the Obama campaign's furious efforts to paint the presumptive GOP nominee essentially as a corporate raider and out-of-touch millionaire.
President Obama's team has poured millions into advertising that voices suspicions about Romney's personal wealth and his time at Bain Capital in hopes of priming voters' perceptions of the former Massachusetts governor. In turn, the Romney campaign has been knocked off-message in recent weeks by questions surrounding his departure from Bain and demands that he release additional years of tax returns.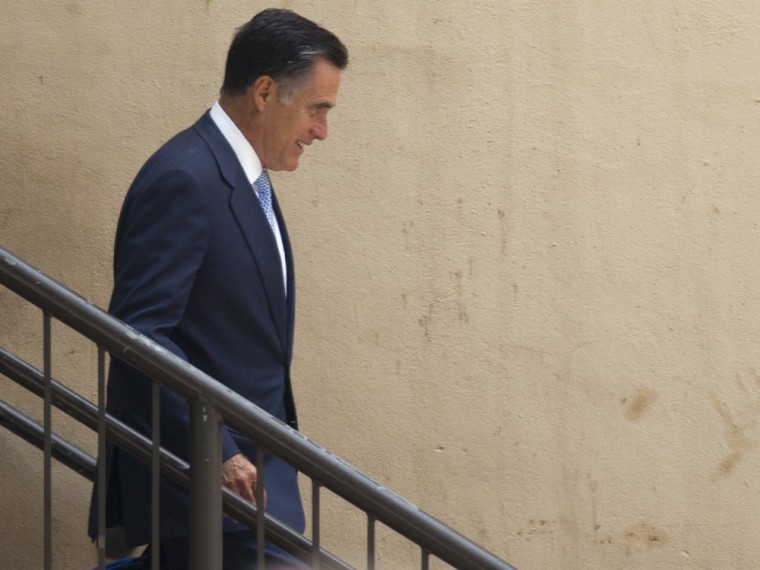 "It's incredibly disciplined," said Bob Shrum, the longtime Democratic consultant, of the Obama campaign's efforts. "They obviously knew what they were doing coming out of the primary. They obviously tested these tactics in focus groups and polling."
But if the Romney campaign is sweating these attacks, the public would never know it. The Boston-based team hasn't budged in the face of demands – even from conservatives – that Romney release more tax returns. And they've waved off questions about Romney's retirement from Bain as a distraction.
GOP frets about swing state toll on Romney from Bain attacks
There is evidence the Obama campaign's attacks have taken a toll on Romney among voters in swing states, especially ones with heightened scrutiny of outsourcing. But Republicans are quick to note that Romney still has ample opportunities to introduce himself to voters – on his own terms.
"Mitt Romney, when you look at the race, there's nine or 10 really consequential hours left in the campaign," said Steve Schmidt, a senior adviser to Arizona Sen. John McCain's 2008 presidential campaign.
In short, Republicans believe that few voters have yet to tune in fully to the campaign, and that Romney has several opportunities to reach voters who might be less familiar with his background and record.
There have been indications that the first opportunity, Romney's selection of a running mate, could come as early as this week. Senior adviser Eric Fehrnstrom on Monday wouldn't rule out a pick this week for reporters, and the Romney campaign continued to stoke speculation Tuesday morning by announcing senior staff for the impending VP pick.
First Thoughts: Don't bet on an early VP pick
And Romney will have other opportunities to make his case in an unfettered medium to voters who are thought to start paying more close attention to the campaign at the end of summer. The Republican National Convention next month in Tampa, if executed well, could prove a chance to lionize Romney and the GOP ticket. And the three scheduled presidential debates this fall between Obama and Romney will prove a pivotal opportunity for voters to size up the two candidates versus each other.
Moreover, there are other inflection points that might allow Romney to seize control of the media narrative – among them his foreign tour later this month that will take him to the Summer Olympics in London and, afterward, to Israel.
"Voters by definition don't lock in until the entirety of the process plays out," said Schmidt. "We're about to enter a phase of the campaign where there are a number of events that are watched by tens of millions of people that could affect the trajectory of the race."
RELATED: Is Romney too focused on the economy?
But there are potential liabilities associated with simply trying to wait out the summertime bickering between the campaigns.
Case-in-point: the 2004 presidential campaign, when withering attacks from the outside conservative group "Swift Boat Veterans for Truth" took aim at Democratic nominee John Kerry's military record.
Those attacks, said Shrum, didn't necessarily convince voters that Kerry was unqualified to serve as commander in chief, but he said they did "disrupt our campaign for two to three weeks."
Mark McKinnon, a former political adviser to President George W. Bush's campaign, said the similarities between the 2004 Republican campaign and Obama's re-election effort were "spooky."
Among the most striking similarities, he said, are Bush and Obama's shared effort to make the race into a choice between the two candidates rather than a referendum on the incumbent's first term – an important strategy given the potential vulnerabilities Bush had on foreign policy and Obama suffers on the economy.
And Bush, like Obama, also spent early and heavily to frame the race.
Some conservatives have even openly mentioned the possibility that Romney might be "Swift Boated" in reference to the attacks he now faces from the Obama campaign. It's part of the reason that the right has begun to clamor for a more aggressive response by Romney to the president's attacks.
If he loses this fall, the former Massachusetts governor might find himself the victim of the second-guessing that inevitably follows a party's losing electoral effort. And if he wins, Romney might be the beneficiary of the same praise heaped on the Obama campaign for its supposedly disciplined and unrattled operation.
"That's how you win campaigns," said Shrum. "Having a good strategy, consistently executed is much better than constantly searching for a perfect strategy and intermittently executing it."