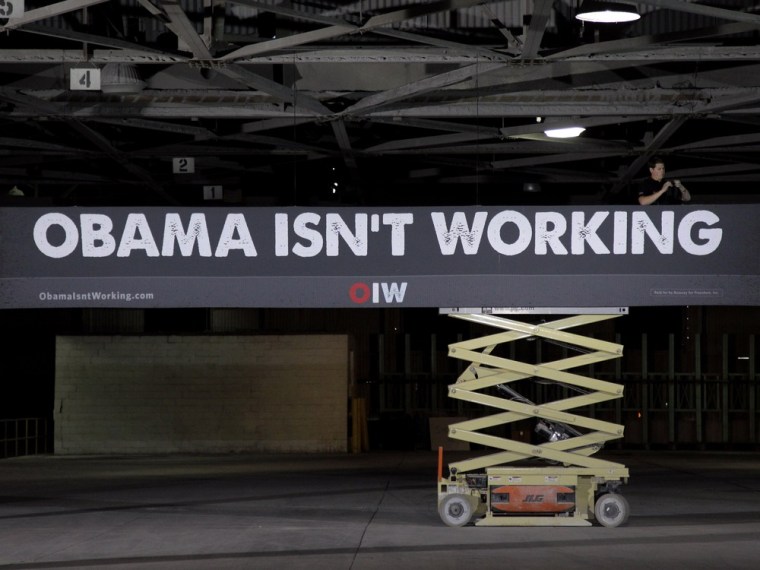 Mitt Romney has staked much of his fate as a presidential candidate on an argument that Democratic incumbent Barack Obama has failed the nation fiscally, and as a Republican commander in chief, he'd be a better steward of the economy.
The latest NBC News/Wall Street Journal poll contains plenty of data to suggest that voters are unhappy with Obama's handling of the economy. But as he and Vice President Joe Biden are fond of saying: "Don't judge me against the Almighty, judge me against the alternative."
And Romney, the former Massachusetts governor who assumed the status of presumptive Republican nominee just weeks ago, doesn't yet own the commanding advantage on the economy that his campaign might need to win this November.
Thirty-two percent of respondents in Thursday's NBC/WSJ poll said they'd expect economic conditions to improve if Romney were elected; 24 percent said the economy would be hurt by a Romney administration, while 39 percent said it would make no difference.
But, in a possibly worrying point for the Romney campaign, respondents didn't view the former Bain Capital co-founder's potential impact on the economy as that much better – or worse – than Obama's.
First Read: Obama vs. Romney in 2012 resembles 2004 campaign
Thirty-one percent of respondents said they expected a second term for Obama to be helpful for the economy; 30 percent said Obama's re-election would hurt the economy, and 37 percent said it wouldn't make much of a difference.
"Romney's entire campaign is based on the premise that he can handle the economy better. And this poll shows that even though we're in a tough economy, Romney's not getting traction on that issue," said Maryland Rep. Chris Van Hollen, the top Democrat on the House Budget Committee.
But Romney can take solace in the fact that the general election has only just begun. He has months to begin articulating his message on the economy to voters.
His challenge is to persuade those voters who think a Romney presidency would hurt or have no difference on the economy into believing that his administration would "help" the economy, said Douglas Holtz-Eakin, an economic adviser to Arizona Sen. John McCain's 2008 Republican presidential campaign.
"That's the election right there," he said.
Romney has begun his general election effort by highlighting examples of "failures" by the Obama administration, most recently Thursday at a drywall factory in Lorain, Ohio, a place where the president actually spoke as a candidate in 2008.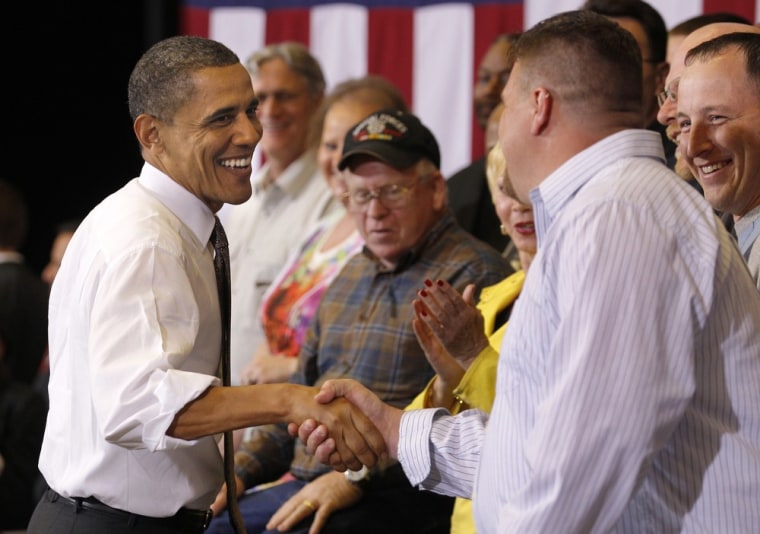 "Had the president's economic plans worked, President Obama's plans worked, it would have been open by now," Romney said of the facility, shuttered during the tenure of George W. Bush. "But it is still empty, and it underscores the failure of this president's policies with regards to getting the economy going again."
During that Romney event, which came on the heels of a Wednesday visit by the president to nearby Elyria, Ohio, a large banner announced, "Obama isn't working."
NBC/WSJ poll: Obama leads Romney by six points
On that matter, 45 percent of Americans said they approved of Obama's handling of the economy, while 52 percent expressed disapproval.
Also encouraging for Romney was that more poll respondents – 40 percent – saw him as better at having good ideas for how to improve the economy, versus 34 percent who said that of the president.
But that was one of the few qualities between Obama and Romney on which the ex-governor had an advantage over his Democratic rival. And if voters see the differences between the two men on the economy as a wash, said Van Hollen, then the other issues on which Obama has an advantage may carry the day.
"The fact that Romney isn't doing better on this one piece means all the other factors come into play, and so far the news has not been good for Mitt Romney," he said.
Van Hollen also argued that the collateral damage to voters' perception of Romney's economic acumen was minimal.
Former New Hampshire Gov. John H. Sununu, who's served as a top surrogate for Romney, said the first step for the Republican would be to outline Obama's shortcomings.
"The centerpiece of the message is the failure of the economic policies of the administration," Sununu said. "You get people's attention by reminding them they're in misery right now."
Then, Sununu said, Romney could move onto presenting his alternative.
It's the strength of that alternative – and whether voters grow to believe it represents a substantial improvement from Obama – that could shape the trajectory of Romney's campaign.
Holtz-Eakin recommended a methodical approach for Romney going forward that serves two purposes: questioning Obama's economic management while promoting his own alternatives.
"What he needs to do, I think, is systematically, patiently, regularly roll out ideas across the spectrum. And do that so that there's both the impression and reality of a steady stream of new ideas," he said. "One that fills out his policy platform, consistent contrast with what the president has done, and thus forces a backward-looking evaluation of what the president has done."