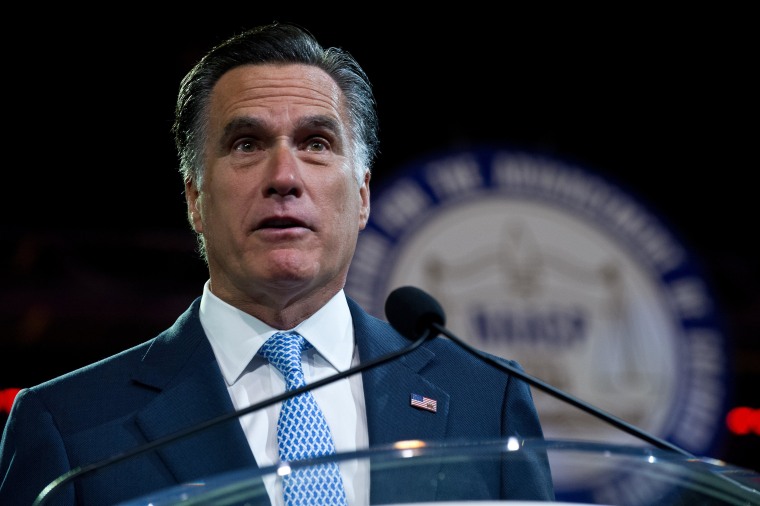 The timeline of Mitt Romney's tenure at Bain Capital is increasingly becoming fodder in the presidential campaign, as reports continue to surface suggesting that his involvement with the company extended for as many as three years past his official departure in 1999.
 
A report out this morning in the Boston Globe chronicles the murky timing in which Romney says he left the private equity firm to rescue the Salt Lake City Winter Olympics of 2002.
Romney has said he left Bain in 1999 to lead the winter Olympics in Salt Lake City, ending his role in the company. But public Securities and Exchange Commission documents filed later by Bain Capital state he remained the firm's "sole stockholder, chairman of the board, chief executive officer, and president."
Also, a Massachusetts financial disclosure form Romney filed in 2003 states that he still owned 100 percent of Bain Capital in 2002. And Romney's state financial disclosure forms indicate he earned at least $100,000 as a Bain "executive" in 2001 and 2002, separate from investment earnings.
The Romney campaign wasted no time in firing back, though the candidate himself has not addressed the latest allegations. 
"As Bain Capital has said, as Governor Romney has said, and as has been confirmed by independent fact checkers multiple times, Governor Romney left Bain Capital in February of 1999 to run the Olympics and had no input on investments or management of companies after that point," campaign spokeswoman Andrea Saul said in a statement.
Bain also issued a new statement today saying "due to the sudden nature of Mr. Romney's departure, he remained the sole stockholder for a time while formal ownership was being documented and transferred to the group of partners who took over management of the firm in 1999.  Accordingly, Mr. Romney was reported in various capacities on SEC filings during this period."
However, more and more reports are stacking up against Romney's claims, with as many as four sets of SEC filings showing that Romney's departure from Bain was not as clean-cut as the campaign would like the public to believe.
On top of the questions to the timing of his tenure, Mother Jones Washington bureau chief and MSNBC contributor David Corn Thursday slammed the Romney campaign with another blow on outsourcing, arguing that Romney "was the sole shareholder, sole director, president and CEO" of two Bain-affiliated companies that invested in, and benefited from, offshored jobs in China. 
"Mitt Romney, when he was at Bain... he invested millions of dollars into a Chinese firm that was trying to make profits by taking the outsourced jobs in manufaturcing that U.S. companies were shipping to China," Corn told MSNBC's Craig Melvin. "He was trying to make money off of Chinese companies trying to take advantage of U.S. outsourcing."
Obama deputy campaign manager Stephanie Cutter quickly latched onto both reports, highlighting how Romney was "misrepresenting his position" at Bain, "which is a felony," she told reporters over a conference call.
The increased scrutiny on Romney's business record falls squarely within the Obama campaign's attacks and messaging in TV ads.
"The Obama campaign ads have been shown to be demonstrably false, that's another way of saying a lie," Ed Gillespie, senior adviser to the Romney campaign, said Thursday morning on Today.