LONDON — The Duchess of Cambridge gave birth to a boy on Monday, Kensington Palace announced.
It is her third child with Britain's Prince William, who accompanied his wife to the hospital. The baby weighed 8 pounds, 7 ounces.
His name was not immediately announced.
The duchess, who was formerly known as Kate Middleton, had been admitted to the Lindo Wing of St. Mary's Hospital in London earlier Monday. She gave birth at 11:01 a.m. local time (6:01 a.m. ET), royal officials said.
Kate and Prince William left the hospital with the infant prince barely eight hours after he was born.
The couple posed with their new baby on the steps of the hospital Monday evening, with Kate, wearing a red dress and makeup, cradling the newborn in a white blanket.
The little boy appeared to be sleeping in her arms and had a white knitted cap on.
The hospital is also where William's parents, Prince Charles and Diana, introduced him to the world after he was born. In the U.K., it is common for women with straightforward births to be released the same day.
After waving to onlookers, the beaming parents walked over to a black car, and Prince William put the baby's carseat in the back seat.
The boy is now fifth in line to the throne, kicking Prince William's brother, Prince Harry, down one spot. He is Queen Elizabeth II's sixth great-grandchild.
The duchess had her two other children, Prince George in 2013 and Princess Charlotte in 2015, at the same hospital. Princes William and Harry were also born there.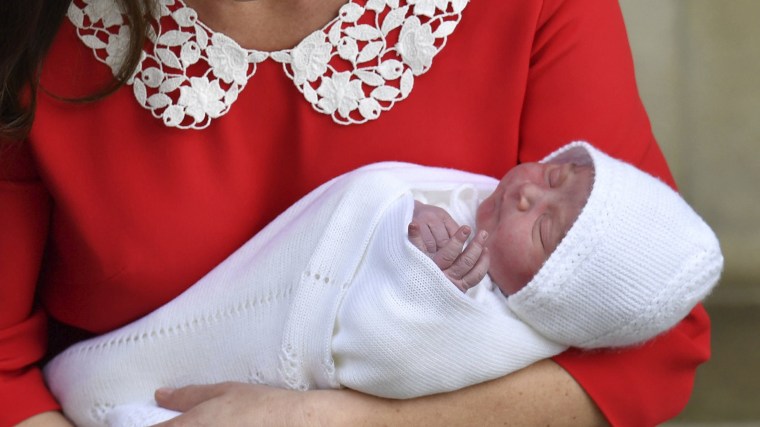 Thanks to a change in the laws of succession in 2013, this will be the first time that a girl is not overtaken by a male relative. Princess Charlotte will remain fourth in line, in front of her new brother.
British bookmaker Ladbrokes listed Arthur and James as the front-runners for the new baby's name.
William left the hospital five hours after Kate gave birth to pick up George and Charlotte so they could visit their mother and new brother. The two waved to the press as they entered the hospital holding their father's hands.
George also visited his mother in the hospital when Charlotte was born, as did William, who visited Harry when he arrived.
Kate is expected to take a few months of maternity leave before resuming her royal duties.
"There's been an acknowledgement behind palace gates that Kate's got two jobs to do," NBC News royal expert Camilla Tominey said. "She's got to be mother to two — and then soon three children — while at the same time maintain her role as a very high-profile figure in the royal family."
Kate and William had opted to keep the baby's gender a secret during their pregnancy.
Kensington Palace broke the news of Kate's next arrival in early September in a tweet. Six weeks earlier, Kate had joked about having more children while on a trip to Poland.
As she did during her first two pregnancies, Kate suffered from severe morning sickness, known as hyperemesis gravidarum. It was so severe during her first pregnancy in 2012 that she had to be hospitalized.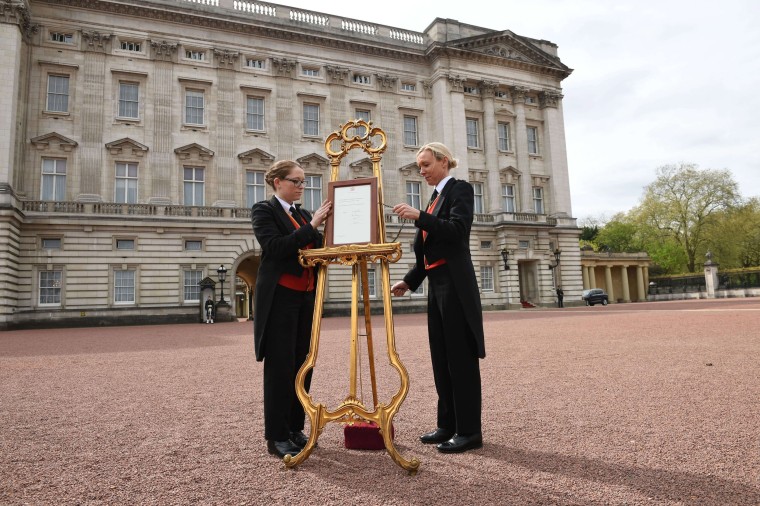 The duchess spent the first few months of her pregnancy at home and canceled her engagements, but resumed her busy royal schedule in January.
She has limited her engagements and appearances over the last few weeks. On Easter, she appeared with the extended royal family at a service at Windsor's St. George's Chapel, where Prince Harry will marry the American actress Meghan Markle in May.
Her morning sickness meant that Kate missed Prince George's first day of school — a duty carried out by Prince William.
The young family now lives in London's Kensington Palace, where William and Harry grew up, after residing for several years at their country home in Norfolk, Anmer Hall.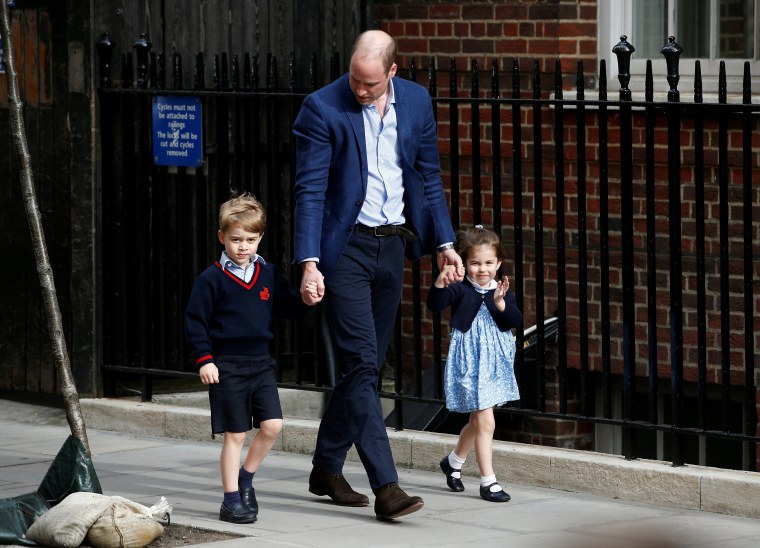 Kate is one of three children, while William has one brother, Harry.
This year is full of happy occasions for the royals, who will celebrate Harry's marriage several weeks after Kate gives birth. In November, Prince Charles, the queen's son and first-in-line to the throne, will celebrate his 70th birthday.
The queen is scheduled to celebrate another royal birth this summer when she becomes a great-grandmother for a seventh time when Prince William's cousin Zara Tindall gives birth.