LONDON — Prince Harry has often used his position of extraordinary privilege to raise awareness for the growing problem of homelessness on Britain's streets.
But it was his own impending marriage to Meghan Markle that this week found itself at the center of a national controversy over the very same subject.
On Tuesday, a politician in Windsor, where the wedding will take place at Windsor Castle, wrote to the police and asked them crack down on what he called "aggressive begging and intimidation" before the ceremony in May.
Simon Dudley, leader of the Royal Borough of Windsor and Maidenhead, also alleged that "a large number of adults that are begging in Windsor are not in fact homeless" and their decision to sleep on the streets was a "voluntary choice."
A member of the U.K.'s ruling Conservative Party, Dudley complained the begging in Windsor, whose castle is a year-round international tourist attraction, was causing a "hostile atmosphere."
At least 4,134 people were sleeping on the streets across the U.K. in the fall of 2016, the latest available government figures. This was a rise of 16 percent from the previous fall.
Dudley called on police to take legal action, even suggesting they enforce a 200-year-old vagrancy law, among other measures.
He lamented the "quantities of bags and detritus that those begging are accumulating and leaving on our pavements, at times unattended, thus presenting a security risk."
With regard to the royal wedding, Dudley worried that the town's homeless population "presents a beautiful town in a sadly unfavorable light."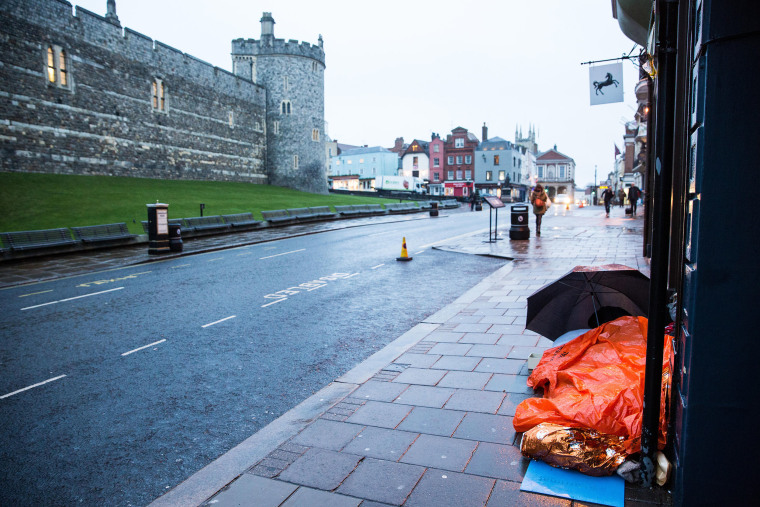 The suggestion to in effect clear streets of homeless people to make way for a royal parade has been heavily criticized.
"People sleeping on the street don't do so through choice," Greg Beales, director of communications, policy and campaigns at British charity Shelter, said in an emailed statement. "They are often at their lowest point, struggling with a range of complex problems and needs and they are extremely vulnerable, at risk from cold weather, illness and even violence."
He added: "They desperately need our help, support and advice to move off the streets into safety and, eventually, into a home. Stigmatizing or punishing them is totally counter-productive."
Prime Minister Theresa May, the leader of Dudley's own party, even weighed into the debate, saying: "I don't agree with the comments that the leader of the council has made."
The letter to police wasn't the only time the council leader has caused controversy on the issue. Last week, he suggested on Twitter that some homeless people were guilty of "marching tourists to [ATMs] to withdraw cash."
Thames Valley Police, the local law enforcement authority to which Dudley had originally written, responded on Twitter that it had received no such reports.
"Begging and rough sleeping are two distinct issues, and it is not helpful to conflate the two," said Paul Noblet of Centrepoint, a charity focusing on homeless young people.
"Sleeping rough" and "rough sleeping" are terms for sleeping on the street.
"The best way to help rough sleepers is to get them off the streets and into an environment where they can access the long-term support they need," he said in a statement.
In his letter to the police, Dudley claimed that his authority had already taken some steps to support people living on the streets. However, Murphy James from the Windsor Homeless Project said in a detailed Facebook rebuttal of Dudley's claims that this assertion was "pure fantasy."
Like his brother, Prince William, and late mother, Princess Diana, Prince Harry has been involved in charity work for years, including everything from mental illness and HIV to wounded veterans and African conservation.
Another issue he's seized upon is homelessness, sleeping on the street for a night over Christmas in 2009 and going jogging with young homeless people in January last year.
But authorities have often taken a different attitude toward people sleeping on the streets, according to campaigners.
More than one third of local governments in England and Wales have been targeting homeless people using a range of tough measures, according to a report by the charity Crisis published in April last year.
These measures included everything from police informally moving people who had been sleeping in one area of the street, to taking legal action against them.
Officials often use same 200-year-old old piece of legislation suggested by Dudley. According to The Local Government Chronicle, The Vagrancy Act of 1824 was used to prosecute almost 1,500 convictions in 2016.
Until 2013, the legislation included the crime of being an "incorrigible rogue" and today it still defines a beggar as someone who places "himself or herself in any public place, street, highway, court, or passage, to beg or gather alms."
Dudley declined to comment further when contacted by NBC News.