LONDON — One of the world's most eligible bachelors is officially off the market.
Britain's Prince Harry is engaged to American actress Meghan Markle, royal officials announced Monday.
After the announcement, Harry confessed he had long known he would propose to Markle.
"When did I know she was the one?" Harry said in response to a reporter's question during a photo op at Kensington Palace. "The very first time we met."
Harry proposed in the couple's cottage on what the prince described as a "typical night." The two were roasting a chicken when Harry got down on one knee.
Markle said the moment was "just an amazing surprise. It was so sweet and natural and very romantic."
Markle matched Harry's enthusiasm during the proposal, saying she didn't even let the prince finish the question before saying "yes."
"She didn't even let me finish, she said, 'Can I say yes? Can I say yes?' ... and I was like, 'Can I - can I give you the ring?' She goes, 'Oh yes, the ring,'" Harry recalled.
Related: Prince Harry's journey from party boy to prince charming
The wedding will take place in the spring. The venue was not immediately revealed but a statement said more details would be announced "in due course."
Harry's brother, Prince William, married Kate Middleton in April 2011 at Westminster Abbey while his parents, Prince Charles and Diana Spencer, tied the knot at St. Paul's Cathedral in 1981.
Royal officials said Harry designed the engagement ring. It includes a diamond at its center from Botswana, a country that "holds special significance" for the prince as he's visited it many times since he was a child. Two of the outside stones are from his late mother's personal collection.
Harry said having a piece of his mother involved with the momentous occasion was important to him and if she was alive today, she would be "jumping up and down" over the news of the engagement.
"I think she would be over the moon, jumping up and down so excited for me," Harry said. "It's days like these I really miss having her around."
Related: Who is Meghan Markle?
Harry's grandparents, Queen Elizabeth II and Prince Philip, said they are "delighted for the couple and wish them every happiness."
Markle, 36, is three years older than Harry, and is divorced.
Friends introduced the couple in July 2016, but their relationship remained a secret for several months.
"She is a real breath of fresh air"
Markle stars in the TV drama "Suits," now in its seventh season on the USA cable network. The show is filmed in Toronto. Harry, who served two tours of Afghanistan with the British army, has visited her in the Canadian city several times.
Harry said prior to being set up with Markle, he had never heard of her or seen her show, and, despite his royal heritage, Markle said she knew little about Harry. The couple said not knowing much about one anotherhelped the relationship form organically.
"I think for both of us, though, it was really refreshing because given I didn't know a lot about him, everything that I've learned about him, I learned through him as opposed to having grown up around different news stories or tabloids or whatever else," Markle said.
Rumors of an engagement have been swirling since the couple made their first appearance together in September at the Invictus Games, the prince's sporting tournament for injured or sick veterans. At the closing ceremony, cameras caught the prince giving Markle a kiss on the cheek.
The Los Angeles native is no stranger to the spotlight. Markle has long championed charitable causes and is an advocate for UN Women, the United Nations office for gender equality and the empowerment of women, as well as a global ambassador for World Vision.
To many, the royal family's embrace of Markle, who is biracial and attended a Roman Catholic school, is an acknowledgment of the demands and challenges of modern life.
"I think, from the queen's perspective ... she's never expressed anything other than delight for Prince Harry being with somebody that he loves," said Camilla Tominey, royal editor of the Sunday Express newspaper.
Markle was married to movie producer Trevor Engelson from 2011 to 2013.
While she isn't the first divorced woman to join the royal family, Markle is perhaps the most enthusiastically welcomed. It stands in contrast to the reluctant acceptance of Prince Charles' second wife, Camilla, who was also previously married. In 1936, the queen's uncle, Edward VIII, abdicated the throne amid a public outcry rather than end his plans to marry an American divorcee, Wallis Simpson.
'We're in love'
Markle spoke about her relationship with Harry in a Vanity Fair interview published in September.
"We're a couple. We're in love. I'm sure there will be a time when we have to come forward and present ourselves and have stories to tell, but I hope what people will understand is that this is our time," she told the magazine.
"This is for us. It's part of what makes it so special, that it's just ours. But we're happy. Personally, I love a great love story."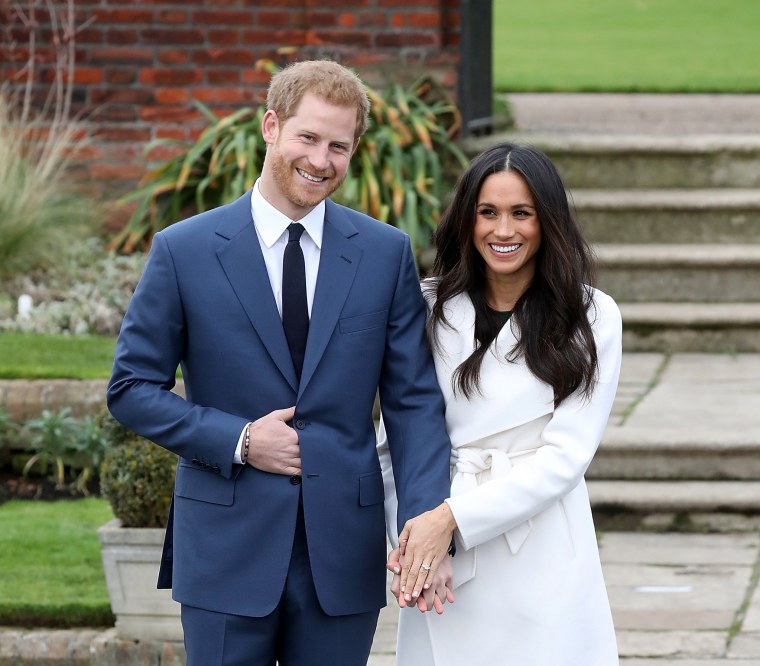 Though Markle comes from a different background than Harry, royal watchers expect her to quickly adjust to her role as a princess — and that Britons will welcome her as a new member of the royal family.
"I think the British public won't just accept Meghan, I think they will embrace Meghan," said Katie Nicholl, royal correspondent for The Mail on Sunday and a contributor to Vanity Fair. "She is a real breath of fresh air. She's an actress but she's also a humanitarian. And I think she's going to bring something very special to the royal family."
Harry has earned praise for his charitable activities, including his Heads Together campaign promoting mental health, for which he has appeared alongside Prince William and sister-in-law Kate.
The fifth in line to the U.K.'s throne, Harry recently spoke about his own mental health struggles, admitting that he had come "very close to a complete breakdown on numerous occasions." Harry added that he had endured "years of total chaos" because he was unable to deal with his grief over the death of his mother in 1997 when he was 12 years old.
He also has a reputation as a party boy, and was photographed naked playing pool with girls at a Las Vegas hotel in 2012.
After that incident, he worked hard to present a more mature public image, serving a second tour in Afghanistan and continuing to dedicate most of his time to charity programs.
Markle's parents, Thomas Markle and Doria Ragland, said they were "incredibly happy for Meghan and Harry."
In a statement, they added: "Our daughter has always been a kind and loving person. To see her union with Harry, who shares the same qualities, is a source of great joy for us as parents."
Prince William and his wife, Kate, said they were "very excited."