WASHINGTON -- You can add it to the ever-growing catalog of times Florida Sen. Marco Rubio has denied he will be the vice presidential pick.
The rising GOP star on Thursday flatly said he would tell Mitt Romney, "No," if the presumptive Republican nominee asked him to join the ticket in November.
Speaking to National Journal's Major Garrett, the tea party favorite even offered up some names of his own that might make a good choice.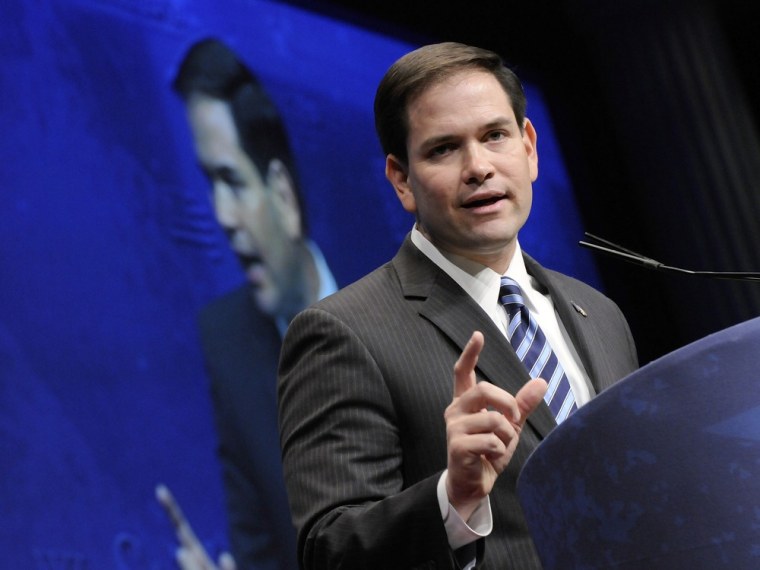 "We've got a lot of really talented people out there that Mitt Romney can get to pick from," Rubio said. "And I think a lot -- Sen. Rob Portman would be a phenomenal choice for vice president, that's where I would encourage him to look, because I'm enjoying my service in the Senate."
(That could be some gamesmanship by Rubio, considering Garrett wrote a piece predicting Portman would be Romney's choice.)
But those wanting to continue to fan the flames of the Rubio VP speculation can read into a tongue slip made by the Sunshine State senator just moments after dismissing his prospects of joining Romney's White House run.
"If I do a good job as vice president," he said, before quickly correcting himself. "I'm sorry. If I do a good job as a senator, instead of as vice president."
Rubio, a Cuban-American who speaks Spanish and represents the key swing state of Florida, has been in vice-presidential speculation since his high-profile Senate win in 2010. Romney has acknowledged the problems he and the party has with Latinos and the need to win them over. He has said there needs to be a Republican DREAM Act, something Rubio is crafting. 
Though he has continually denied both that he will be asked and that he would accept a VP nod, Rubio today made sure to point out inexperience was not a factor.
"I'll be more experienced next year than I am this year," he said. "But I think that's true for all of us. I'm not new to politics," he said, before citing his nine years in the Florida legislature, winning a high-profile campaign and spending the last year and a half in Washington.
Rubio, who was speaking at a program organized by National Journal to discuss the country's changing demographics, said he hopes his DREAM Act is ready by the summer. But he acknowledged the challenges that come with passing laws during an election year -- especially those dealing with immigration reform.
"What I'm suspecting is, some people are really counting on this to be used as a wedge in this election," he said. "The thought of it somehow being solved...is terrifying for them."
When countered with the theory that Rubio is bringing the issue to the forefront now to help Republicans overcome their Hispanic hurdle in the fall, he said, "I don't think one bill is going to change whatever that disadvantage may be."
Regardless of whether he is on the ticket, Rubio said he is optimistic the former Massachusetts governor will support the bill.
"He's now the leader of the Republican Party," Rubio said, "so I would hope to convince him to support a concept like this."