LONDON - Rupert Murdoch was in the hot seat again Thursday, trying to deflect charges that his media empire played puppet master to a succession of British prime ministers.
"I have never asked a prime minister for anything," he said during the hearings into media ethics in London on Wednesday.
The appearance before a judge by the world's most powerful media mogul has been a defining moment in a scandal that has laid bare collusion between ministers, police and Murdoch's News Corp, reigniting long-held concerns over the close ties between big money, the media and power in Britain.
Watch live: Rupert Murdoch appears at phone hacking inquiry
News Corp's feet are being held to the fire at the hearings but it isn't the only challenge the company faces. There are three ongoing police investigations, dozens of people have been arrested.  Eleven of those arrested could soon be facing criminal charges.
More than 100 lawsuits have been filed in the U.K., and more could be filed in the United States.
Rupert Murdoch grilled at UK phone-hack inquiry
U.S.-based News Corp is worth an estimated $60 billion and owns influential media companies including Fox Television and the Wall Street Journal.
Meanwhile, the British minister accused of giving Murdoch special access during the media tycoon's bid to increase his hold on Britain's television industry on Wednesday labeled accusations against him as "laughable."
Jeremy Hunt, the culture minister who was last year tasked with reviewing Murdoch's $12-billion plan to boost his stake in British pay TV operator BSkyB, is under immense pressure to resign after allegations emerged of his close contacts with News Corp.
On Tuesday, Murdoch's media executive son James said Hunt had given News Corp special treatment during talks surrounding the government's decision on whether to allow the TV deal to go ahead.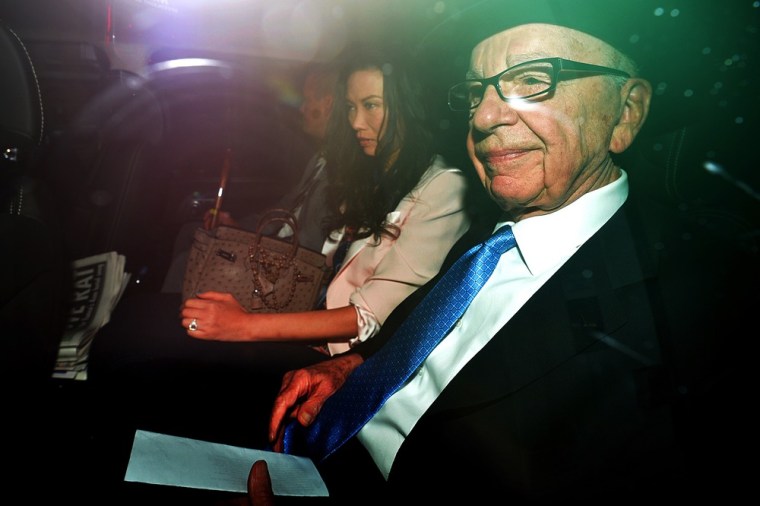 "The idea I was backing this bid is laughable," a visibly flustered Hunt told parliament to roars of approval from his own Conservative Party and jeers of derision from the opposition Labour party, which has led calls for him to be sacked.
The furor is the latest blow to Prime Minister David Cameron's government after a torrid month in which he has lurched from crisis to crisis, garnering an embarrassing slew of negative headlines and raising questions over his leadership.
Reuters contributed to this report.
More world news from msnbc.com and NBC News:
Follow us on Twitter: @msnbc_world