MUNICH — Russia on Saturday accused world powers of fighting "a new Cold War" as Moscow came under pressure from the United States and NATO over its actions in Syria and Ukraine.
Russian Prime Minister Dmitry Medvedev painted a grim picture of relations with the West, telling the Munich Security Conference in Germany that NATO's stance on Russia remained "unfriendly and opaque."
"One could go so far as to say we have slid back to a new Cold War," he told a packed auditorium of ministers and policymakers. "Sometimes I wonder whether it is 2016 we are living in, or 1962."
His comments came as NATO general secretary Jens Stoltenberg told the same conference that Russia is "destabilizing the European security order". Stoltenberg said that as a result of the Ukraine conflict, NATO allies are taking the greatest effort for collective defense in decades".
Russia's actions are "aimed at intimidating its neighbors," Stoltenberg said.
Secretary of State John Kerry added to the criticism, saying the majority of Russia's bombings in Syria had been against legitimate opposition groups.
Medvedev said that only regular cooperation between Moscow and the United States could settle the situation in Syria, and repeated Russia's denials that it is bombing civilians who are opposed to President Bashar Assad.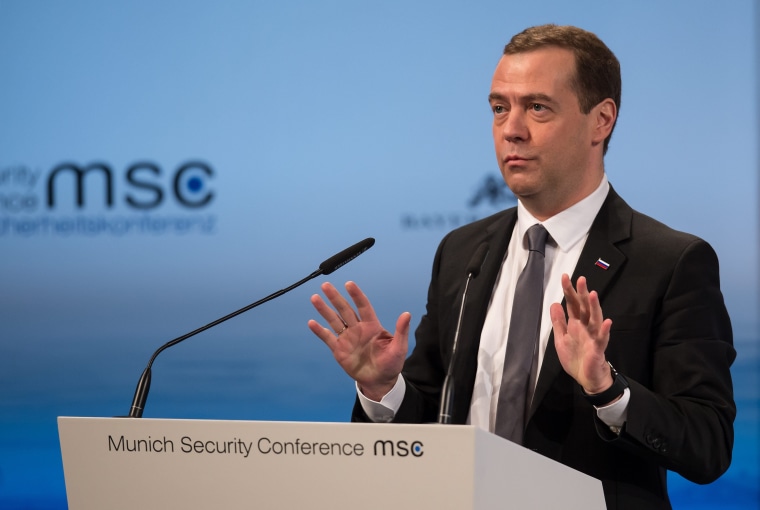 "I want to emphasize that regular cooperation between Russia and the United States will be crucial," he said. "And I mean regular — every day."
Gen. Philip Breedlove of the United States Air Force, NATO's supreme allied commander for Europe, told NBC News on Saturday that NATO "doesn't want" a Cold War — as Russia had referenced.
He said the allied countries need to "position ourselves better" after Russia used "force to change internationally recognized borders," hinting at Crimea's breakaway vote from Ukraine in 2014.
"So we have to be ready, and from a position of ready then, we are prepared to have dialogue," Breedlove said. "We know we have to find a way to move forward with Russia, and our Secretary General has made this very plain."
In a clear sign of allied solidarity, the United States has stepped up to increase its military presence in Europe in recent months — including the deployment of more equipment and troops, as well as an increase of military exercises, especially on Europe's eastern borders.
Defense Secretary Ash Carter announced on February 2 that the Pentagon will request $3.4 billion next year for additional troops and training to counter "Russia's aggression." This is a fourfold increase from the current fiscal year, which reflects concerns of the U.S. administration and NATO allies about Moscow's intentions in eastern Europe.