Russia on Wednesday blamed the poisonous gas contamination that activists say killed about 100 people — including 25 children — on a leak from a chemical weapons cache hit by Syrian government air strikes.
The alleged gas attack in Syria's Idlib province, documented in horrific images that NBC News has not verified, would mark one of the worst incidents of its kind in Syria's six-year civil war. Relief agency UOSSM said at least 400 were injured.
The U.S. called it a "chemical weapons attack" and said President Bashar al-Assad was responsible. Secretary of State Rex Tillerson said the Syrian ruler had acted with "brutal, unabashed barbarism."
However, Russian defense ministry spokesman Igor Konoshenkov said the deadly leak came from a rebel workshop used to make chemical weapons.
"Syrian aviation made a strike on a large terrorist ammunition depot and a concentration of military hardware in the eastern outskirts of Khan Sheikhoun," he said in a video statement, referring to the rebel-held town in northern Syria where the deaths occurred Tuesday.
PHOTOS: Rescuers Treat Dozens in Syria Chemical Attack
He said "chemical-laden weapons" made by rebels at the site had previously been used by militants in Iraq — an apparent reference to a report last month from the International Committee of the Red Cross that toxic agents had been used in fighting near Mosul.
Russia is a key supporter of Assad, who has been fighting rebels trying to unseat him for more than six years, and on Wednesday Kremlin spokesman Dmitry Peskov reiterated his country's commitment to the Syrian government.
"These types of weapons are banned by international law because they represent an intolerable barbarism"
"The Russian Federation and its army will carry on the operation to support the counter-terrorist operations ... being conducted by Syrian army," Peskov told reporters.
Local activist Yaman Khatib, who recorded the moment of the alleged attack on video posted to social media, said two planes were involved in the strike — one Syrian and one Russian.
Dr. Shajul Islam, a London surgeon who was volunteering in a hospital just outside Idlib, told NBC News he believed the victims had been exposed to a nerve gas.
He said they had "very shrunk pupils as well as salivating from the mouth and reduced heart rates," adding: "There is no doubt to us that it was a nerve agent. We were able to positively identify the agent and were able to treat it successfully."
Related: Syrian Government Blamed for Third Chemical Attack: Report
NBC News was not able to verify either account from the ground, although Islam's views were echoed by the World Health Organization.
WHO said that some of the injuries were "consistent with exposure to organophosphorus chemicals, a category of chemicals that includes nerve agents."
"The likelihood of exposure to a chemical attack is amplified by an apparent lack of external injuries reported in cases showing a rapid onset of similar symptoms, including acute respiratory distress as the main cause of death," it said in a statement.
Peter Salama, executive director of the agency's Health Emergencies Program, said the reports left him "shocked, saddened and outraged."
"These types of weapons are banned by international law because they represent an intolerable barbarism," he said.
Syria's government said it was complying with the 1997 Chemical Weapons Convention, which bans such instruments of war, according to SANA, the Syrian state-run news agency. Instead, the government blamed rebels — that it refers to as "armed terrorist organizations" — for the attack.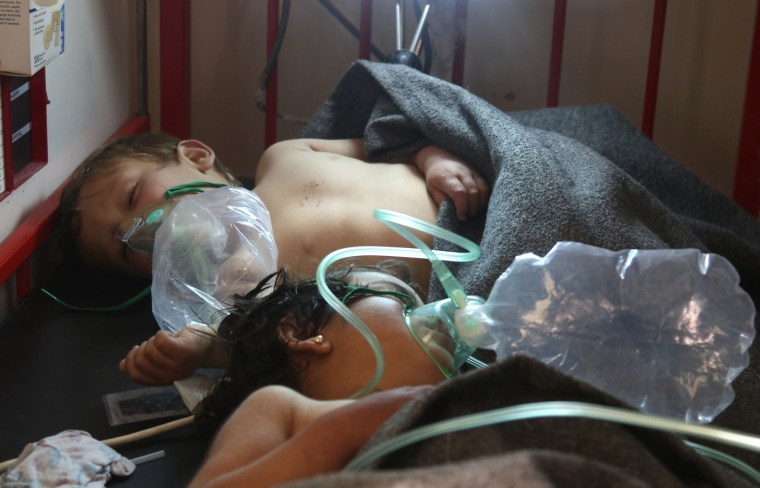 "The Syrian Arab republic stresses that all those fabricated allegations will not prevent it from continuing its war on terrorism ... and from working for a political solution to the crisis in Syria," SANA reported.
NATO Secretary-General Jens Stoltenberg on Wednesday condemned the "horrendous attacks" in Idlib. "This is the third report of the use of these barbaric weapons in the last month alone. All those responsible must be held to account," he said in a statement.
President Donald Trump's daughter and adviser Ivanka Trump tweeted she was "heartbroken and outraged by … the atrocious chemical attack."
The Organization for the Prohibition of Chemical Weapons (OPCW), which monitors the chemical weapons treaty, said it had set up a fact-finding mission.