As Russian warships rain down cruise missiles as part of its military strike in Syria, there's now a glaring absence in the region: For the first time since 2007, the U.S. Navy has no aircraft carrier in the Persian Gulf.
Military officials said Thursday that they've pulled the USS Theodore Roosevelt, which is home to about 5,000 service members and 65 combat planes, so that it can undergo maintenance. The ship officially exited the gulf around 11 p.m. ET. The temporary measure is also the result of mandatory budget cuts.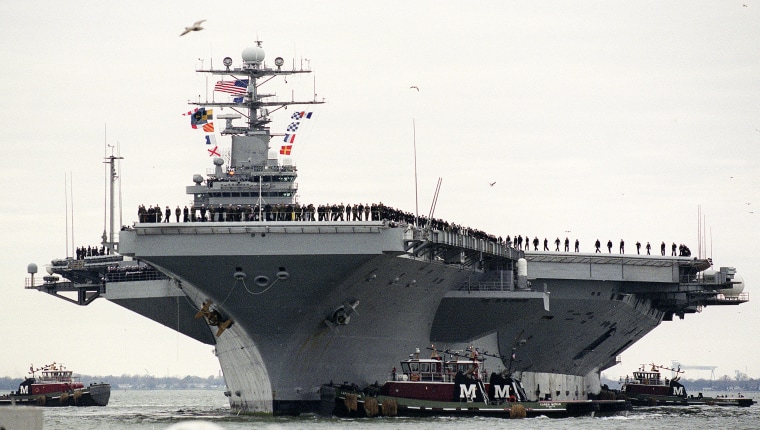 The lack of a U.S. presence in the gulf comes as Russia is escalating its actions in the region and began pounding targets in Syria last week with airstrikes. Russian officials say they're trying to obliterate ISIS, although the U.S. and its allies say they're instead hitting rebel fighters who oppose Syrian President Bashar Assad, a Russian ally.
Russia remains a wild card in the region — and the absence of an American aircraft carrier is being noticed, said Peter Daly, a retired Navy vice admiral and CEO of the U.S. Naval Institute.
"The most important thing you need a carrier for is for what you don't know is going to happen next," Daly told NBC News.
That was especially important during the height of the wars in Iraq and Afghanistan, when the Navy often had two carriers operating in the region. The combat planes can fly into war zones and generally act as a show of force to Iran and other nations during tense standoffs.
The USS Theodore Roosevelt — a massive, nuclear-powered aircraft carrier — has had a central role in the fight against ISIS in Iraq and Syria since August 2014, when the U.S.-led coalition started bombing the Islamist extremists.
A Navy official told Washington lawmakers in July that the lack of a carrier was imminent — and could potentially hamstring operations.
"Without that carrier, there will be a detriment to our capability there," Adm. John Richardson said during a Senate Armed Services Committee hearing, prior to his confirmation in the Navy's top post.
The USS Harry S. Truman, which is based out of Norfolk, Virginia, is expected to take over in the region, the Navy Times first reported in June.
Sidelining the USS Theodore Roosevelt also shows how Navy leaders are trying to shave off lengthy deployment times, which have not only worn down the ships, but taken a toll on sailors' morale, the newspaper said.
The Navy has reportedly blamed the lengthy deployments — some more than 10 months — because of past requirements to have two carriers in the Persian Gulf between 2011 and 2013.
Related: Navy to Escort American Merchant Ships In Persian Gulf
Daly said the U.S. still has options for launching its planes thanks to Turkey, Qatar and other coalition nations that have entered the fight to root out ISIS.
"The biggest value to those carriers is that they are huge, and you have the capability to go from one stop to another, and we don't need a permission slip from another nation when we want to fly planes," he added.
Just as essentially, the Navy's fleet needs to be maintained, and the military can only put it off for so long, Daly said.
"You can make exceptions anytime, but if you make it every time, it catches up with you," Daly added.