Russia's winter push in Ukraine may have made little progress and at a "stunning" cost.
More than 100,000 fighters from the Kremlin's forces have been killed or wounded since December alone, the U.S. now estimates — outlining Moscow's massive losses as its military leaders scramble to recruit more men and prepare for an impending counteroffensive.
The figure, if accurate, could spell trouble ahead for President Vladimir Putin. He faces a second year at war with the land he seized increasingly in Kyiv's sights and with his military's struggles forcing the Kremlin to balance battlefield necessities with domestic pressures.
The casualty figure includes around 20,000 Russians who have been killed in about six months, National Security Council spokesman John Kirby told reporters Monday, citing newly declassified American intelligence that the Kremlin swiftly rejected.
For comparison, around 4,500 American troops were killed during the invasion of Iraq.
"It's really stunning, these numbers," Kirby said.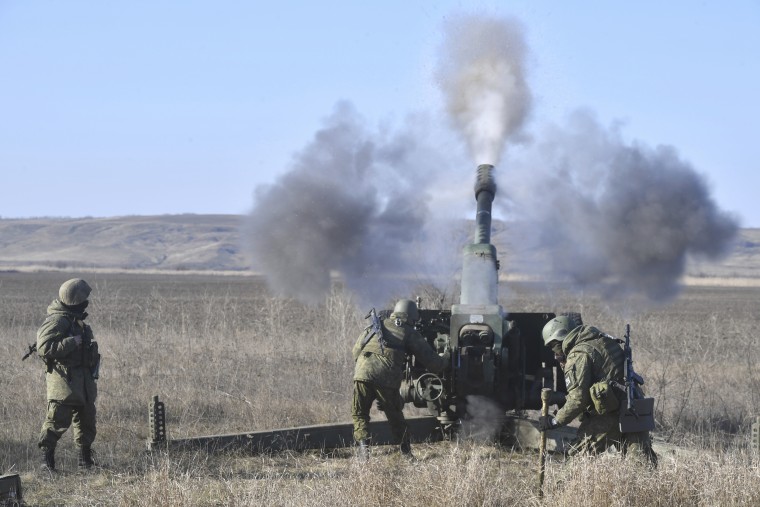 Half of those killed were from the Wagner mercenary group, the majority of whom were ex-convicts "thrown into combat" in Bakhmut, Kirby said, who lacked "sufficient combat training, combat leadership or any sense of organizational command and control."
The eastern mining city has turned into something of a modern day Stalingrad and became the focus of a Russian winter offensive that was fueled by the call-up of hundreds of thousands of military reservists but that has failed to make substantive progress.
Both sides have suffered heavy losses in and around the city, with their armies bogged down in a brutal battle of attrition that has seen Russian troops make steady incremental gains but fall short of what would be a symbolic victory.
Some Western analysts criticized Kyiv's decision to contest the city, arguing it should have pulled back weeks ago in a move that would have allowed Russia a short-term win but preserved Ukrainian soldiers for its own looming counteroffensive.
But the figures released by Kirby will give weight to the Ukrainian counterargument, that fighting for Bakhmut would allow them to kill lots of Russians, while also preventing them from being deployed elsewhere.
Russia's attempted winter offensive through the city has "stalled and failed" and "backfired," Kirby said. And Russia "has been unable to seize any real strategically significant territory" after "months of fighting and extraordinary losses," he added.
In his daily press briefing Tuesday, Kremlin spokesman Dmitry Peskov said the White House numbers had been "taken from nowhere" and were unreliable.
"Washington simply does not have the possibility to name any correct figures. They do not have such data," he said.
Of course Russia is not the only side incurring heavy losses.
Analysts have cautioned that the fighting in Bakhmut had shifted in recent weeks to take an increasingly heavy toll on the city's Ukrainian defenders, too. Kyiv has been loath to release official figures, and Kirby was similarly reluctant to do so Monday.
But in November Gen. Mark Milley, the chairman of the Joint Chiefs of Staff, said that the war had left each side with around 100,000 soldiers dead or wounded.
As of February, the U.S. estimated that Russia had suffered 189,500 to 223,000 casualties, including 35,500 to 43,000 killed in action, according to a leaked Pentagon document obtained by NBC News and other news outlets, part of a trove of classified material posted online. The same document estimated that Ukraine had suffered 124,500 to 131,000 casualties, with 15,500 to 1 7,500 killed in action.
U.S. authorities have accused Air National Guardsman Jack Teixeira of leaking the classified material and charged him under the Espionage Act.
A key difference between Moscow and Kyiv is how news of these mass casualties plays at home.
Ukrainians' support for their country's defensive war remains high. Russian support for its invasion is more "passive" and has continued as more vulnerable, less politically powerful groups of people are conscripted and sent to fight, according to James Nixey, head of the Russia-Eurasia program at Chatham House, a think tank in London.
For Putin and Wagner, this has so far largely meant former convicts and immigrants from Central Asia and the South Caucasus.
"Russia has been cherry-picking from the easiest parts of society where they'll get the least pushback," Nixey told NBC News. "That gets harder as you start to churn through the cannon fodder and you get to people who are more likely to refuse and rise up."
Russia called up some 300,000 men during the first wave last September, leading to protests and a mass exodus of men from the country. 
Seemingly reluctant to do so again but aware of the pressing need for more troops ahead of a potentially decisive period in the war, the Kremlin has stepped up its efforts to find new recruits.
The Russian Defense Ministry launched an advertising campaign last month trying to entice "real men" away from peacetime jobs and onto the front lines. Last month, Russian lawmakers hastily approved new legislation allowing authorities to deliver conscription notices electronically, making it almost impossible to avoid getting drafted. 
For its part, Ukraine has been training troops and accumulating Western hardware for a counteroffensive that it says is imminent and that will seek to retake land in the country's south and east.
"As soon as there is God's will, the weather and a decision by commanders, we will do it," Ukrainian Defense Minister Oleksii Reznikov said at an online news briefing last week.