VLADIVOSTOK, Russia — Universities advertise Chinese classes in this port city, the unofficial capital of the Russian Far East. Billboards offering cheap cancer treatments in South Korea litter the streets and cars imported from Japan clog the roads. In parks, clutches of locals practice qigong — an ancient Chinese exercise and breathing routine.
Vladivostok is a physical embodiment of Russia's economic "pivot east" — mainly toward China — launched after Moscow's ties with the West began to fray badly in 2014.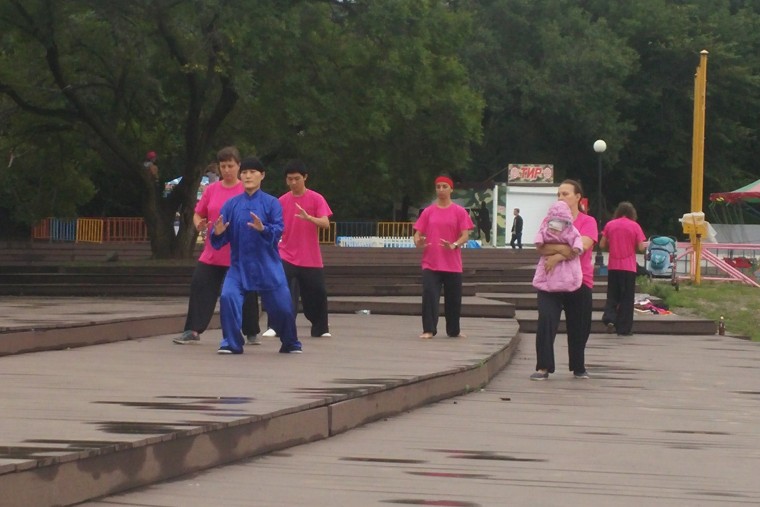 "The relations between the two countries are at an … unprecedented level," Russian President Vladimir Putin declared in a televised address in May 2015.
But despite their 2,600-mile border, a gulf separates the two countries' economies.
Russian-Chinese trade fell by 5 percent year-on-year to $28 billion in the first six months of 2016, mainly because of plummeting prices for commodities such as oil, gas, lumber, metal and coal, Russia's main exports. At the same time, the U.S. remains China's most important economic relationship with bilateral trade between the two hitting $263 billion in the first half of this year.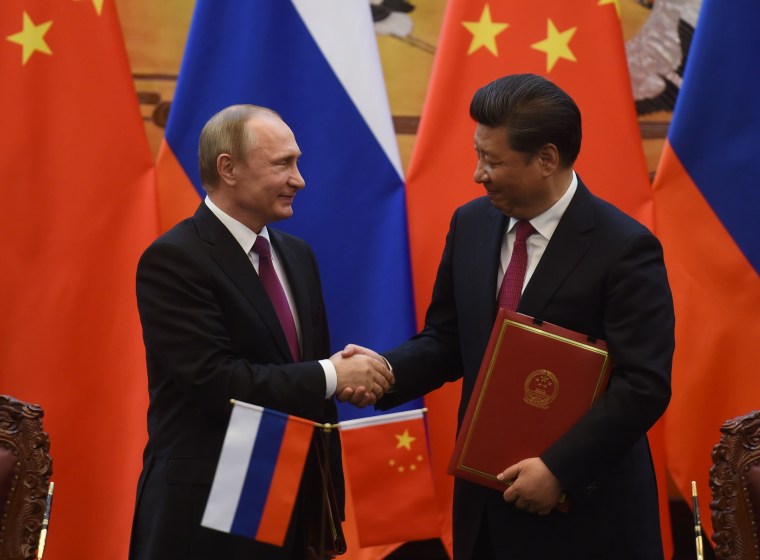 According to Gilbert Rozman, an expert on Asia at Princeton University, Russia "exaggerated the prospects for an alliance too soon."
In theory, Chinese lenders and investors were expected to help compensate for the Western sanctions over Moscow's annexation of Ukraine's Crimea peninsula and alleged meddling in that country's civil war.
But those sanctions hit Russia hard.
In 2014, European Union-Russian trade stood at $377 billion, making the bloc Moscow's most important economic relationship. That fell to $235 billion last year.
Part of the problem for Russia its Far East is an underdeveloped, depopulating region with a mere 6 million inhabitants that is connected to Europe only by one railway line — the Trans-Siberian Railroad.
The Russian Far East is just not developed enough, said Vasily Kashin, a China expert with the Higher School of Economics in Moscow.
He added: "It's a strategic problem, something you can't fix in a hurry."
Developing its infrastructure and boosting the population will take decades, experts and officials said.
Then there are the problems of actually doing business with Russia hinted at during the Eastern Economic Forum business conference held in Vladivostok earlier this month.
Top Chinese businessmen like Tao Ran, the chairman of construction and power company Sirius Holding, mentioned certain "inefficiencies of administration" — a thinly veiled reference to Russia's notoriously inefficient and corrupt bureaucracy.
Russia's First Deputy Prime Minister Igor Shuvalov conceded that economic integration was moving slowly.
"Our political relationship is ahead of our economic ties," he said at a speech at conference on Sept. 2.
The two giants do have long had common political interests. These include curbing global democratization efforts and trying to take control over root internet infrastructure in the world, which would give them greater censorship powers, according to Alexander Gabuev of Carnegie Moscow Center.
In the U.N. Security Council, the two routinely clash with the other permanent members — Britain, France and the U.S. — although Moscow usually does most of the talking.
And military cooperation is going strong. The two powers hold regular exercises, and Russia sells China state-of-the-art weaponry such as S-400 missile defense systems and Sukhoi Su-35 warplanes.
Related: China, Russia to Hold Joint Drills in Waters
A stubborn and persistent fact underpins both political and economic ties between Moscow and China — both countries' deteriorating relations with the U.S., according to Vasily Kashin, a China expert with the Higher School of Economics in Moscow.
Aside from the standoff with the West in Ukraine, Moscow and Washington don't see eye-to-eye in Syria where Russia supports President Bashar al-Assad. Russia is also furious about American plans to build a missile defense system near its borders in former Communist countries Romania and Poland.
China, meanwhile, is locked in a standoff with U.S. allies in the region because of its territorial claims over the much of the South China Sea. Its alleged dumping of cheap products is raising tensions and has led to punitive tariffs on some of its exports.
So it is quite feasible that in a decade, the standoff between Washington, and Moscow and Beijing could escalate to Cold War levels, Kashin said.
But in this case, Russia would be relegated to a "vassal" role with China whose economy is around eight times bigger than Russia, he warned. Beijing has the potential to become a far more dangerous opponent for the U.S. than the Soviet Union ever was thanks to its more powerful economy,
In the long run, the countries' political affinity and geographic proximity make them too well-matched not to integrate, experts say.
An alliance with China "is the direction most consistent with where Russia has been heading and capable of being sustained," said Princeton University's Rozman.
After all, Russian officials are eager to point out, the United States' own relationship with China took four decades to build, kicked off by Richard Nixon's historic trip to China in 1972 that led to a dramatic rapprochement between the countries.
"You can't get to this level of cooperation in a couple years," Russia's Deputy Prime Minister Shuvalov told NBC News on the sidelines of the Eastern Economic Forum. "It takes a lot of day-to-day toil."