His Senate confirmation process may have been tough, but the most difficult challenges lie ahead for Secretary of State Rex Tillerson.
America's new top diplomat will be tested during his maiden overseas trip to meet counterparts at a Group of 20 world powers gathering in Germany on Thursday and Friday.
From the U.S. relationship with the likes of Russian and China, to the new administration's take on conflicts in the Middle East and crushing extremism, here are some of the issues Tillerson will have to grapple with.
Russia
On the sidelines of the G-20 meeting, Tillerson is expected to meet with his Russian counterpart Sergei Lavrov. It'll be his first chance to start brokering a rapprochement with the Kremlin that President Donald Trump has signaled he's in favor of.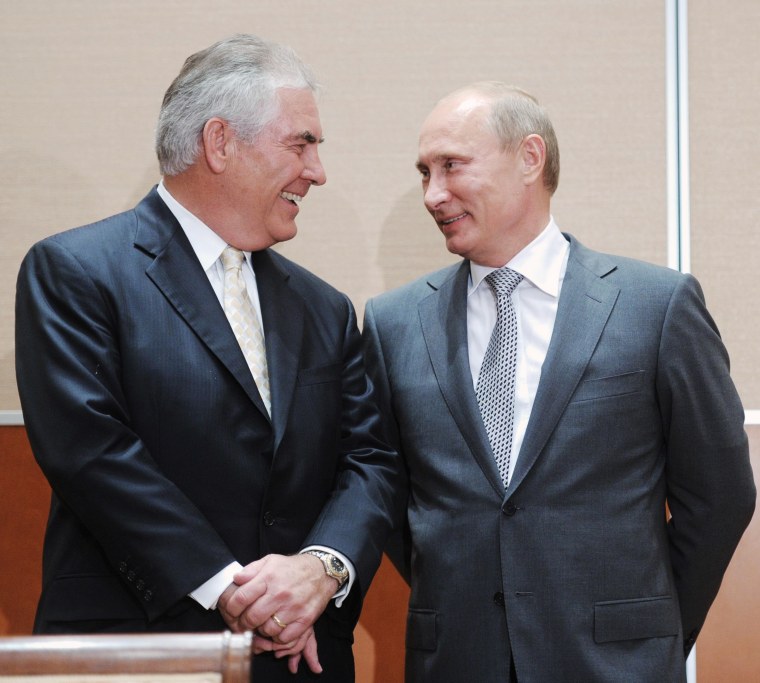 To Moscow, the benefits of such a deal are obvious: It hopes to see the lifting of international sanctions imposed after its forces helped seize and then annex Ukraine's southern peninsula of Crimea. In December, the U.S. also imposed sanctions against Russia and expelling 35 diplomats in retaliation for the alleged orchestration of hacking attacks designed to interfere in the presidential election.
But prospects for warming relations have suffered setbacks, chief among them National Security Adviser Michael Flynn's resignation Monday over his contact with Russia's ambassador. Tillerson's own close connections to Putin have also come under scrutiny.
Experts also ask whether the mooted warming of relations with Russia is even possible, given the failure of the Obama administration's own attempts.
Trump "clearly wants to make a deal with [Russian President Vladimir Putin]," said Chris Brown, a professor of international relations at the London School of Economics. "What's not clear is what Putin is prepared to offer in the way of a deal."
"What could stymie both of them is that Putin might not be offering anything that's viable," he added.
Russia's military muscle-flexing will surely complicate Lavrov-Tillerson chats. According to the Pentagon, four Russian aircraft flew in an "unsafe and unprofessional" manner near a U.S. Navy destroyer in the Black Sea last week.
China and North Korea
While Russia's relationship with the White House has come under scrutiny in recent weeks, some experts believe that China-U.S. ties pose the most serious challenge.
According to Reuters, Tillerson has already played a key role in convincing Trump to change course and commit to recognize the "One China" policy. This was a key step in beginning to normalize relations between the governments, after Trump repeatedly lashed out at China and broke with longstanding U.S. policy by taking a call from the president of Taiwan.
Related: China Is Both Threat, Opportunity for Trump
With China more economically able and politically inclined to assert itself globally, Tillerson will have to tread delicately in his relationship with Beijing.
In addition, China's status as nuclear-armed North Korea's most important ally means that the U.S. has a significant interest in developing a relationship that would which would allow Tillerson to try and pressure Pyongyang through Beijing.
China's help in containing North Korea, which has tested one ballistic missile since Trump came to office, will be crucial.
However, Tillerson's comments during his confirmation hearings that the U.S. should "block access" to disputed islands China has reclaimed in disputed regions of the South China Sea set off a war of words with Beijing, suggesting that balancing the needs of Trump's "America First" stance with diplomacy could be problematic.
NATO and Europe
During the presidential campaign Trump sent spasms of anxiety through America's NATO partners, blasting the transatlantic military alliance as "obsolete," and suggesting the U.S. would not come to the aid of allies who were attacked unless they boosted financial contributions.
Experts say that comments like these, combined with Trump's oft-expressed admiration for Putin, have left NATO members fearful that the alliance's strongest member would not defend them in the event of Russian aggression.
"It's not a five-alarm fire yet, because that's been talk and what comes now is actual concrete policy," said Adam Quinn, an expert in international politics at the U.K.'s University of Birmingham. "The Europeans will be keen to see … if they can steer the administration toward something more like what they would see as a workable solution."
Trump's vocal support forBritain quitting the European Union, known as Brexit, has also ruffled feathers in Europe.
At a recent summit of European leaders in Malta, presidents and prime ministers, including France's Francois Hollande, lined up to denounce Trump's comments on relations with Europe, branding the president's positions as "extremism."
Tillerson has already begun the process of trying to smooth out the relationship with EU, meeting with the bloc's foreign policy chief, Federica Mogherini, in Washington, D.C., earlier this month.
Iran
Tillerson will face a complex set of challenges in the Middle East — with Iran among them.
Tehran and Washington are on opposite sides of a number of conflicts, with Iran helping prop up Syria's President Bashar al-Assad and training and supplying Houthi rebels in Yemen. It has also conducted three missile tests since Trump became president, which do not violate international agreements but are broadly seen as a challenge to the new administration. The Trump White House hit Iran with new sanctions for the tests and for its alleged sponsorship of terrorism.
Then there's the 2015 agreement with Iran that seeks to curtail Tehran's nuclear program in exchange for the lifting of some international sanctions. Trump called it "the worst deal ever negotiated" during the campaign, but more recently reassured EU the administration was committed to fully implementing the pact.
Israelis and Palestinians
Trump, the famous dealmaker, has publicly said that he wants to kick-start a renewed push for peace deal between Israel and the Palestinians. He has also suggested his son-in-law Jared Kushner could "make peace" between the two sides — a goal that has defeated previous administrations.
What exactly Trump — and Tillerson — plan to do is unclear.
What is clear is that the new U.S. president is seen as sympathetic to hard-line Israeli settlements on private Palestinian land, an issue at the heart of the conflict. The president has also pledged to move the U.S. Embassy to Jerusalem — something that would likely enrage Palestinians and other Arabs.
He also named David Friedman — who voiced skepticism of a two-state solution, the bedrock of U.S. policy for the conflict, and compared left-leaning pro-Israel groups to Jews who collaborated with Nazis — as his ambassador to Israel.
But while many Israeli nationalists believe they have an ally in Trump, the White House has also said "the construction of new settlements or the expansion of existing settlements beyond their current borders may not be helpful" in a achieving peace.
ISIS
Trump could not have been clearer during the campaign: He would crush ISIS, and Obama's war against the extremists was "a disaster."
One piece of good news is that by the time Trump got to the White House ISIS has been run out of all major cities in Iraq and Syria except for Mosul and Raqqa. But they still pose a threat, and not only in the Middle East.
And Trump's signature step to combat extremist acts on American soil — his travel ban on seven Muslim-majority countries — has been stalled in the U.S. courts.
Stepping up the fight against ISIS in the Middle East could involve more boots on the ground — something Trump has said he is opposed to.