Russia accused Ukrainian saboteurs of crossing its border and staging a "terrorist attack" on local villages Thursday, a claim denied by officials in Kyiv who said it was a false "provocation" that could be used by Moscow to escalate the conflict.
The circumstances surrounding the incident in Russia's southern Bryansk region were unclear, but President Vladimir Putin called it a "terrorist act" in televised remarks. "They won't achieve anything. We will crush them," he said, adding that the group had targeted civilians.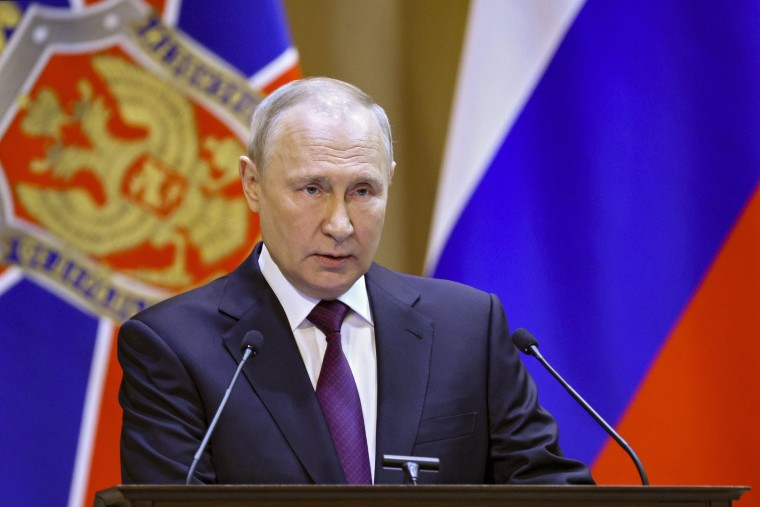 His comments came after Bryansk Gov. Alexander Bogomaz said in a Telegram post that saboteurs had killed one person when they fired at a moving car. He added that a 10-year-old was wounded and had been taken to the hospital.
Russia's FSB internal security service said in a statement to the state new agency Tass that its own forces and the army were trying to liquidate what it described as "an armed group of Ukrainian nationalists" who had crossed the border.
However, Ukrainian presidential adviser Mykhailo Podolyak described the Russian reports as "a classic deliberate provocation" and suggested the attack was carried out by Russian partisans.
NBC News was unable to verify the claims of either side.
Ukraine has been intensifying its efforts to strike deep inside Russian territory, with drone attacks reported this week that highlighted apparent vulnerabilities in Russian defenses. But Kyiv, the United States and other Western allies have also accused Russia of planning false flag operations throughout the conflict in order to provide a pretext for its own escalation.
A group identifying itself as the Russian Volunteer Corps appeared to claim credit for the alleged attack in a social media post and videos that were shared widely online.
The group denied that a Ukrainian sabotage unit was involved, though it describes itself as "a volunteer formation in the Armed Forces of Ukraine" opposed to Putin.
"The Russian Volunteer Corps went to Bryansk region to show their compatriots that there is hope, that free Russian people with weapons in their hands can fight the regime," it said in a statement on its Telegram channel.
Little is known about the group and it was not immediately clear if it has any ties with the Ukrainian military. It was also unclear what action it took and what it may have been hoping to achieve. NBC News has not verified the claims or the authenticity of the videos.
Putin had ordered authorities to tighten controls on Russia's border with Ukraine after the Kremlin said drones launched by Kyiv had flown deep into Russian territory, including one that reached near Moscow.
Kremlin spokesman Dmitry Peskov told a news briefing Thursday that Putin canceled a planned trip to southern Russia on Thursday and was receiving reports on the situation from Bryansk, according to The Associated Press. Details of the alleged attack were still being clarified, he said.
"We are talking about a terrorist attack. Measures are now being taken to destroy these terrorists," Peskov told reporters.