LONDON — Russia could try to sever global underwater communications cables, potentially triggering catastrophic repercussions for the economy and way of life in the West, the head of Britain's military has warned.
The vast majority of global internet and telephone traffic relied on by Western governments, economies and civilians is carried by cables that crisscross the world's seabeds, according to analysts.
NATO has prioritized missions to protect these undersea lines of communication and is working "to match and understand Russian fleet modernization," Chief Marshall Stuart Peach told the Royal United Services Institute (RUSI), a defense think tank in London.
"Russia, in addition to new ships and submarines, continues to perfect both unconventional capabilities and information warfare," Peach said last week.
The cables transport 97 percent of global communications and more than $10 trillion in daily financial transactions, according to a report published earlier this month by British think tank Policy Exchange.
"Your emails, what you order on Amazon, your phone calls, online banking, it's all done through undersea cables not through satellites," said Peter Roberts, director of military sciences at RUSI.
Security experts welcomed Peach's comments, saying the risk of Russian interference was not only real, but had been overlooked for too long.
"This should have been getting attention for years," said Keir Giles, an associate fellow of the Russia and Eurasia program at Chatham House, a London-based institute for international affairs.
Related: Russian Spy Ship Spotted 30 Miles Off Connecticut Coast Near Naval Base
Roberts warned that "the threat from Russia is very real" and that Russian tapping of submarine cables was already happening.
The Russians' ability to interfere with these lines of communication is becoming more sophisticated, he said, adding that "we're not able to keep pace with it because we're not funding our militaries as we once were."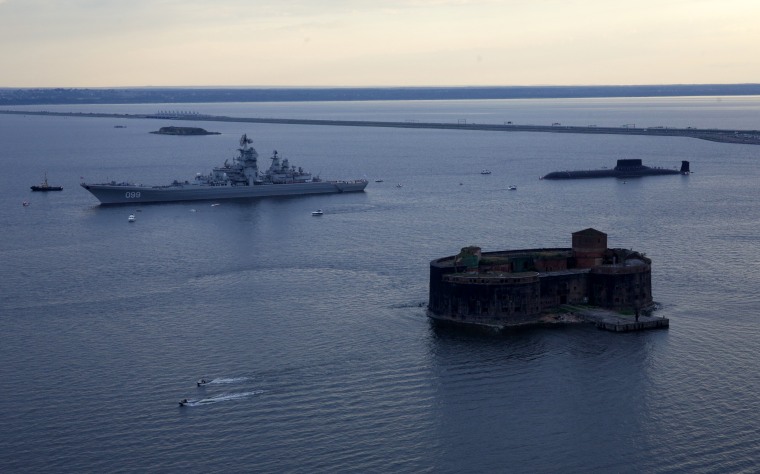 NATO advises that its members spend 2 percent of their GDP on defense, but most countries fall short of that target. As the country with the world's most powerful military, the United States is the de facto head of NATO, and the international community generally accepts that America would come to the defense of member states in the face of attack.
In recent years, policy makers and Western governments have shifted their focus off Russia and on to tensions in the Middle East and the threat of Islamist terror, analysts said.
"After the end of the Cold War, Russia dropped off people's radars," said Roberts. "There's a hole where we lost track of what was happening in Russia, we acknowledge now that that was wrong."
In the meantime, Russia focused on developing asymmetrical tactics such as tapping submarine communications cables, he added.
"They've been investing in research and development for asymmetric capabilities, capabilities we're not expecting, in areas we think are secure, and they're doing it with some of the greatest minds in the world," Roberts said.
"They look at our way of life and have seen that we are information dependent," he added. "They think: where can we hurt you most and manipulate the very fabric of your lives?"
The Russian Embassy in London dismissed the claims as "sensationalist."
"Instead of discussing European security, an important issue for all the European nations including U.K., London keeps speculating on numerous mind-boggling scenarios of a hypothetical conflict," it said in a statement Saturday.
Giles said the West was now playing catch-up. "While we were not paying attention, Russia was developing its capabilities to match its intentions … to defend itself from the perceived encroachment of the West," he said.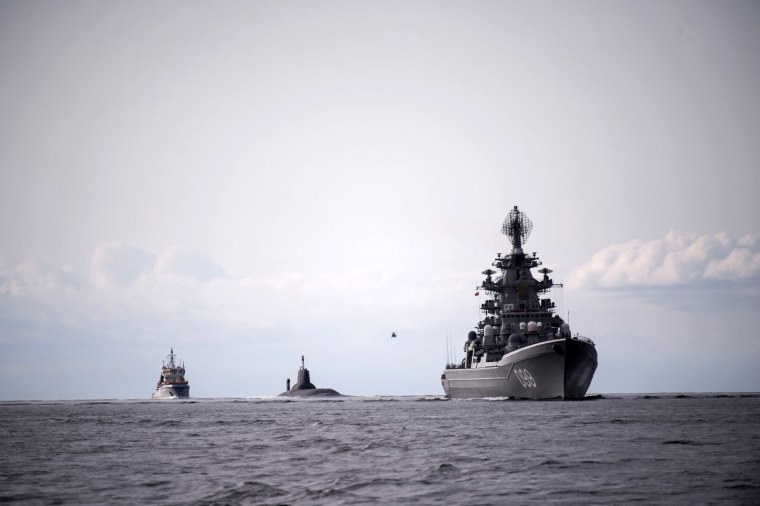 Submarine warfare has been a key focus of Russian military development for decades, analysts said, forming part of their culture of pursuing asymmetrical military tactics.
"In the school of Russian warfare at sea it's not about aircraft carriers, it's about the undersea domain," said Roberts.
There have been reports of Russia damaging communication lines in the North Atlantic as early as the 1970s, according to Igor Sutyagin, an expert in U.S.-Russian affairs at RUSI, who spent more than a decade in Russian prison on charges of espionage for the United States.
"It's not a new danger or threat, because it was possible even then," he said, adding that the idea had only become more attractive with the invention of the internet.
Related: Putin praises Trump on economy, says Russia collusion claims are 'invented'
In 2014, Russia successfully used electronic warfare in its occupation of Crimea, cutting off the main cable connection to the outside world and blocking non-Russian information from reaching civilians, according to the Policy Exchange report. Russian President Vladimir Putin annexed the Crimean peninsula during the upheaval in Ukraine.
"Crimea is the gold standard of information operations to win a conflict with very little fighting," said Giles of Chatham House, explaining that Russia would seek to replicate the operation in any future conflict.
Since 2014, Russia's submarine and on-land investigations into global communications networks has become increasingly urgent and less covert as they believe the likelihood of conflict has increased, Giles said.
"They are aggressively probing vulnerabilities in internet infrastructure elsewhere," he added.
U.S. military and intelligence officials have spoken of Russian submarines and spy ships "aggressively operating" near Atlantic cables, according to the Policy Exchange study and a report in the New York Times.
The Policy Exchange study also noted that in 2007 British intelligence forces foiled an al-Qaida plot to destroy a key London internet exchange.
Analysts have warned that it is not only Russia that could seek to exploit the West's reliance on the internet and telecommunications networks — China has been repeatedly flagged as a potential threat.
Sean Kanuck, director for future conflict and cyber security at the International Institute for Strategic Studies, said the Russian threat should be understood as a combination of vulnerability, capability and intention.
"The vulnerability exists, the capability has been documented and proven from an engineering perspective, and the intent is there for espionage and to disrupt those cables in event of a serious military conflict," he said.
Analysts warn that combating this threat is no mean feat. "Policing and patrolling undersea cables, we've not done this before, it would require a big investment," said Roberts of RUSI.
Kanuck pointed out that the cables are owned and operated by private companies, rather than the state, adding another layer of complication to questions of security.
Nevertheless, Giles said last week's public acknowledgment of the Russian threat was a major step towards addressing the problem.
"In times of crisis and conflict with Russia, civilian communications infrastructure requires the same degree of physical protection as any other strategically important facility," he said.
Kanuck said while he felt security specialists had always been attuned to the risk of Russian espionage, he welcomed its return to popular discourse.
"If there was a hiatus, it was likely at a political level, not at the security professional level," he said. "Politics of the day has resurrected what is a very worthwhile and significant concern."