Russia is advancing in the east behind a barrage of artillery that has strained Ukrainian defenses and Western unity over support for a protracted war.
The United States' much-anticipated decision to send Kyiv long-range missile systems that will allow its forces to fire farther and faster has likely come too late to save two key cities in the Donbas region that has become the focal point of the fighting.
But delivery of the weapons after months of urging from Ukrainian officials will help the country's military face the next, potentially decisive stage of the conflict — as the Kremlin perhaps hinted at in response, accusing the U.S. of "deliberately pouring oil on the fire."
President Joe Biden announced Wednesday that the U.S. would be sending Ukraine the high mobility artillery rocket system, or HIMARS. "This new package will arm them with new capabilities and advanced weaponry, including HIMARS with battlefield munitions, to defend their territory from Russian advances," he said in a statement.
The HIMARS is a variant of the longer-range multiple-launch rocket system, or MLRS. The U.S. is sending four of the rocket launch systems to Ukraine.
A senior Ukrainian official told NBC News after the announcement that he remained "very much worried… particularly since they have committed only a small battery of MLRSs, meaning they yet won't make a large difference."
MLRS missiles typically have a range of up to 40 miles, and can be equipped with GPS-guided missiles. This would be a significant upgrade of the Ukrainian artillery's current range, which tops out at around 20 miles with the M777 howitzers its allies have so far provided.
The systems have the added benefit of being self-propelled, meaning they can be fired and moved fast enough to avoid enemy response salvos.
Phil Wasielewski, a fellow at the Philadelphia-based Foreign Policy Research Institute, said the systems would aid Ukrainian forces in the Donbas, where the battle has "turned into an artillery duel."
He said that combined with their targeting capacity aided by commercial drones and counter battery radars, the systems would provide a "distinct qualitative and quantitative improvement" to Ukraine's combat capability.
"These rocket artillery systems can destroy Russian cannon artillery systems and not be touched by them."
Ukraine's allies are slowly stepping up their exports of heavy weaponry, with Germany promising Wednesday to supply Ukraine with modern anti-aircraft missiles and radar systems.
However they are unlikely to arrive in time to save swaths of the country's east from being battered and overrun.
The Russian assault in Ukraine's industrial heartland has edged toward capturing two key cities, with the mayor of Sievierodonetsk — one of the last urban areas under Ukrainian control in Luhansk province and a key target of the Kremlin's Donbas offensive — saying Wednesday that Russian forces now control around 80 percent of the ruined city.
Lacking long-range missile capability, Ukrainian forces are experiencing heavy losses, with President Volodymyr Zelenskyy saying that up to 100 soldiers could be dying in battle each day in the east.
"The combination of artillery barrage, airstrikes and missile strikes is what we expected from Russia from the beginning of the war and they are grinding the Ukrainians down," said William Alberque, director of strategy, technology and arms control at the International Institute for Strategic Studies.
In comments earlier this week, he said that if Ukrainian forces had the MLRS during Russia's advance, they would have had a "better chance of breaking up Russian advances with little risk of destruction."
Speaking before the announcements from Washington and Berlin, the senior Ukrainian official said his country had long been communicating to the U.S. and its allies what it needed to win the war.
"This is about long-range firearms, howitzers, MLRS, air defense," the official told NBC News.
"This is an active artillery war. A war in which you need long-range firepower," the official said. "This war is about shooting and moving. Who can shoot the longest and fastest wins."
Dating back to before the Russian invasion, the Ukrainian government and its supporters in Congress have appealed to the Biden administration repeatedly for certain weapons, and the White House initially declined or it has taken weeks or months before approving the delivery of items such as anti-aircraft Stinger missiles and drones.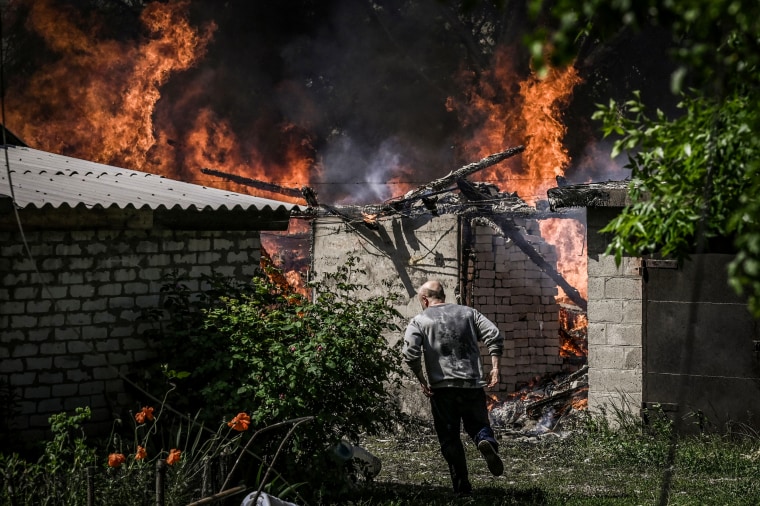 U.S. officials have grappled for weeks over sending the MLRS to eastern Ukraine, largely due to the systems' extended ranges, which could potentially allow Ukrainian forces to fire directly into Russian territory.
Biden on Monday told reporters that the U.S. would not "send to Ukraine rocket systems that can strike into Russia." A senior administration official said Ukraine has agreed not to use them to launch rockets into Russia.
Echoing Kremlin spokesman Dmitry Peskov's comments, Russian Deputy Foreign Minister Sergei Ryabkov warned Wednesday that any arms supplies "increase the risks of a direct collision between Russia and the United States," according to the state-owned RIA Novosti news agency.
Moscow's messaging over the long-range weapons systems showed it "knows exactly how to play on the West's doubts and fear of a direct NATO-Russia confrontation," said Michael A. Horowitz, a geopolitical and security analyst who is the head of intelligence at the consultancy Le Beck International.
He said that it wasn't too late for the weapons to help Ukrainian forces defend positions and stanch further Russian advances in the Donbas.
"But each day the West hesitates is a day Russian artillery rules the battlefield. Russian advances are preceded by massive fire. Each city lost by Ukraine is a city leveled to the ground, making each retreat even more painful," Horowitz said.
Mark Cancian, senior adviser at the Center for Strategic and International Studies, said another Western concern was overloading Ukrainian forces with myriad new weapons systems, all of which require time for soldiers to be trained to use and maintain.
"The West has already given them artillery, armored personnel carriers, anti-artillery radars," he said.
"If the Ukrainians had two years to absorb all this, that would be no problem. But they're doing this in real time. We're asking the Ukrainians to do in a couple of weeks what it would take us several months to do."
A defense official said Tuesday that the Defense Department believes it can get the training for Ukrainian troops down to a week or two for basic operations and that there will be longer training courses for maintenance of the system.