HERZLIYA, Israel — Indications of increased Russian involvement in Syria in support of President Bashar Assad are prompting a reassessment in Israel about how to handle fall-out from the conflict without risking a clash with Moscow.
Since the Syrian civil war began in 2011, Israel has occasionally fired across the Golan Heights in response to spillover shelling or bombed advanced arms it suspected were to be transferred to Assad's Lebanese guerrilla allies, Hezbollah.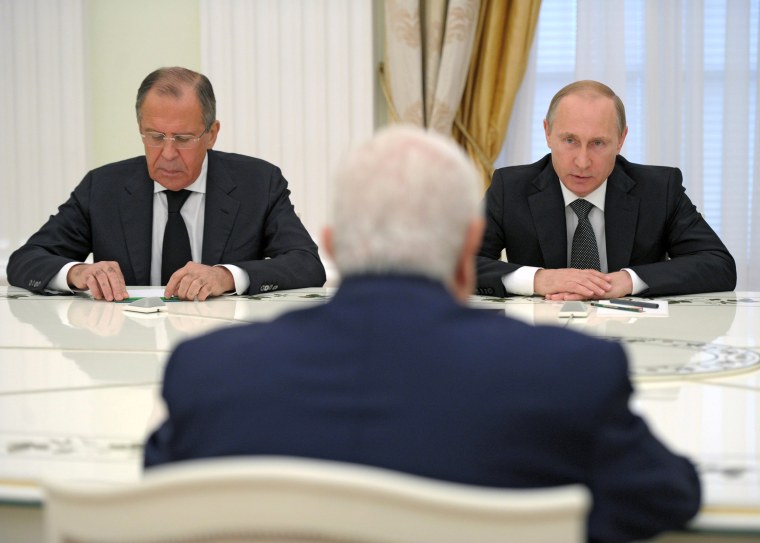 U.S. and regional reports that Moscow's diplomatic and logistical support for Assad is shifting into major military backing has raised the prospect of Israel and Russia accidentally coming to blows.
"There could be ramifications for us, certainly," Ram Ben-Barak, director-general of Israel's Intelligence Ministry, told Reuters when asked if Russian intervention in Syria might necessitate new Israeli rules of engagement.
He was speaking at a security conference organized by the Herzliya Interdisciplinary Center, where Russian policy in Syria was described both as an effort to shore up Assad and mobilize with other world powers in suppressing Islamic State insurgents.
"We have been informed that the Russians are entering into active intervention, the Americans are attacking ... The West and now, in fact, the Russians and the whole world are trying to unite against them (ISIS)," Amos Gilad, senior adviser to Israeli Defense Minister Moshe Yaalon, said in a speech.
"They are not our enemies today"
In separate remarks to Reuters, Gilad said it was too early to know how extensive Moscow's military involvement in Syria would be and whether it might clip Israel's wings operationally.
"I don't know, because the scale is not yet clear. They haven't started working. They are just building up the capability," Gilad said of the Russian activity.
Asked if Israel was communicating with Russia in a bid to head off any unintended confrontations between their forces, he said only: "There are ways. They are not our enemies today."
Israel has sought to stay out of the Syrian civil war, seeing enemies on all sides. It says it intervenes militarily only when fired upon from Syria or to prevent Hezbollah operatives reinforcing Assad there from gaining advanced weapons that could pose a threat to it from Lebanon in the future.
In recent days, Moscow has reaffirmed its military backing for Damascus but said it was premature to talk about Russian participation in military operations in Syria.
U.S. authorities have detected "worrisome preparatory steps", including transport of prefabricated houses for hundreds of people to a Syrian airfield, that could signal Russia is readying for deployment of heavy military assets, a senior U.S. official told Reuters last week.
Syria has not formally responded to the reports. But one of its military officials has spoken of a "big shift" in Russia's military support for Damascus.