Russia is tightening the noose on Ukrainian troops in the country's east.
Moscow's forces have advanced in a fierce ground and artillery assault, and they now appear close to encircling the last two holdout cities in Luhansk province. Luhansk and neighboring Donetsk form the Donbas region, which has become the key focus of the Kremlin's war.
As Ukrainian officials voice concern that their troops are now outmanned and outgunned, the Russian push could prove decisive in the conflict.
In recent days Russian forces have used heavy artillery, airstrikes and infantry to close in on the cities of Severodonetsk and Lysychansk, the Institute for the Study of War, a U.S.-based military think tank, said in its most recent update on the situation.
A senior U.S. defense official said Thursday that the Russian military had seized most of northeast Severodonetsk and was trying to squeeze Ukrainian forces in the region to Lysychansk.
"The U.S. believes the Russians are trying to pinch off the far eastern elements of the Ukrainian forces that are basically positioned between Severodonetsk to north of Popasna," said the official, who did not wish to be named without authorization to speak publicly about the matter.
Popasna is around 30 miles south of Severodonetsk. Ukrainian troops retreated from the strategic town this month to fortify elsewhere.
Russian troops were trying to encircle the Ukrainian military in the region, the official said. "The give and take is still small from a geographic perspective, but it's a compact area, so there has been incremental progress by the Russians," the official added.
If Russia succeeds in surrounding the two cities, which sit on either side of the strategic Siversky Donets River, they would be entirely cut off from territory under Ukrainian control. Ukrainian troops have been retreating from surrounding towns and villages in recent days.
Michael Kofman, the research program director in the Russia Studies Program at CNA, a Washington-area think tank, said on Twitter that "recent Russian gains offer a sobering check on expectations for the near term."
He said that while the conflict's overall balance of power still lies with Ukraine and its Western allies, "the local balance in the Donbas during this phase is a different story."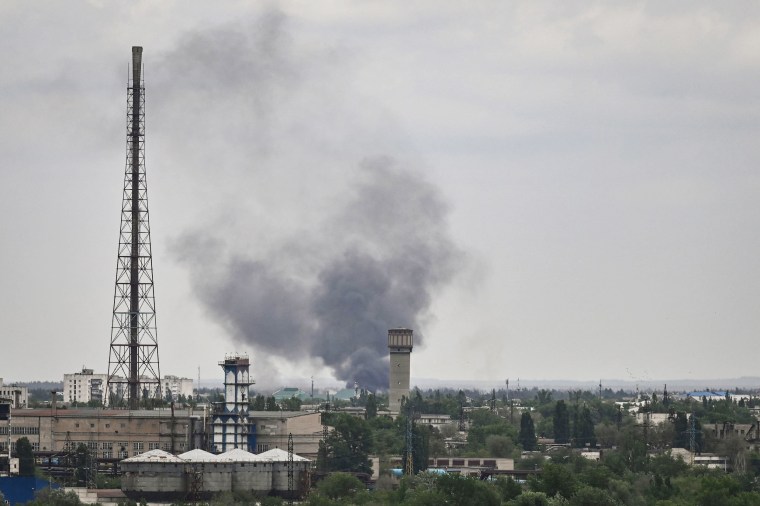 That will provide welcome relief for Russian President Vladimir Putin, who has until now had little to show for the invasion he launched three months ago.
Oleksiy Arestovych, an adviser to President Volodymyr Zelenskyy, said Ukrainian defenses were struggling to keep up with Russia's onslaught.
"We've now lost to the Russian army in terms of pace," he said in an interview with an independent Russian media outlet.
"The Russian side managed to gather its reserves before we did. We're lagging behind, which makes the situation at the front extremely difficult."
Luhansk's regional governor, Serhiy Haidai, said Russia had shelled the highway linking the two cities with neighboring Donetsk province, damaging a vital route through which Ukraine has been sending reinforcements and supplies.
However, he denied claims that the road had been cut off completely.
A unit of Russian troops approached the Lysychansk-Bakhmut highway Wednesday, "but they were quickly knocked out," Haidai said on Telegram.
"However the highway is still being shot at," he said. "The Russians are making every effort to occupy the region." 
Michael A. Horowitz, a geopolitical and security analyst who is the head of intelligence at the consultancy Le Beck International, said the situation for Ukrainian troops in Severodonetsk and Lysychansk was "very dire."
"They are on the verge of being surrounded," he said. "There are basically two roads to Severodonetsk and Lysychansk, and one of them is very close to being cut."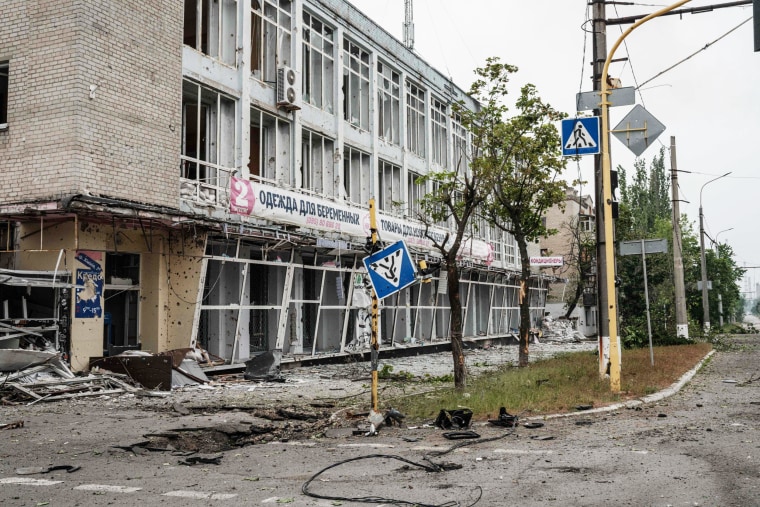 Deputy Defense Minister Hanna Maliar, meanwhile, said Russia was engaging Ukrainian forces in "intense fire" in the neighboring Donetsk region.
"The enemy used all forces and means to capture our territory and surround our troops," she told reporters. "The fighting has reached its maximum intensity to date."
After months of battlefield setbacks and the grinding siege of the Black Sea port of Mariupol, Russia's brutal advance in Luhansk has renewed concerns about the conflict's endgame.
If Russia is able to secure control of a large slice of the east, might Ukraine be better off accepting that as the price of survival?
Former Secretary of State Henry Kissinger suggested exactly that at the World Economic Forum in Davos, Switzerland, this week as he called for a resumption of peace talks between Moscow and Kyiv, warning that failing to engage Russia diplomatically would have long-term consequences for European stability. 
Zelenskyy, in his daily address Wednesday, likened Kissinger's call for diplomacy with Moscow to European attempts to appease Nazi Germany in the run-up to World War II. 
"Kissinger emerges from the deep past and says that a piece of Ukraine should be given to Russia, so that there is no alienation of Russia from Europe," Zelenskyy said.
"It seems that Mr. Kissinger's calendar is not 2022, but 1938, and he thought he was talking to an audience not in Davos, but in Munich of that time."
Zelenskyy did concede that Ukrainian positions in Luhansk were vulnerable, warning that "in some areas the enemy is substantially superior in terms of equipment [and] number of soldiers."
But pouring defensive troops into the area might not be the solution, experts cautioned.
"Ukraine generally has a lot of leeway in terms of reinforcements that it could send because they are on a war footing," said Horowitz of Le Beck.
"But in this specific area, they have to decide whether they want to defend that area until the end at the risk of potentially losing the units that they send or actually just pull back to more defensible positions."