Amid threats and counterthreats, Washington and its allies may have only one option if Russia invades Ukraine: more of the same.
President Joe Biden had made it clear he would not drag American troops into an armed conflict with nuclear-armed Russia.
He instead warned Russian President Vladimir Putin of "economic consequences like none he has ever seen" if he invades Ukraine.
On Thursday, Biden told his Ukrainian counterpart, Volodymyr Zelenskyy, that the U.S. and its allies would be prepared to pursue "strong economic measures" against Russia, and "made very clear of continued U.S. commitment to Ukraine's sovereignty and territorial integrity," a senior administration official said.
The White House has also said it will continue military support for Ukraine and attempt increased diplomacy with the Kremlin — all things that it's already doing to some extent.
Whether "more of the same" gets results remains to be seen, said James Nixey, director of the Russia-Eurasia Program at Chatham House, a London think tank.
"The reality is that the options are limited," Nixey said. The U.S. has "taken the military option off the table because they don't want a war that could escalate into something unimaginable."
Washington and Europe are alarmed at the buildup of 90,000 Russian troops along the Ukrainian border, which they say could be saber-rattling or preparation for a devastating assault against the former Soviet republic.
Russia sees Ukraine as its strategic and spiritual backyard, and wants assurances from the West that it will never join NATO or host American short-range missiles.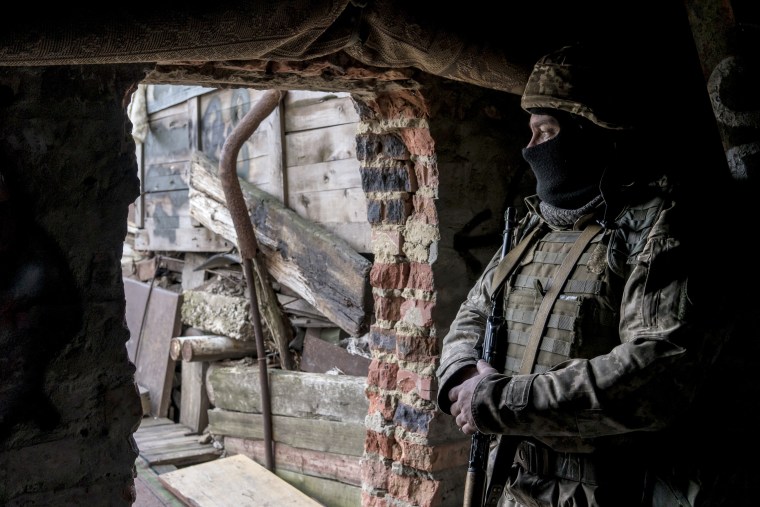 Ukraine has for years been denied NATO membership and therefore does not enjoy the "all for one and one for all" principle of collective defense that forms the cornerstone of the alliance. 
Instead, the U.S. has committed $2.5 billion in military assistance for Ukraine after the last time Russia invaded, annexing its Crimea Peninsula in 2014. But this amount is "relatively small," according to Nixey. "The Ukrainians could certainly use more."
Download the NBC News app for breaking news and politics 
Meanwhile, the U.S. and European Union have already leveled repeated rounds of sanctions against Russia. Coupled with plummeting oil prices, this contributed to Russia's worst recession in 20 years.
But its economy has since rebounded, and "there doesn't appear to have been much immediate effect" on Russia's behavior, according to a 2019 briefing by the Council on Foreign Relations, a Washington think tank. "Russia is still active in Ukraine and, according to Western intelligence agencies, Moscow has meddled in U.S. and European elections" — all of which Russia denies.
This time, experts say one particularly painful option would be to disconnect Russia from the SWIFT international payment system, which facilitates transfers between thousands of banks worldwide.
Russia is so reliant on SWIFT to export oil and gas that in 2019 its then-Prime Minister Dmitry Medvedev said blocking it would be "a declaration of war."
The U.S. has also suggested that the new and controversial Nord Stream 2 gas pipeline between Russia and Germany could be suspended in the event of an invasion.
"If Vladimir Putin wants to see gas flow through that pipeline, he may not want to take the risk of invading Ukraine," national security adviser Jake Sullivan told reporters Tuesday.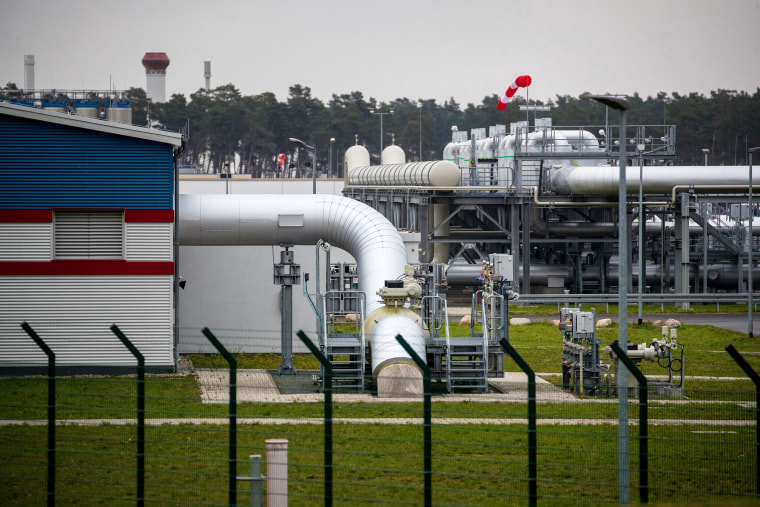 However — as with all sanctions against Russia — these measures would also cause serious pain for Europe. Not only do countries such as Germany have strong trading relationships with Russia, much of the continent relies on the Kremlin for the natural gas that heats their homes.
There are already fears that Russia has been limiting gas supplies to Europe for political leverage, worsening the global energy crunch that could bite even harder this winter.
"Russia's high level of interconnectedness with the West has worked as a shield," Maria Shagina, a visiting fellow at the Finnish Institute of International Affairs wrote in May.
Meanwhile, Biden says the U.S. is playing a more active role in direct diplomacy with Russia and neighboring NATO allies with the aim of "bringing down the temperature along the eastern front."
Ukraine has so far been barred from joining the alliance because of what NATO says is its domestic corruption and simmering war with Russian-backed separatists. But it would be politically and diplomatically difficult for NATO leaders to rule out the possibility for good.
Biden is meeting leaders from countries on NATO's eastern flank Thursday to "discuss the future of Russia's concerns relative to NATO" and whether "we can work out any accommodations," he said Wednesday.
These diplomatic efforts will involve urging Russia and Ukraine to return to a failed 2015 ceasefire agreement, State Department spokesman Ned Price said later Wednesday.