DAMASCUS, Syria — Russian warplanes have attacked ISIS and other insurgents in central and northern Syria with a wave of new airstrikes, Syrian and Russian military officials said Saturday as an activist group said Russia's air raids have killed 39 civilians over the three past days.
The new airstrikes came as residents of Syria's central regions fear the Russians are paving the way for a ground offensive by the government on several towns in the central province of Hama and the northwestern region of Idlib — where the Syrian army suffered major setbacks over the past months, activists said.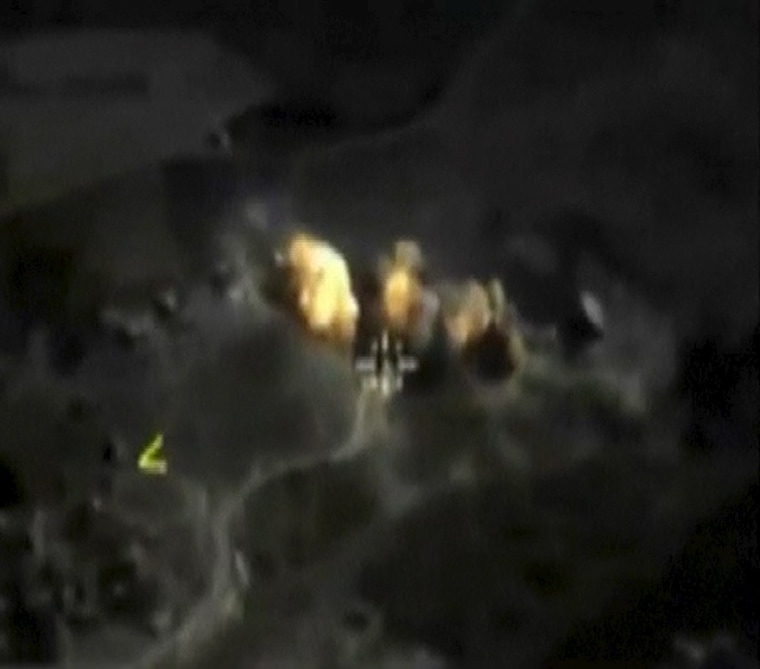 Russian military spokesman Maj.-Gen. Igor Konashenkov said the warplanes flew 20 missions in Syria over the past day, hitting nine ISIS targets. He said an ISIS command post and a weapons storage bunker were destroyed in the area of Raqqa, the extremists' de facto capital.
Col.-Gen. Andrei Kartapolov, a top official in the Russian military's general staff, said Russian pilots had flown more than 60 sorties since Sept. 30, targeting ISIS command posts, ammunition storehouses and weapons-production factories.
"Our intelligence has determined that the militants are leaving the areas they control. Panic and desertion have begun in their ranks," Kartapolov said in a briefing transcript posted on the Defense Ministry's Facebook page. "We will not only continue attacks by our airplanes, but will increase their intensity."
In Damascus, an unnamed Syrian military official was quoted by state TV as saying that the "concentrated and precise" airstrikes destroyed a command center in the central town of Latamneh in Hama province and targeted positions in the northwestern areas of Jisr al-Shughour and Maaret al-Numan.
Konashenkov said equipment and weapons storage facilities were destroyed in a strike near Jisr al-Shughour and an ammunition depot was destroyed in Maaret al-Numan.
The ISIS group has no presence in the northwestern province of Idlib, which includes Jisr al-Shughour and Maaret al-Numan.
Related: President Obama: Russian Action in Syria Could Create 'Quagmire'
The Russian airstrikes that began Wednesday have mainly targeted central and northwestern Syria, strategic regions that are the gateway to President Bashar Assad's strongholds in the capital, Damascus, and along the Mediterranean coast.
Russia says it is targeting the ISIS group and al Qaeda's Syrian affiliate, but at least some of the strikes appear to have hit Western-backed rebel factions.
British Prime Minister David Cameron condemned the strikes on Saturday, saying it's "absolutely clear" that Russia is not discriminating between ISIS and the groups opposing Assad.
"As a result they're actually backing the butcher Assad and helping him and really making the situation worse," Cameron said.