A bid by a Vladimir Putin loyalist to become president of Interpol was thwarted Wednesday following a lobbying campaign by the U.S. and its European allies.
The Trump administration and a group of senators opposed the candidacy of Maj. Gen. Alexander Prokopchuk of Russia's Interior Ministry, alleging an election win would allow Moscow to abuse Interpol's "red notice" system to go after political opponents.
Russia accused its critics of running a "campaign to discredit" their candidate, saying Prokopchuk was a respected professional.
The vacancy arose after the international crime agency's previous president, Meng Hongwei, was detained in China.
Prokopchuk was defeated by South Korea's Kim Jong Yang, who secured at least two-thirds of votes cast at the organization's annual congress in Dubai.
Kim had been acting president since Meng's detention and was backed by the White House.
More than a dozen American senators wrote an open letter opposing Prokopchuk's bid, accusing Russia of exploiting the global body to settle scores and harass dissidents.
Sen. Marco Rubio (R-Fla.) said it was "akin to putting a fox in charge of a henhouse."
Before the vote, Secretary of State Mike Pompeo urged delegates from the 194 member states to "choose a leader with credibility and integrity that reflects one of the world's most critical law enforcement bodies."
He added: "We believe Mr. Kim will be just that."
Britain and other European nations were also opposed to the longtime veteran of Russia's security services getting the role.
A senior Russian lawmaker accused the U.S. of election meddling over the result.
"This is a vivid example of interference in the election [by America]," Vladimir Dzhabarov, the first deputy chairman of the Foreign Affairs Committee of Russia's upper house of parliament told the TASS state news agency. "They do it always, everywhere and at any level: in any country, in any international organization."
Lithuania, a former Soviet state, had threatened to quit the agency if a Russian figurehead was chosen.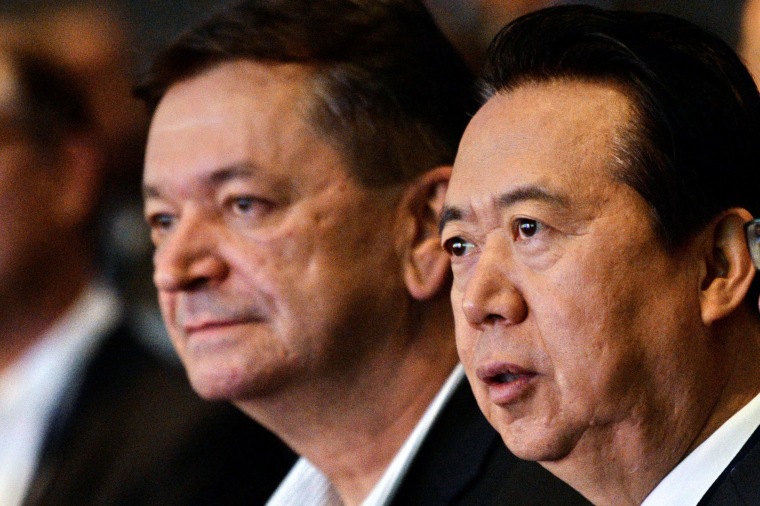 Kim, 57, worked in the South Korean police for more than 20 years before retiring in 2015. He will serve until 2020, completing the four-year mandate of his predecessor.
While day-to-day work is handled by Secretary-General Jurgen Stock of Germany, the presidency still commands influence.
Russia's Interior Ministry said after the vote that Prokopchuk, who is a vice president at Interpol, would continue his role in that position.
Based in the French city of Lyon, Interpol is best known for issuing "red notices" that identify suspects pursued by other countries, effectively putting them on the world's "most-wanted" list.
Critics say countries such as Russia, Turkey, Egypt, Iran and China have used the system to try to round up political opponents, journalists or activists.
In 2016, Interpol introduced new measures aimed at strengthening the legal framework around the "red notice" system but member countries can issue requests directly to other countries using Interpol's communication system, without going through a centralized vetting process.