LONDON — Russia kicked off what Western powers expect to be the country's largest military exercise since the Cold War on Thursday, a massive mobilization of forces that has triggered unease among U.S. officials and their allies in Eastern Europe.
Land, sea and air units will be taking part in war games across a huge area encompassing western Russia, Belarus, the Baltic Sea and the Russian exclave of Kaliningrad.
Moscow says fewer than 13,000 troops are participating, meaning they don't have to invite international observers. But NATO members and Western military experts believe as many as 100,000 troops may be involved in the drills.
"They want to see where the cracks are in NATO and where they can be widened"
Dubbed Zapad, which means "west" in Russian, the exercise has its roots in vast Soviet drills dating to the 1980s. This year's edition has been planned for months. Previous versions were held in 2009 and 2013.
Analysts don't believe that Russia is about to launch a war.
"NATO remains calm and vigilant, and committed to keeping Estonia and all our allies safe," NATO Secretary General Jens Stoltenberg said last week in Estonia, one of the tiny Baltic nations that borders Russia and often worries about undue influence from Moscow.
But not everyone in the region is so sanguine. In Lithuania, another Baltic nation that was once part of the Soviet Union, Defense Minister Raimundas Karoblis summed up the mood.
"We can't be totally calm. There is a large foreign army massed next to Lithuanian territory," he told Reuters.
Other Western officials, including the head of the U.S. Army in Europe, Gen. Ben Hodges, have raised concerns that Russia might use the drills as a "Trojan horse" to make incursions into Poland and Russian-speaking regions in the Baltics. Hodges made the comment in a Reuters interview in July.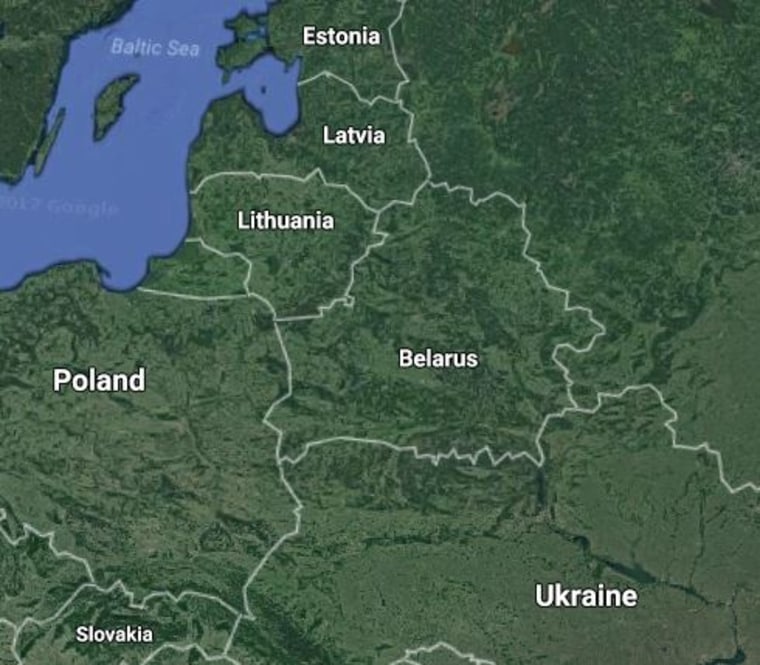 Russia insists the long-planned Zapad exercises would only be used to defend against aggression by NATO, the U.S.-led 29-member military alliance founded in the aftermath of World War II.
But following months of uncertainty surrounding NATO — caused by Trump's mixed messages — this year's Zapad exercise may be designed to test the alliance's resolve.
"Russia is not organizing defensive operations but instead an offensive threat, testing how serious we are about protecting the members of NATO," said Jonathan Eyal, international director of the Royal United Services Institute, a London-based think tank.
Belarus not only borders Russia, but also three of America's key but relatively isolated NATO allies: Poland, Lithuania, and Latvia.
Related: Trump's Rhetoric Has This Town Ready for War
Like Estonia in the north, the latter two were occupied by Soviet forces for almost 50 years and they have remained a focus of the renewed standoff between Russia and the West. This breakdown was sparked by Moscow's 2014 annexation of Crimea and worsened over military intervention in Syria and allegations of state-sponsored hacking.
"Russia is reminding us that the Baltic states are relatively indefensible," Eyal added. "They want to see where the cracks are in NATO and where they can be widened."
Trump caused alarm in Europe after he was slow to explicitly endorse NATO's central promise of collective defense, known as Article 5. He also demanded member states up their military spending and suggested he wouldn't defend them unless he did.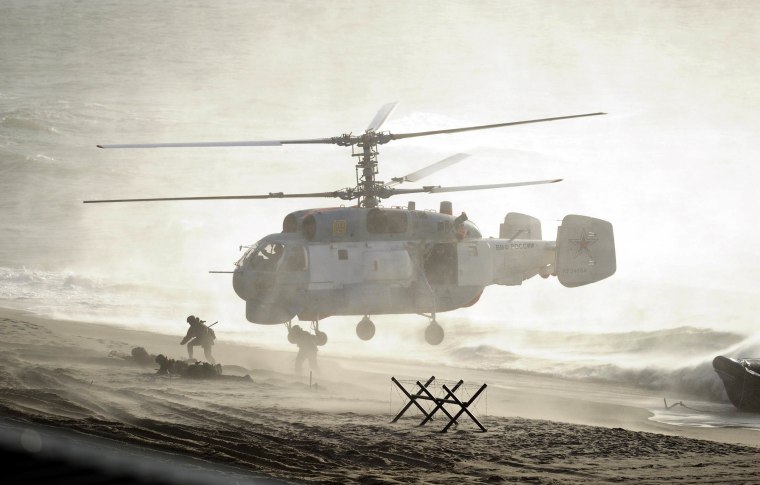 The rhetoric from Trump has since softened — with some members of his team expressing America's strong and enduring support for NATO — but the mere suggestion of wavering was enough to give many Europeans the jitters.
NATO has reinforced its position in Eastern Europe, now maintaining a rotating force of 4,000 in Poland and the Baltics.
But hypothetical scenarios played out by the Rand Corporation last year found that it would take Russian forces just 60 hours to reach the outskirts of the Estonian and Latvian capitals of Tallinn and Riga.
In terms of this year's Zapad exercise, what concerns some officials and experts is they aren't exactly sure how big they will be. There are also questions about Putin's true intention.
The official figure given by Russia is that there will be no more than 13,000 personnel taking part.
Some Western analysts say that it's no coincidence that this is also the exact number of troops allowed in a military exercise before international observers must be invited.
The Vienna Document of 2011 is an agreement by members of the Organization for Security and Co-operation in Europe — a group that includes Russia — which says that any exercise involving more than 13,000 personnel must allow observers from all other OSCE nations.
Russian officials, such as Foreign Minister Sergey Lavrov, are adamant they have nothing to hide.
"Our NATO colleagues know all too well that they were invited to attend these exercises, and that they are transparent," Lavrov said in a June interview.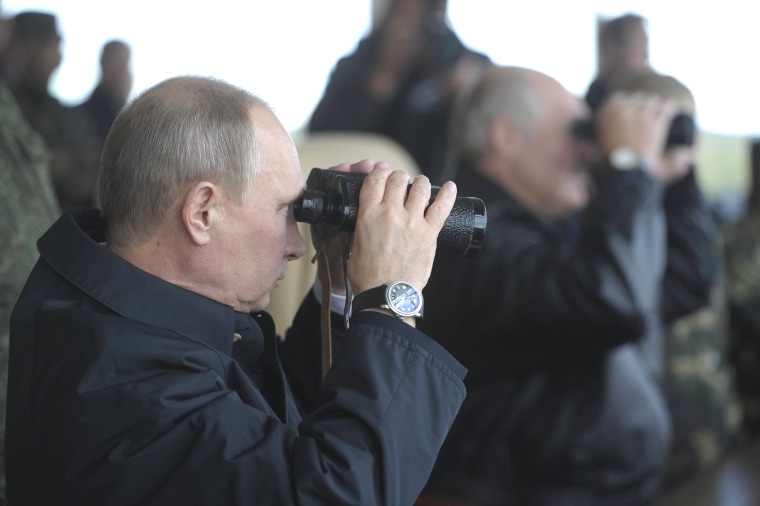 But many in NATO remain unconvinced.
"We have every reason to believe that it may be substantially more troops participating than the official reported numbers," NATO Secretary General Jens Stoltenberg said at a press conference last month.
Germany has openly alleged that the real number will be more than 100,000 troops. The same number has been predicted by U.S. officials, who spoke to the Associated Press on condition of anonymity.
That would make Zapad 2017 Russia's largest exercise since the Cold War.
Keir Giles, an associate fellow at London's Chatham House think tank, said the official figures were "hopelessly unreliable." He added Russia could get around the 13,000-limit by having several drills going on at once.
Moscow is not transparent both in terms of the size and intent of their exercises, one U.S. defense official told NBC News on condition of anonymity.
"They continually send more troops than they report to the international community," the official said, adding that they need to be honest about their intentions to avoid misunderstandings.
Pentagon spokeswoman Lt. Col. Michelle Baldanza added: "Russia has conducted several large-scale snap exercises along NATO's Eastern flank with little to no notice and in a non-transparent manner."
The last Zapad exercise, in 2013, featured "more than 75,000 men, who were engaged in simulated operations in the air, on land and at sea," according to a report by The Jamestown Foundation, a Washington-based research institute.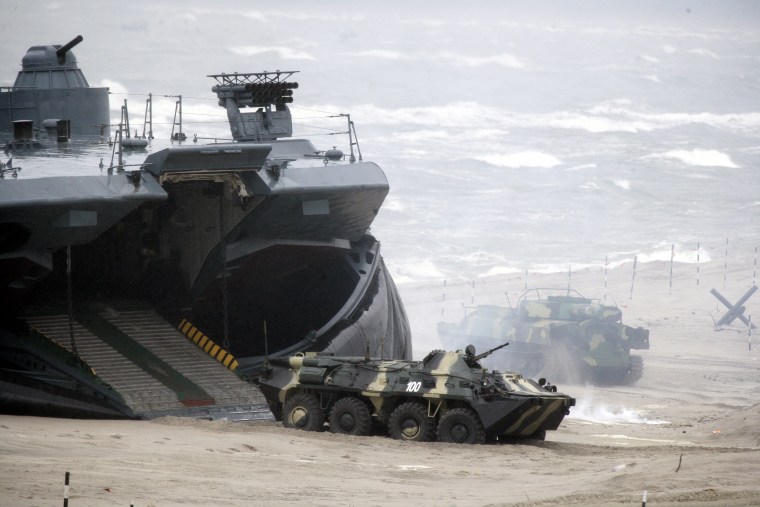 For comparison, last year 24 NATO members held a military exercise named "Anakonda," which included more than 31,000 service members.
Whatever the number, the exercises come against the backdrop of several close encounters between Russian and NATO aircraft and ships in recent years.
"There's always a possibility for miscalculation when that's going on," Gen. Curtis M. Scaparrotti, NATO's supreme allied commander, told reporters last month, referring to these near-misses. "I think that's the importance of transparency, particularly on Russia's part, to tell us about [the Zapad] exercise: What should we expect to see, what is the size of them, where will they operate?"
What's also unclear, according to some Western analysts, are Putin's motives.
Russian Foreign Minister Lavrov has dismissed as "nonsense in its purest form" any suggestion that the Kremlin is using the drills for anything other than defense.
But many Western experts say that Russian exercises are often used to disguise other objectives. Most notably, Russia's war with Georgia in 2008 and annexation of Crimea in 2014 both followed military exercises that allowed Moscow to move troops into key locations.
"These large-scale exercises … served as a means to obscure the movement of Russian units into the conflict zone," according to the report by The Jamestown Foundation following the Zapad 2013 exercise.
One theory is that this year's drill could be used by Russia to "leave troops behind" in Belarus in order to give Moscow a more-advanced forward base in Europe, according to Giles at Chatham House.