MOSCOW — Russia said Thursday it does not understand the "painful reaction from our American colleagues" after two of its warplanes made low passes over a U.S. Navy destroyer.
The Su-24 fighter jets were filmed "buzzing" the USS Donald Cook in the Baltic Sea, about 70 miles from Russia's Kaliningrad province, on Monday and Tuesday.
A U.S. official said the maneuvers were "unsafe" and "unprofessional" — and that the jets were so low they left "wake in the water." He said a Russian KA-27 helicopter also made seven passes above the destroyer and was believed to be photographing the ship.
Russian Ministry of Defense spokesman Maj. Gen. Igor Konashenkov hit back Thursday, saying that "upon visual contact, the Russian pilots have executed a turnaway from the ship, compliant to all safety regulations."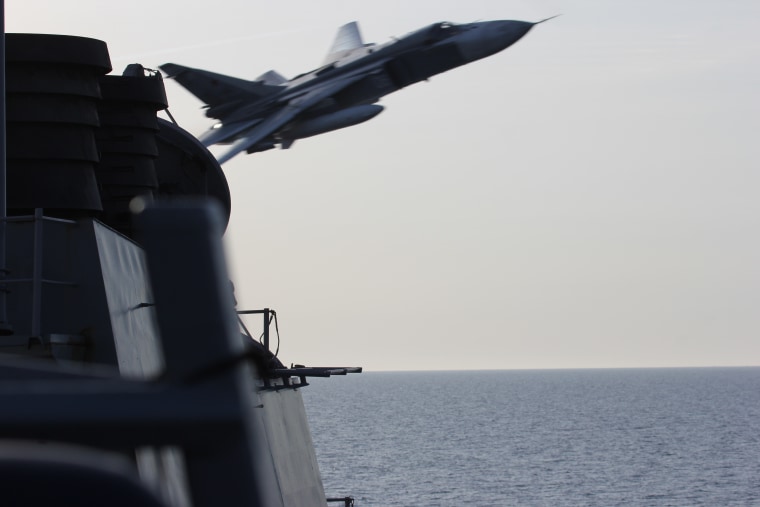 In a statement, he said: "To be honest, we don't understand such a painful reaction from our American colleagues."
All Russian military flights, according to Konashenkov, are "conducted in strict compliance to the international rules of airspace management over neutral waters."
Although the U.S. official said the destroyer was 70 miles from Kaliningrad, the Russian MoD claimed it was less than 45 miles from one of its naval bases.
"The freedom of the seas of the U.S. destroyer does not cancel the freedom of the air for the Russian aircraft," Konashenkov added.
Russia warplanes have increasingly tested international boundaries in recent years by buzzing near or in the airspace of other nations.
In October, Russian warplanes flew near the USS Ronald Reagan aircraft carrier in the Sea of Japan and the Navy was forced to send U.S. fighter jets in response.