LONDON — In a fiery public exchange in Moscow, Foreign Minister Boris Johnson of Britain on Friday pressed his Russian counterpart about the Kremlin's alleged election meddling around the world.
Asked about the Kremlin's repeated denials that it had interfered in the politics of various European countries and backed cyberattacks and disinformation campaigns, Russian Foreign Minister Sergey Lavrov said he had yet to see any "concrete evidence" of Russian interference.
"My colleague Boris Johnson has recently said that he has no proof that Russia interfered with the U.K. referendum on Brexit," said Lavrov at a news conference in Moscow. He was referring to June's historic referendum that saw a majority of British voters opt to leave the European Union.
Johnson swiftly shot back: "Not successfully, not successfully, I think is the word."
"He is afraid that if he doesn't contradict me, it will ruin his reputation with media back home," Lavrov quipped.
"Sergey, it's your reputation I am worried about," Johnson responded.
Johnson then said that had Russia been successful at influencing the referendum or election results in Britain, "it would have been an entirely different matter."
"The absence of actions can never lead to results, I agree with you," Lavrov pressed on. "Again, it would be good to get some facts."
In October, British parliamentarian Damian Collinsasked Facebook to hand over information on Russian-linked ads in relation to the Brexit referendum and the country's general election in June. Only last month, British Prime Minister Theresa May launched a scathing attack on Putin, accusing the Russian president of undermining the West by meddling in elections and seeking to "weaponize" information.
In January, a report released by U.S. intelligence agencies alleged that Russian President Vladimir Putin ordered an influence campaign in 2016 to undermine public faith in the U.S. democratic process, denigrate Hillary Clinton and help Donald Trump. Putin and other officials have steadfastly denied that Moscow meddled in the U.S. election.
'Insulting and aggressive statements'
Johnson's visit to Russia, the first by a British foreign minister in five years, comes at a time when relations between London and Moscow are strained by differences over Ukraine and Syria as well as the election meddling allegations.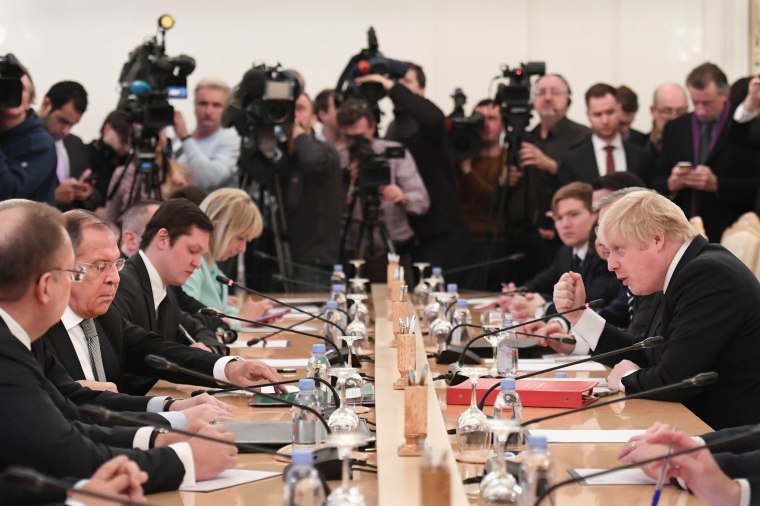 Lavrov told Johnson at the start of talks in Moscow that British-Russian relations are at a low point, and it's "not on our initiative."
Lavrov said he blamed Britain for the poor state of relations, complaining about "insulting and aggressive statements" from London. He also complained about Britain airing its differences with Moscow publicly rather than in private.
Johnson agreed that the British-Russian relationship was going through a difficult patch and is a "regrettable state of affairs."
"One of the reasons for coming here is that there is no point in simply sitting on the sidelines and complaining about each other. We have to engage and we have to talk to each other," he said.
Although the two men spent much of their joint news conference exchanging barbs, both sounded upbeat when it came to trying to cooperate in narrow areas, such as on the U.N. Security Council and security arrangements for next year's soccer World Cup in Russia.
Johnson riled Russian officials before his visit by saying Moscow was "closed, nasty, militaristic and anti-democratic" in an interview with Britain's Sunday Times newspaper.
Russian Foreign Ministry spokeswoman Maria Zakharova said Russian officials had not taken offense, but merely laughed because the comments had been made by Boris Johnson.
Johnson clarified during Friday's news conference that those comments referred to the "Soviet Union of his childhood" and not modern Russia.