LONDON — Russian Foreign Minister Sergey Lavrov on Saturday dismissed as "just blabber" the indictment of 13 Russians by a federal grand jury on charges of interfering in the 2016 presidential election.
Speaking at the same conference as Lavrov, meanwhile, National Security Adviser H. R. McMaster called evidence of Russian cyber-meddling "incontrovertible."
"I have no response," Lavrov told participants at the annual Munich Security Conference when asked about Friday's news. "You can publish anything and we can see those indictments multiplying."
Adding: "Until we see the facts everything else is just blabber."
Lavrov named Jeanette Manfra, head of cybersecurity at the Department of Homeland Security, who he said has denied that any country influenced the 2016 election results.
In an exclusive interview with NBC News earlier this month, Manfra said the Russians successfully penetrated the voter registration rolls of several U.S. states prior to the 2016 presidential election.
While Manfra told NBC that she couldn't talk about classified information publicly, she added that in 2016 "we saw a targeting of 21 states and an exceptionally small number of them were actually successfully penetrated."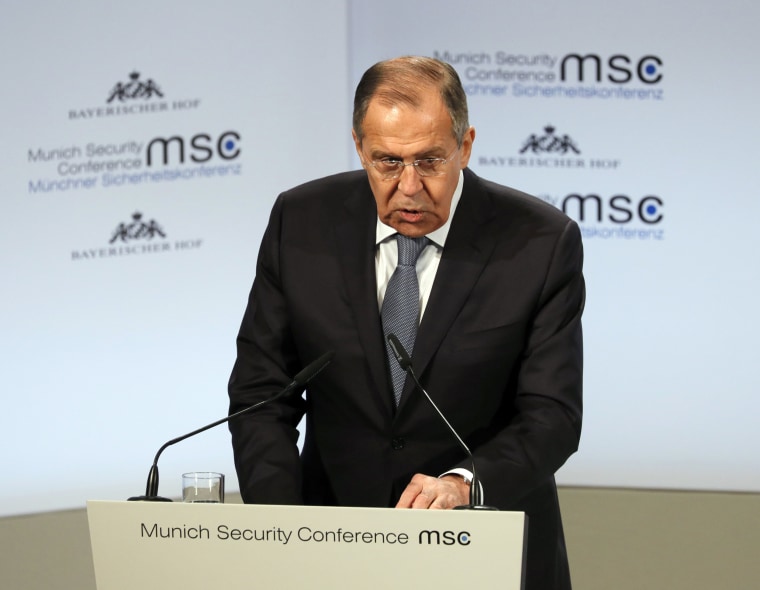 There is no evidence that any of the registration rolls were altered in any fashion, according to U.S. officials.
On Saturday, Lavrov also said Vice President Mike Pence had raised questions about the investigation.
The vice president told Lester Holt in an interview on Feb. 9: "We take very seriously the actions not only by Russia but any other country to involve themselves in the domestic affairs of our country and will continue to."
A few days later, Pence downplayed any impact foreign meddling had had on election results.
In an interview with Axios he said, "irrespective of efforts that were made in 2016 by foreign powers it is the universal conclusion of our intelligence communities that none of those efforts had any effect on the outcome of the 2016 election."
President Donald Trump, meanwhile, has repeatedly pushed back on investigations into Russian meddling in the election, raising doubts that it had even occurred. Trump tweeted in part after the indictments were announced, "The Trump campaign did nothing wrong — no collusion!" The White House echoed the sentiment in a statement.
Shortly after Lavrov left the podium Saturday, McMaster told the audience that the evidence of Russian meddling in the 2016 U.S. election was beyond dispute.
Answering a question from a Russian delegate, McMaster said "with the FBI indictment, the evidence is now incontrovertible" of Russian cyber-meddling.
Presented with statistics attributed to Russian experts on alleged American cyberattacks in Russia, McMaster quipped: "I'm surprised there are any cyber experts available based on how active most of them have been in undermining our democracies in the West."
He also scoffed at any move to working with Russia on cybersecurity saying "we would love to have a cyber dialogue when Russia is sincere about curtailing its sophisticated form of espionage."