LONDON — Russia said Friday it had "irrefutable" evidence that the deadly Syria chemical weapons attack that has prompted the U.S. to consider airstrikes was fabricated.
Foreign Minister Sergey Lavrov told a news conference that there was a "very alarming atmosphere" over the issue and likened plans for a military response to failed action in Libya.
"God forbid any other military gambles will be taken in Syria," he said.
Lavrov cited "irrefutable data that [this] was yet another staged event and staging was done … by the special services of one of the countries at the forefront of the anti-Russia campaign."
His comments come after President Donald Trump called last Saturday's attack in Douma "heinous" and "atrocious" and said his administration was weighing how to respond.
Russian Defense Ministry spokesman, Maj. Gen. Igor Konashenkov, said Britain was "directly involved" in the Douma episode but didn't elaborate or provide evidence.
Activists and aid groups say dozens died in the assault on Douma, the last rebel stronghold in eastern Ghouta, which has been subjected to intensive bombing by Syria's Russian-backed regime of President Bashar al-Assad.
The U.S. has blood and urine samples from the area that have tested positive for chemical weapons, according to two U.S. officials familiar with the intelligence.
The samples suggested the presence of both chlorine gas and an unnamed nerve agent, two officials said.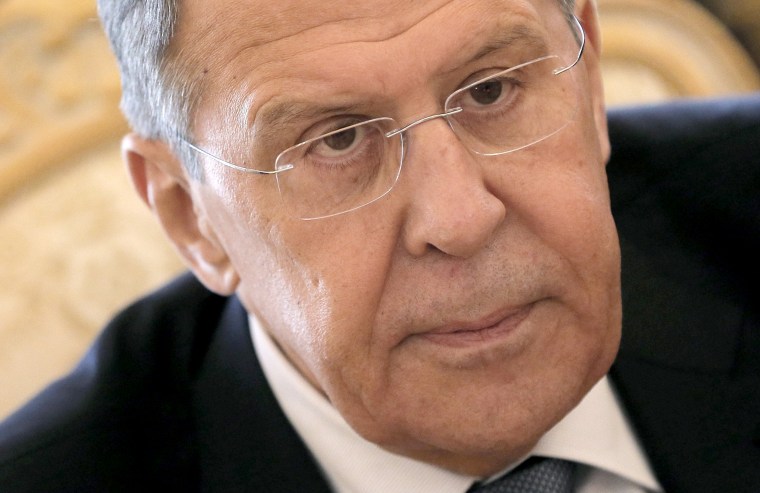 Assad is known to have stocks of the nerve agent sarin, and has previously used a mixture of chlorine and sarin in attacks, according to U.S. officials.
Russia also tangled with the United States at the U.N. Security Council on Friday.
U.S. Ambassador to the U.N., Nikki Haley, said Russia was the only country to have defended Syria's use of chemical weapons, adding: "No one is buying its lives and its cover-ups."
She said Assad's government had used chemical weapons at least 50 times during the six-year conflict.
"The world must not passively accept the use of chemical weapons," she told delegates. "Everything the U.N. stands for is being blatantly defied in Syria with the help of a permanent member of this council. All nations, all people will be harmed if we allow Assad to normalizer the use of chemical weapons."
Lavrov urged more diplomatic contacts over the issue and said Russia was open to further telephone contact between Trump and President Vladimir Putin.
"Diplomatic methods need to be used, which do not include ultimatums and threats," he said.
Earlier this week, a Russian diplomat pledged that U.S. missiles would be shot down and American military assets targeted in the event of strikes targeting Syria.
Haley told reporters at the U.N. that Trump had not yet made a decision on any action.
The U.S. ambassador to Britain said Friday that Trump had spoken overnight with Prime Minister Theresa May about "the need for a joint response."