President Vladimir Putin has pledged not to change the Russian constitution to allow him to keep running for president indefinitely.
"I had an opportunity, I was even asked to change the constitution at one time," Putin said during a televised question-and-answer session with schoolchildren in the Black Sea resort of Sochi Friday. "I did not do it, and I don't intend to do it in the future."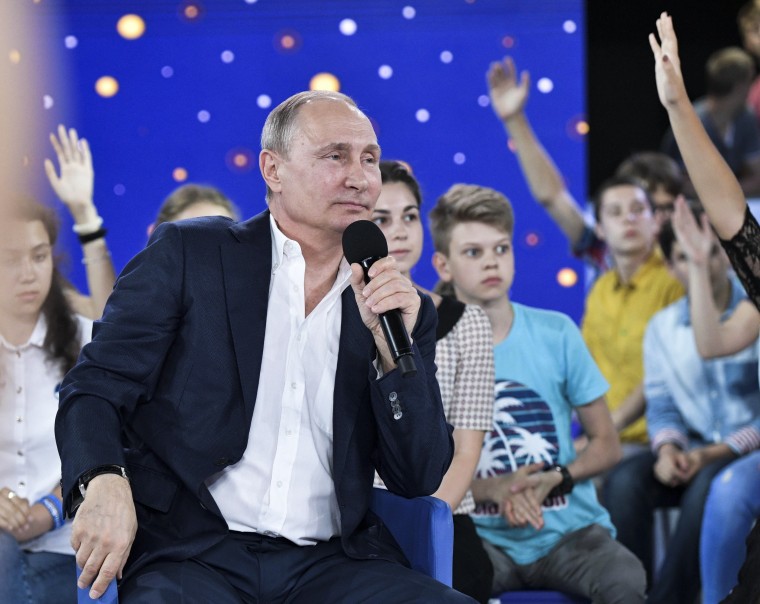 Putin has dominated Russia's political landscape and greatly expanded his power during the last 17 years.
He served two presidential terms before stepping down in 2008 to become prime minister and avoid a constitutional bar on running a third consecutive term. He then returned to the presidency in 2012 for another term and is legally entitled to serve for a fourth term.
But Putin did not rule out seeking re-election in 2018.
"Do I need to continue my work in this capacity — I haven't decided yet," he said.
Related: Putin Interview: Did Russia Interfere in the Election, Collect Info on Trump?
Analysts said the slick televised question and answer session was designed to widen Putin's support base among young people, according to Reuters. It comes a month after thousands of Russians took to the streets in a series of anti-corruption protests across the country.
The Friday footage shows a jovial Putin joking with his audience, as laughing youngsters sporadically break into rounds of applause.
Schoolchildren peppered Putin with a range of non-political questions as well, asking what he did in his spare time and about his childhood memories.
When asked which events had made the greatest impression on him, Putin named the 1991 collapse of the Soviet Union, something he has previously called the greatest geopolitical catastrophe of the twentieth century.
"Such a grown up answer, I am sorry, but you did ask me a grown up question," he said.
When asked what the three most important values in life were, Putin said "life itself, love and freedom."
Saphora Smith reported from London.