MOSCOW — Russia took a scornful swipe at the United States on Wednesday, defending its use of Iranian air bases to launch air strikes on Syria and suggesting State Department officials should "check their logic and knowledge" over the issue.
A defense ministry spokesman made the remark after his State Department counterpart Mark Toner earlier described Moscow's use of Iranian facilities as "unfortunate, but not surprising."
Toner told reporters Tuesday that Washington was looking into whether Russia's move violated U.N. Security Council resolution 2231, which prohibits the supply, sale and transfer of combat aircraft to Iran.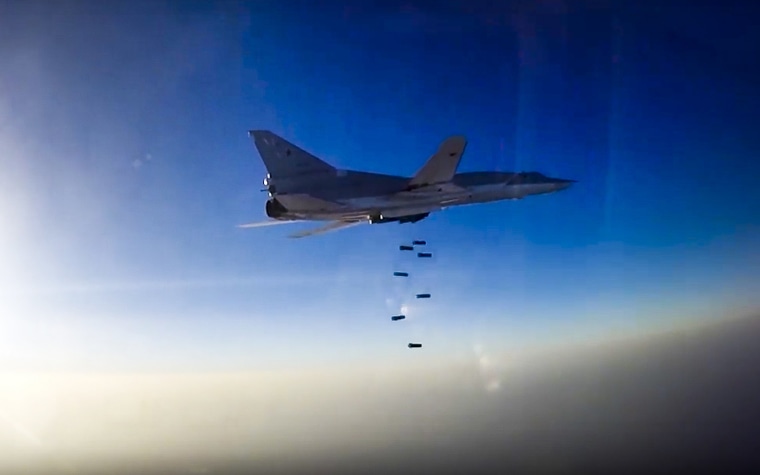 Maj. Gen. Igor Konashenkov, spokesman for Russia's Ministry of Defense, responded Wednesday in a withering statement.
"It's against our rules to provide advice to the leadership of the U.S. State Department," he said. "But it's hard to resist a recommendation for some State Dept. representatives to check their logic and knowledge of fundamental documents of international law."
He said the U.N. resolution only covered the use of warplanes "inside Iran."
"Moreover, we again advise the State Dept. representatives to take a pencil to the map and discover for themselves that Syria is an independent sovereign state."
Konashenkov also pointed out that the U.S. was using a Turkish air base to support its own airstrikes in Syria and Iraq.
"We would suggest they consider the answer to the simple question: whether there is at least one article of the U.N. Charter, Security Council resolution or bilateral U.S.-Syrian treaty allowing the bombardment of Syrian territory by drones and planes from the Incirlik Air Base in Turkey, or any other foreign air bases."
He continued: "We are sure that, once Mr. Mark Toner passed [this] exam, he would not think the destruction of ISIS and Jabhat an-Nusra terrorists by Russian warplanes was 'unfortunate.'"
There was no immediate response from the State Department to Konashenkov's remarks, which came shortly after Russia said its warplanes had launched a second wave of airstrikes Wednesday targeting ISIS in Syria.
Washington says Russia is in fact targeting moderate Syria rebels rather than ISIS.
"Frankly, that only makes more difficult what is already a very contentious and complex and difficult situation," Toner said in his comments Tuesday. "And it only pushes us further away from what we're all … trying to pursue, which is a credible nationwide cessation of hostilities and a political process in Geneva that leads to a peaceful transition."