Russia's Dozhd TV is fighting to keep the wolves at bay as President Vladimir Putin's government circles the upstart cable and online channel as it fights to stay on the air.
In January, the TV channel's key cable operators pulled the plug on the independent network after it aired a poll that the Kremlin deemed offensive.
Now, the fate of Dozhd, which means "Rain'' in Russian, will be a litmus test in a country with disappearing sources of independent news. "Today we have only TV channels under the control of the Kremlin. Each time the Kremlin wants something it just calls them to change it," said Natalia Sindeyeva, Rain TV's founder and general director. "But if you have an independent channel there's no easy way to pressure it. You have to threaten it."
Rain TV burst on the scene in 2010, calling itself the "optimistic channel." It looked like a bunch of college kids with big ideas to change Russia and few took them seriously.
"They started out as very amateurish, very young, the first online TV channel and they slowly got bigger and better," said Julio Ioffe, a Russian journalist and media blogger. "And their budgets became pretty adult-like."
Their reporters and crews came into their own during the height of the anti-Putin protests in 2011 and 2012. More recently, their cameras captured all sides of the Ukrainian crisis, including images unseen on Russia's state-run networks, like protesters under fire from riot police or receiving emergency medical care. By the end of 2013, Rain TV was streaming into almost 20 million homes.
"Today we have only TV channels under the control of the Kremlin. Each time the Kremlin wants something it just calls them to change it,"
That's when the Kremlin started to pay attention.
In late January, on one of Rain's news programs, asked in a viewers' poll whether Russia should have surrendered the city of Leningrad – today's St. Petersburg – during the Nazi siege of WWII, rather than lose hundreds of thousands of lives.
Even today, Leningrad remains a symbol of Russian resistance, and this was the rough equivalent of asking American viewers if Davy Crockett and his men should have surrendered at the Alamo to Gen. Santa Anna and his Mexican Army. The channel quickly realized its mistake and removed the sensitive question.
But the Kremlin pounced. Just days later, Rain's major cable operators cancelled their contracts, leaving the "optimistic" channel – for many, the hope of a free press in Russia – on life support.
In his mid-forties, veteran journalist Pavel Lobkov is like a father to most of Rain TV's staff.
Lobov says that every day the cable channel stays on the air is a victory, and a surprise. "We're letting our bosses do the negotiating while we focus on the journalism. Otherwise we'll all go crazy."
Many media observers in Russia are not surprised, but still disappointed to see the channel struggling.
"This will make journalists in TV stations, radio, in print media, think twice before writing or saying something,"
"It was not unexpected but it's still pretty tragic," said Ioffe. "There are a lot of young journalists who work there who were trying to do something different, trying to practice journalism the way it's practiced in the West."
Sergei Strokan, a wizened foreign correspondent for the respected Russian daily, Kommersant, is alarmed by the fate of Rain TV because it reinforces one of the Kremlin's most potent weapons: self-censorship.
"This will make journalists in TV stations, radio, in print media, think twice before writing or saying something," he said. "And when you do this, you find out that you're not free to express yourself."
At least no one has died at Rain. That's not meant to be flippant – in Russia, according to the New York-based Committee for the Protection of Journalists, 16 investigative reporters have been murdered in the past decade. In 13 cases, no one has been brought to justice.
In the most famous case, reporter Anna Politkovskaya died when she was shot in the head and chest in her Moscow apartment elevator in 2006 after she'd published stories critical of Putin's offensive in Chechnya. The trial for her murder dragged on for years, and only in 2012 was a former policeman convicted and sentenced to 11 years in jail. The mastermind behind the murder is still believed to be at large.
In 2013 alone, the Glastnost Defense Foundation – or GDF, a Russian watchdog for the protection of journalists – found that four Russian reporters were killed in 71 attacks and dozens of police arrests.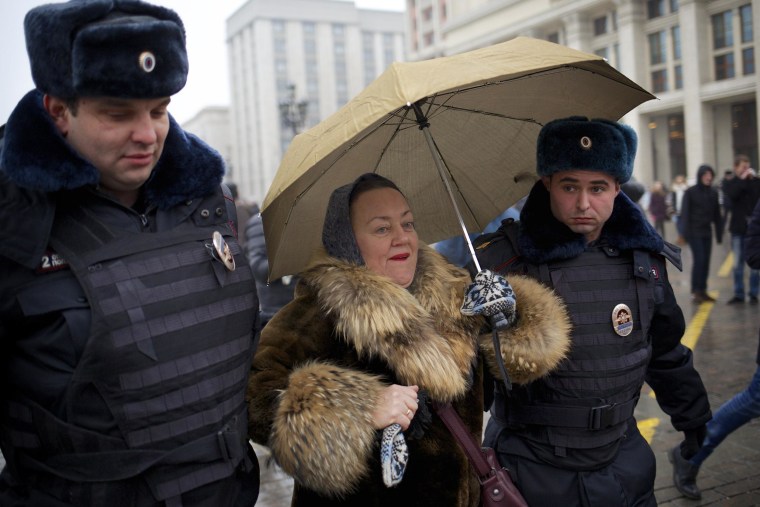 The victims included investigative journalist Mikhail Beketov, who died from a horrific beating several years earlier. At the time of the attack, a piece of Beketov's skull was found yards from his body. Beketov had written articles on corruption behind the building of the Moscow-St Petersburg highway which implicated, among others, one of Putin's childhood friends, Arkadi Rotenberg. Once again, no one has been held accountable for the murder.
The media crackdown tends to be subtler than those brutish crimes. GDF tracked down dozens of instances of illegal dismissals of Russian reporters. Some journalists' cars were burned. Others had pets that were poisoned. And then there's financial harassment. "Dozhd TV isn't being forced to close," said Ioffe, the Russian blogger. "They're not even being dragged through the courts. It was well orchestrated – this time it's all being done via economic levers."
Many supporters are at a loss for what to do next. Some have launched class action suits against the cable companies who dropped the channel, for breach of contract.
Last week about 40 protesters opened umbrellas together on Red Square, shouting "The Rain Is On!" A symbolic gesture that wasn't lost on police who arrested everyone on Red Square with an umbrella.
Jim Maceda is an NBC News foreign correspondent based in London. He has covered Russia and the former Soviet Union since the 1980's and is currently on assignment in Moscow.