LONDON — Russia's prime minister has called U.S. sanctions tantamount to economic war on his country, adding that measures signed into law by President Donald Trump reveal the American administration's "total impotence."
"The hope that our relations with the new American administration would improve is finished," Dmitry Medvedev said Wednesday on his Facebook page.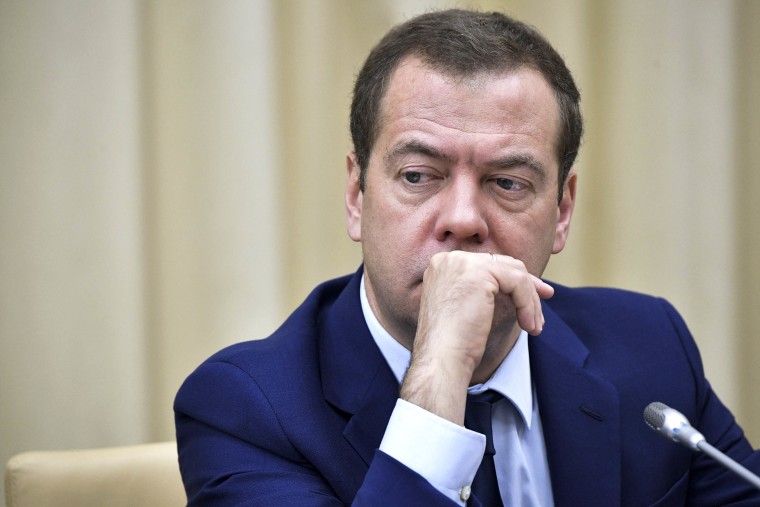 "Trump's administration has demonstrated total impotence by surrendering its executive authority to Congress in the most humiliating way," he wrote.
"The U.S. establishment has fully outwitted Trump — the president is not happy about the new sanctions, yet he could not but sign the bill," he added. "New steps are to come, and they will ultimately aim to remove him from power."
Medvedev, a close ally of Vladimir Putin, is not considered as powerful as the president, and has seen his reputation tarnished at home with the opposition alleging he was involved in large scale corruption.
The Russian Foreign Ministry put out a more measured response to the sanctions, saying they reserve "the right to other countermeasures."
The statement on the ministry's website added: "It is high time the American fans of sanctions, which have plunged the United States into Russophobic hysteria, got rid of their illusions and realized that no threats or attempts to exert pressure will compel Russia to change its course or sacrifice its national interests."
Earlier, Trump put to rest questions about whether he would support the legislation passed overwhelmingly by Congress last week. But he still excoriated the measure, which limits the ability of the president to lift the sanctions unilaterally, calling it "significantly flawed."
The bill sanctions Russia — citing its cyberhacking and involvement in Ukraine and Syria — while also slapping new sanctions on North Korea and Iran.
The president signed the bill behind closed doors, afterward stating he did so "for the sake of national unity."
In one White House statement released after the signing, referred to as the official signing statement, the president called some of the provisions "clearly unconstitutional."
In a second statement the president said: "The Framers of our Constitution put foreign affairs in the hands of the President. This bill will prove the wisdom of that choice."
Lawmakers pushed the sanctions in spite of the president's conciliatory tone toward the country whose government U.S. intelligence agencies concluded meddled in the 2016 presidential election. Russian government officials have denied the allegations, both in the press and to Trump directly.
Last week, Putin accusing the U.S. of attempting to use "geopolitical advantages in competition to pursue economic interests at the expense of [U.S.] allies."
Trump has hedged repeatedly on the question of Russian responsibility for election meddling last year, saying it is possible Russia was involved but other countries could have had a role.
F. Brinley Bruton reported from London, Ali Vitali from Washington, D.C., and Alan Kaytukov from Moscow.