Russia broadened its military offensive in Ukraine on Friday, launching air strikes in the western part of the country for the first time while its ground forces were trying to encircle the capital, Kyiv, and strangle into submission other besieged cities like Mariupol.
The airstrikes on the cities of Lutsk and Ivano-Frankivsk killed four people, according to Ukrainian authorities, and brought the nearly three-week-old war ominously close to Poland, a NATO member where about half of Ukraine's 2.5 million refugees have sought sanctuary.
"You've just showed how tonight Russia attacked western cities of Ukraine, Ivano-Frankivsk and now city mayor is asking residents who live close to city airport to evacuate their houses," Ukrainian parliament member Anastasia Radina said on MSNBC. "And the question is, where should these people go?"
Meanwhile, Russian troops who have struggled for days to make progress against fierce Ukrainian resistance appeared to be regrouping in the woods north of Kyiv while the worst humanitarian crisis in Europe since World War Two continued to unfold.
President Joe Biden on Friday called for an end to normal trade relations with Moscow, a move that would allow the West to raise tariffs on Russian products as it seeks to isolate and punish Moscow for the invasion of its democratic neighbor.
The U.S. Treasury Department, which has already hit Russian President Vladimir Putin and his Kremlin allies with sanctions, issued a new round Friday targeting other Moscow elites and oligarchs including relatives of Putin's main spokesperson, Dmitry Peskov.
In Warsaw, Vice President Kamala Harris reiterated the U.S. and NATO's "commitment to defend, if necessary, every inch of NATO territory."
"An attack against one is an attack against all," said Harris, citing Article 5 of the NATO treaty.
---
Latest developments on Ukraine:
Russian forces edged closer to Kyiv as the huge military convoy threatening the capital apparently dispersed.
The number of refugees who have fled the country reached 2.5 million, the U.N. said.
Russia launched new airstrikes against the western Ukrainian cities of Lutsk and Ivano-Frankiv, not far the the Polish border.
President Joe Biden called for an end to normal trade relations with Moscow, the latest move to isolate it economically.
Russian President Vladimir Putin approved a plan to bring in thousands of fighters from the Middle East.
---
Russia expands its attack
In Kyiv, Ukrainian President Volodymyr Zelenskyy continued to sound confident, saying he believed his country had reached "a strategic turning point" in its defensive war.
"We are already moving toward our goal, toward our victory," he said in a speech posted to Telegram early Friday, without providing specifics.
"Ukrainians are proud people who always defend their land and will not give the occupier a single piece of land," Zelenskyy added.
But at the same time, Russian forces appeared to be preparing for a new offensive against Kyiv. At one point they appeared to be just 10 miles from the city center, a senior U.S. defense official said.
Early Saturday, the U.K.'s defense ministry said the bulk of Russian ground forces appeared to be around 15 miles from the center of Kyiv.
Moscow is likely seeking to "reset and re-posture its forces for renewed offensive activity" over the coming days, which it said would likely "include operations against the capital Kyiv," Britain's defense ministry warned.
Analysts have been monitoring a massive Russian military convoy threatening Kyiv that has been stalled outside the capital for days. But Maxar, a commercial satellite firm, said Friday the column had "largely dispersed and redeployed," raising fears it may be regrouping.
It could also be an attempt to reduce Russia's vulnerability to counter attacks from Ukraine, the U.K. defense ministry said Saturday, noting those attacks have taken a "significant toll" on Russian forces.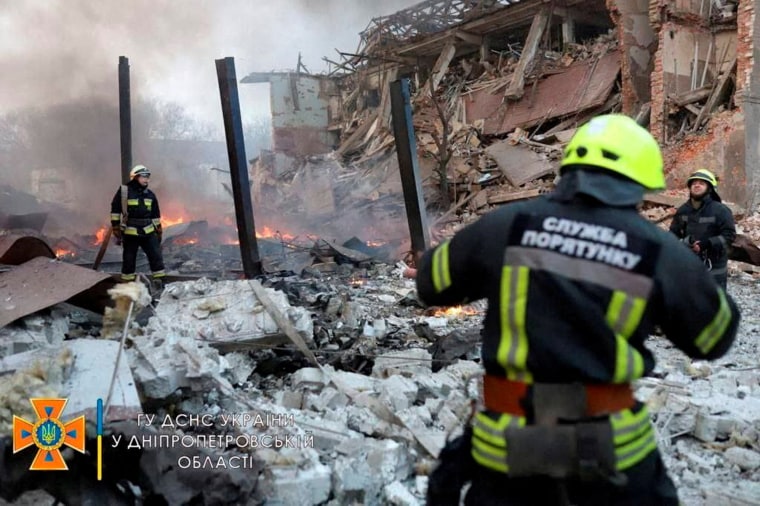 In addition to the Russian aerial assaults on airports in Lutsk and Ivano-Frankivsk, the central Ukrainian city of Dnipro was also hit by airstrikes early Friday morning that Ukrainian authorities said killed at least one person.
NBC News has not verified the latest death tolls, and Russia has consistently denied targeting civilians. But missiles in Dnipro hit near a kindergarten, an apartment building and a two-story shoe factory, the Ukrainian state emergency service said.
Heavy shelling also continued in the encircled cities of Kharkiv, Chernihiv, Sumy and Mariupol, the U.K. defense ministry said Saturday.
In the southern city of Odesa, thousands of residents were braving the bitter cold and filling sandbags with sand from its Black Sea beaches in anticipation of an amphibious Russian assault that was expected to happen in days.
There were also reports that the Kremlin was trying to bolster its invasion forces by bringing in as many as 16,000 Syrian "volunteers."
Speaking at a Russian security council meeting, Putin said he believed those who want to fight alongside Russian forces should be allowed to, Reuters reported.
Humanitarian crisis worsens
Russia intensified its attacks even as it faced growing global condemnation for launching an invasion that has prompted more than 2 million people to flee Ukraine, according to the United Nations refugee agency.
Ukrainian authorities were redoubling their efforts to evacuate residents from the hardest hit areas Friday, with Zelenskyy saying as many as 100,000 civilians had been brought to safety over the past two days.
But in the southern port city of Mariupol, where Russia has been accused of launching a deadly airstrike on a hospital, officials warned that a "humanitarian catastrophe" was unfolding, citing what they said was Moscow stifling attempts to evacuate civilians.
Mariupol, a strategic city with about 400,000 residents, has been without heat, electricity and water for at least a week during freezing temperatures.
Moscow claimed Friday that Russian-backed separatists had captured nearby Volnovakha, a small city in the Donetsk region that has also been encircled and bombarded. NBC News has not confirmed this development and Ukrainian officials have not commented.
After diplomatic talks in Turkey this week with top Ukrainian and Russian officials yielded little progress, the West has voiced growing alarm that civilians could face the prospect of a chemical or biological attack from Russia.
Kyiv has also accused Russia of firing at a settlement in Belarus near the border with Ukraine to give Putin's ally, Belarus President Alexander Lukashenko, a pretext to send his soldiers into Ukraine.
Belarus is already a staging area for many of the Russian troops who invaded Ukraine.
U.S. ramps up pressure
With Russia showing no signs of stepping back from its military offensive, the U.S. and Europe sought to deliver a fresh financial blow to Moscow.
Biden announced Friday that the U.S. and its allies from the Group of Seven will take steps to deny the "most favored nation" status designation to Russia, putting an end to normal trade relations and paving the way for higher tariffs. The European Union said it planned to do the same.
Biden said the U.S. will also ban imports of Russian goods like seafood, vodka and diamonds and will join its allies in cutting off Moscow's ability to seek financing from the International Monetary Fund and the World Bank.
"Putin's war in Ukraine will never be a victory," Biden said. "We will not let autocrats and would-be emperors dictate the direction of the world."
The move would come just days after the U.S. banned imports of Russian oil and gas and as the West adds to an ever-growing list of sanctions targeting Russia's most powerful and wealthy. Some of the latest additions to that list, announced Friday, are billionaire Viktor Vekselberg and family members of Peskov, Putin's main spokesperson.
The U.S. this week also warned Russia against seizing the assets of any companies that have joined the exodus of international business from the country.
Putin insisted Russia would "overcome these difficulties."
"Of course, there are problems connected to recent events," he said in televised remarks. "There have always been attempts to curtail our development and they are happening now, obviously on a larger scale."
His comments came as Russia restricted access to Instagram, launched a criminal case against its parent company, Meta Platforms, and moved to designate it an "extremist organization."
Russia was responding to Meta announcing a policy change allowing users to call for violence against Russian soldiers within the context of the war.
Meta did not immediately respond to a request for comment.
Adam Mosseri, head of Instagram, tweeted Friday that the social media platform "will be blocked in Russia" starting Monday.
The development marks the latest crackdown on free speech in the country since Putin launched his invasion, further isolating Russia both economically and culturally.