Shelling, gunfire and explosions rocked Ukraine into the morning hours Sunday, as allies doubled down on measures intended to punish Russia for its assault.
Overnight, Russian forces blew up a gas pipeline, troops broke into Kharkiv and the city of Nova Kakhovka fell to Russian forces, Ukrainian officials said.
Sunday morning, Russian vehicles broke into the city of Kharkiv, according to the Kharkiv Regional State Administration Telegram account.
In the capital Kyiv, Russian munitions struck a radioactive waste site, but the extent of the damage wasn't known because of ongoing shelling and missile fire, the State Inspectorate for Nuclear Regulation of Ukraine said in a statement.
There were also clashes with sabotage groups at night, according to Mykola Povoroznyk, the first deputy head of the Kyiv City State Administration.
But as the fighting entered its fourth day, residents found Kyiv still in Ukrainian hands.
"The situation in Kyiv is calm, the capital is completely controlled by the Ukrainian army and defense," Povoroznyk said on Telegram, according to an NBC News translation. "Let's hold on!"
---
Latest updates on Ukraine:
---
Sunday morning, Russian vehicles broke into the city of Kharkiv, over 250 miles to the east of Kyiv, according to the Kharkiv Regional State Administration Telegram account.
City Chief of Police Volodymyr Tymoshko pleaded with residents not to go outside.
"It is quite dangerous on the streets of the city now," he said through Telegram, according to an NBC News translation. "Due to the small groups of the enemy who broke into the city, fighting continues."
Overnight Russian forces blew up a gas pipeline in the city, State Special Communications said. Officials reassured people in a Telegram post that it was not a nuclear strike after the explosion sent a rising fireball into the sky.
South of Kyiv, a missile strike in the city of Vasylkiv caused a fire at an oil depot in the nearby village of Kryachky, Vasylkiv Mayor Natalia Balasinovich said in a video message.
Fighting was ongoing and prevented emergency services from extinguishing the fire, said Alexey Kuleba, head of the administration in Kyiv Oblast. "We are in danger of an ecological catastrophe. We do everything possible to prevent this!" he said in the statement.
Ballistic missiles also struck an airfield, the mayor said. 
NBC News has not independently verified the attacks.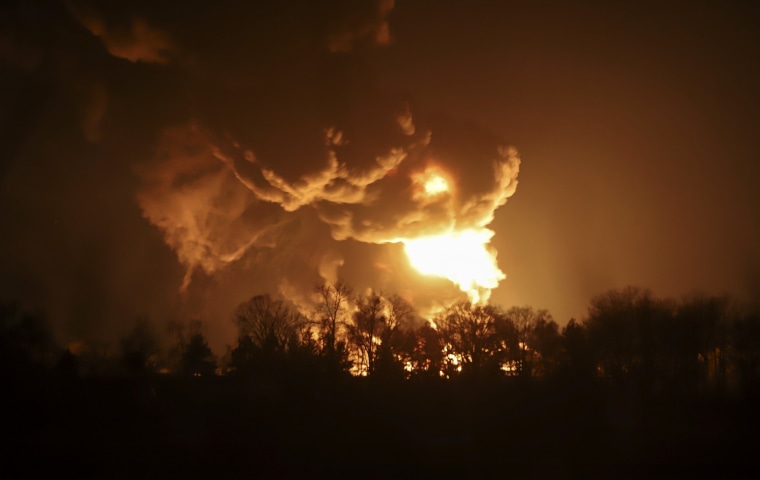 While Ukraine was able to maintain a hold on its capital and other cities, Nova Kakhovka, in the Kherson Oblast province of southern Ukraine, fell to the Russian troops, Mayor Volodymyr Kovalenko said on Telegram.
"They seized the city executive committee, removed all Ukrainian flags from buildings," Kovalenko said, according to an NBC News translation.
The city is the location of a hydroelectric power plant.
As Ukraine's forces battled troops on the ground, the U.S. along with the European Commission, France, Germany, Italy, the United Kingdom and Canada announced Saturday that select Russian banks would be removed from the SWIFT messaging system.
The option had been on the table, but some allies in Europe with economies more closely tied to Russia's had been reluctant to include SWIFT among sanctions because of the possible impact it could have.
The U.S. and other allies like Germany were also speeding badly needed weaponry and supplies to the outgunned Ukrainians, who were refusing to surrender.
Ukraine's minister of defense, Oleksiy Reznikov, said early Sunday that forces fending off the Russian offensive in Kyiv have made history.
"Three days changed our country and the world forever," he said on Facebook, praising those who have taken up arms and rescuers and medical personnel.
Restrictions were also set in motion to restrict Russian movement in the skies.
The United Kingdom, Romania and the Baltic states of Estonia, Latvia and Lithuania have plans to close their airspace to Russian aircraft or have already done so.
Germany was also preparing to close its airspace to Russian aircraft and preparations were being made, the country's transportation ministry tweeted Saturday.
Also Saturday, German airline Lufthansa said it will not use Russian airspace for the next seven days "due to the current and emerging regulatory situation."
The former Soviet republic of Kazakhstan, which is one of Russia's closest allies, surprised Moscow-watchers by announcing that it will deny Putin's request for Kazakh troops to help subjugate Ukraine.
Kazakhstan also said it would not join Putin in recognizing the breakaway pro-Russian Luhansk and Donetsk regions in eastern Ukraine.
Ukrainian President Volodymyr Zelenskyy has also asked United Nations Secretary-General António Guterres to strip Russia of its vote on the Security Council.
Russia was the only country to veto a U.N. resolution Friday that demanded Moscow end its attack on Ukraine. As a permanent member of the Security Council, Russia holds veto power over all resolutions made by the international body. Three countries abstained.
On Friday, the United States and European Union took the rare step of imposing sanctions on a head of state by targeting Putin, as well as his Foreign Minister Sergey Lavrov and other members of Russia's Security Council.
A Russian freighter loaded with cars bound for St. Petersburg was seized off the coast of France overnight under new sanctions imposed by the European Union, French maritime officials confirmed to NBC News.
Fight for Ukraine's cities
As Zelenskyy rallied his countrymen, Russian forces were less than 20 miles away from Kyiv but struggling to pierce the outer ring of the city's defenses, the U.S. official said.
Some of the heaviest fighting has been reported in and around the city of Kharkiv, the official said. And the Ukrainian Air Force was still challenging the Russians in the sky despite being barraged by some 250 short-range missile strikes.
Zelenskyy and his government have refused to leave the capital, though the Ukrainian president has said he believes he is the number-one target of the Russian attack. Instead, he has been posting videos from the streets, urging his people to join him in defiance.
The U.S. defense official declined to comment on reports that Zelenskyy rebuffed a U.S. offer to evacuate him from the country.
"We have withstood and successfully repelled enemy attacks," Zelenskyy said in a speech Saturday morning to his countrymen. "The fighting continues in many cities and districts of our state, but we know that we are protecting the country, the land, the future of children."
One of Zelenskyy's presidential predecessors was also staying in Kyiv to defend his homeland.
"Today in Kyiv, (Russian President Vladimir) Putin will meet hell, and the Russian people and the Russian soldiers who come here to kill Ukrainians will pay the big price," former president Petro Poroshenko told Sky News.
Elsewhere, artillery and cruise missiles pounded cities across Ukraine, where Russian troops and armored vehicles have poured over the border. But American and British officials said their advance was slowed after meeting far greater Ukrainian resistance than expected.
Russia's defense ministry claimed to have captured the southern city of Melitopol, with video posted to social media showing a Russian flag flying above a police station in the city. But the British government said it had failed to capture the city of 150,000 as well as achieve any of its major goals in the first days of the conflict.
"We can't see anything to substantiate" the claim that Melitopol had fallen and it still appeared to be "in Ukrainian hands," British armed forces minister James Heappey told the BBC early Saturday.
"The reality is that the armored columns that were coming down from Belarus and the north that were going to encircle Kyiv are still some way north because they've been held up by this incredible Ukrainian resistance," he said.
Military, monetary reinforcements
Meanwhile, Moscow's unprovoked attack on its democratic neighbor has drawn widespread condemnation and turned Putin into an international pariah.
Tens of thousands of Ukrainians have fled the Russian advance, mostly to neighboring Poland and Romania.
Those who stayed were enduring an assault that Ukraine and international watchdogs said was increasingly hitting civilians.
The Russian attack has upended the West's sense of security, especially in countries on NATO's eastern flank with a long history of battling Moscow, including Poland, Lithuania, Latvia and Estonia.
NATO has moved to reinforce its eastern flank and U.S. Secretary of State Antony Blinken on Saturday authorized an additional $350 million in military assistance to Ukraine, including anti-armor, small arms and other equipment.
"Today, as Ukraine fights with courage and pride against Russia's brutal and unprovoked assault, I have authorized, pursuant to a delegation by the President, an unprecedented third Presidential Drawdown of up to $350 million for immediate support to Ukraine's defense," Blinken said in a statement.
Germany, which has been criticized for being slow to condemn the Russian invasion and for being reluctant to impose sanctions on Moscow, announced Saturday that it was sending the Ukrainians 500 ground-to-air "Stinger" missiles and 1,000 tank defense weapons.
"The Russian raid on Ukraine marks a turning point," German Chancellor Olaf Scholz said in a statement. "It threatens our entire post-war order. In this situation, it is our duty to support Ukraine."
Military experts said Russia still has the overwhelming advantage, but it's not clear it has enough of an advantage to take over a Texas-sized country with 43 million people that has already found the weak spots in the Russian offensive.
"I just don't believe that they have the capability, especially the further they go from Russian sovereign territory and from Belarus, that they will be able to maintain this," retired Gen. Ben Hodges, former commanding general, United States Army Europe and Pershing Chair in Strategic Studies at the Center for European Policy Analysis, said on MSNBC.
"And I think these convoys of big fuel trucks, for example, that have to follow the tanks — these things, they are very vulnerable, and I think we're going to see more and more reports of these convoys being hit."
'We won't put down our weapons'
Many Kyiv residents huddled in underground shelters and subway stations while officials imposed a strict curfew to root out the "enemy." Armed with government-issued machine guns and homemade Molotov cocktails, Ukrainian civilians were helping to reinforce their army's desperate but for now effective resistance against Russian President Vladimir Putin's invasion.
Zelenskyy said that Russia wanted to capture the city and install its own "puppets" to run Ukraine. His warnings have been echoed by Western officials who say Putin intends to decapitate Ukraine's pro-western government and possibly replace it with a Moscow-friendly regime.
In a video posted to social media earlier Saturday, Zelenskyy stood on a Kyiv street and rejected what he said was Russian disinformation that he had told his forces to surrender.
"We won't put down our weapons," Zelenskyy said. "We will protect our country because our weapon is our truth and it is our land, our country, our children and we will defend all of it."
Kremlin spokesman Dmitry Peskov claimed that Russian forces paused their advance Friday to offer negotiations to Ukraine — whose government Putin described as a "gang of drug addicts and neo-Nazis," repeating propaganda Russia uses to justify its actions.
Peskov said that Kyiv refused the offer, so the Russian attack had resumed Saturday afternoon.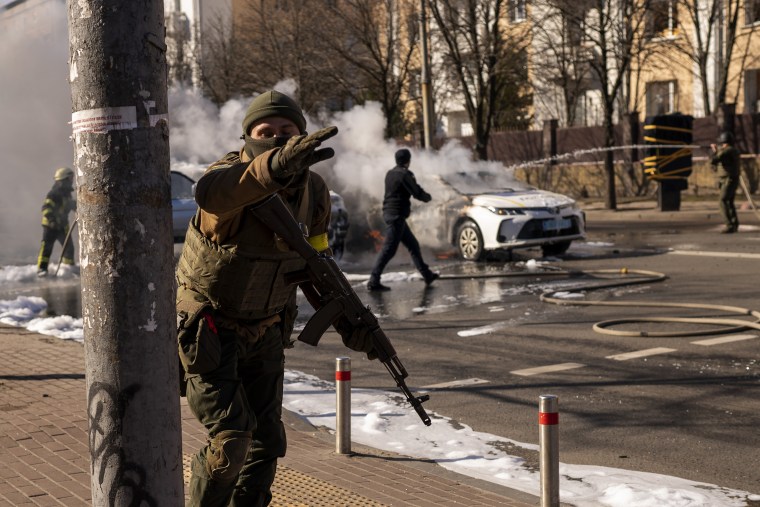 Mykhailo Podolyak, an adviser to Zelenskyy, rejected that suggestion and said Ukraine had not refused to negotiate but would not do so under unacceptable conditions.
Zelenskyy had warned that the night would bring "a full-scale storm." But as day broke Saturday the capital city's mayor, Vitali Klitschko, reported that despite a difficult night the "aggressor was neutralized" and there were no regular Russian troops in Kyiv.
"The enemy is trying to break into the city," Klitschko, a former world heavyweight boxing champion, said in a video message posted online.
He also extended to Monday a curfew between 5 p.m. and 8 a.m. local time, warning that anyone seen on the streets during that time would be considered an enemy combatant, due to the presence of Russian sabotage and reconnaissance teams.
In Kharkiv, a curfew was in effect forbidding all residents from leaving their homes or shelters Saturday and Sunday night, according to the Department of Civil Protection.
There have been at least 240 confirmed civilian casualties in Ukraine since Russia attacked it and invaded Thursday morning, a United Nations office said. That number includes at least 64 dead. The U.N. believes the "real figures are considerably higher," because many reports of casualties have yet to be confirmed.
Ukraine's health ministry said earlier Saturday that 198 people had been killed, including three children, with more than 1,000 injured. It later confirmed to NBC News that this number referred only to civilians.
A woman in a fifth-floor apartment died was killed after an "enemy artillery" struck a residential building in Kharkiv in northeastern Ukraine, the State Emergency Services said Sunday morning local time.
NBC News has not independently verified the incident.
Twenty people were rescued from a destroyed part of the building, the emergency service agency said. Sixty people hiding from the shelling in the basement were not injured, it said.
An official at a Kyiv children's hospital allegedly damaged by Russian forces Saturday says it remained intact despite nearby fighting.
Russia has not reported any deaths, but Oksana Markarova, the Ukrainian ambassador to the U.S., insisted Saturday that "more than 3,500 Russian men will not be returning home."
NBC News was not able to verify those numbers either.
Three adults and three children were brought to the Ukraine National Specialized Children's Hospital, called Okhmadyt, after getting caught in a nearby attack, the hospital's press manager, Anastasia Maggeramova, said over the phone. One six-year-old boy was dead when he arrived at the medical facility.
"We want the world to know the truth: civilian people are under attack," Maggeramova said. "Children are suffering, people are suffering because of war, because of attacks, because of terrible things now happening here in Ukraine."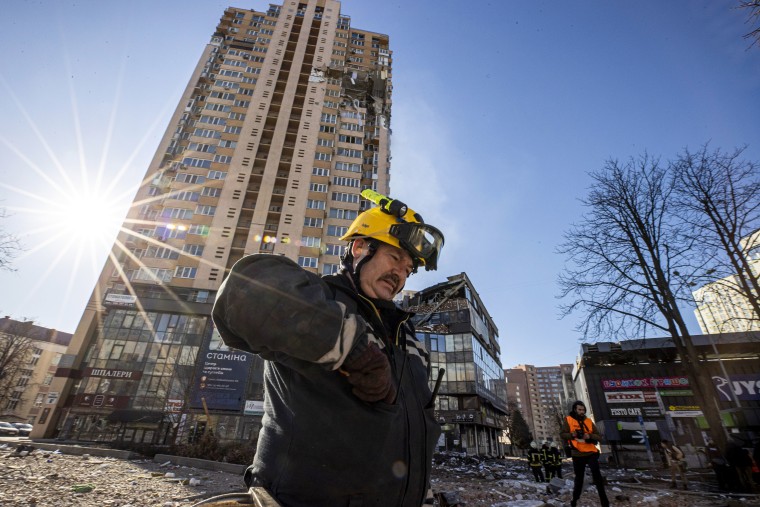 Maj. Gen. Borys Kremenetskyi, the defense attache at the Embassy of Ukraine, said their forces have captured at least 200 Russian soldiers.
"Many of them are 19-years-old, badly equipped," the major general said. "We have allowed some of them to call their parents, who were very surprised."
Britain's defense ministry said its intelligence showed that Russia's casualties were "likely to be heavy and greater than anticipated or acknowledged by the Kremlin." It said Ukraine's "staunch resistance" meant Russia had been unable to take control of the country's airspace, but that the advance continued with the bulk of its forces almost 20 miles outside Kyiv.
But even if Russian forces were largely kept from entering the capital, the impact of the conflict was nonetheless felt in the city of 3 million people.
Damage included a large hole ripped through the side of a high-rise apartment block after it was hit by a missile. There were no reports that anyone was killed, but Ukraine's state emergency service said two people were injured and 20 evacuated from the building.
Dmytro Kuleba, Ukraine's minister for foreign affairs, blamed it on Russia but NBC News was unable to verify that allegation. Russia denies targeting civilians.